Black Panthers:
The Black Panther Battalion, Part 1
By Mike Bennighof, Ph.D.
August 2021
They gave a very good first impression, but I have no faith in the inherent fighting ability of the race.
- George S. Patton, after inspecting the 761st Tank Battalion
The U.S. Army's second Black tank battalion officially formed on 1 April 1942, a date that did not escape its white officers, many of whom longed to be elsewhere. The 761st Tank Battalion received a cadre of enlisted men from the African-American 758th Tank Battalion, itself formed in September 1941, plus 27 white officers and additional Black enlisted men from the Army's Armored Force Replacement Training Center at Fort Knox, Kentucky. More men arrived in May, and three Black officers joined the battalion in July.
The 761st would be a "separate tank battalion" commonly called a "bastard battalion," an independent formation intended for infantry support. Like many of the separate tank battalions, the 761st initially received only M3 Stuart light tanks. The new armored divisions, and the British units fighting in North Africa, had priority for the new medium tanks now rolling out of factories.
Initial training took place at Camp Claiborne, just outside Alexandria, Louisiana, the scene of a bloody confrontation in January 1942 between Black troops and white military, city and state police. The Alexandria police department described itself as the "Famous Alexandria N****r Killing Squad," and worked hard to live up to the moniker Despite the hostile environment, training continued and the battalion received more Black officers. White officers were only required to remain with a Black unit for 18 months, and many sang "I'm Dreaming of a White Battalion" in the camp's segregated Officers' Club.

Men of the 761st Tank Battalion train on an M3 Stuart light tank.
In March 1943, the soldiers' rage at the actions of the Alexandria police boiled over into mutiny. The Famous Alexandria N****r Killing Squad beat a Black soldier, dragged him to a set of railroad tracks and laid him in front of a passing train. Whether he was killed in the beating or by the train was unclear; the police claimed they had not beaten him at all, but he had instead been intoxicated. The 761st's tankers had had enough. An angry group commandeered six tanks, a half-track and a large store of ammunition, and prepared to shoot up Alexandria. One of the company commanders, the widely-hated racist Charles Wingo, parked his car across the battalion motor pool's gates and climbed atop the hood, begging the men to return to their barracks. They ignored Wingo and were about to leave to flatten Alexandria when a city a bus pulled up. The bus drivers were deeply hated for their racism, and the troops attacked the bus, smashing its windows, beating its driver and trying to turn it over and set it on fire. The 761st's commander, Lt. Col. Paul Bates, arrived and calmed the men with a promise that he would end the police harassment.
The battalion moved to Camp Hood, Texas in September 1943. A month later, it converted from a light tank battalion with three companies of M3 light tanks to a medium tank battalion with three companies of M4 Shermans and one of M5 light tanks, with the number of personnel rising as well to man the additional company and the larger tanks. During the same reorganization, the segregated 784th Tank Battalion sent all seven of its Black officers to the 761st, and Bates appears to have taken the opportunity to unload seven of his less-capable white officers.
All of the tank crews trained to be interchangeable: each man could easily operate any of the four or five stations in his tank. For the next eight months, the 761st Tank Battalion served as an "aggressor," what later generations would call an OpFor unit, opposing tank destroyer battalions in training exercises. Officially, the tank destroyers always won these mock engagements; the exercises were intended to build the confidence of tank destroyer battalions before their deployment to active theaters. Unofficially, reports filtered back to Army Ground Forces commander, Gen. Leslie McNair, that the Black tankers actually defeated most of their opponents including his favored 634th Tank Destroyer Battalion, one of the first such battalions organized.
Unlike most white officers assigned to Black units, Bates, a former college football player and high-school teacher, seems to have genuinely loved his job. His last words, when he died in 1995 at age 86, were that his purpose in life had been to command the 761st Tank Battalion. Nicknamed "Smooth" for his manner of approaching attractive women, Bates had left a wife and small son in New Jersey. When not engaging in a passionate affair with a beautiful Army nurse named Taffy, for whom he also named his tank, Bates worked incessantly to train and improve his unit.

A Sherman tank of Charlie Company, 761st Tank Battalion.
As a white officer commanding a Black unit in a segregated Army, on a post surrounded by angry racist civilians, Bates faced a tremendous challenge in maintaining morale. He insisted that his men pay close attention to their appearance, to the point of finding tailors to adjust their uniforms, always pressed before a man left post. When the Army sent him a cavalry lieutenant named Jack Robinson who had angered his last commander for complaining that the Fort Riley post exchange refused to sell items to Black soldiers, Bates instantly recognized the UCLA All-American halfback and put him in charge of battalion morale.
Camp Hood had only opened in August 1942, after the War Department seized 180,000 acres and flattened three towns to make way for the base. The locals resented the Army's presence, and seethed when they discovered Black soldiers assigned to the post. Nearby towns deputized bus drivers, who carried weapons and could arrest Black soldiers. This bus-centered racism would lead directly to Robinson's court-martial after the lieutenant refused to sit in the back of a bus. When Bates refused to sign off on the charges, Robinson was transferred to the 758th Tank Battalion. Bates' furious defense of Robinson only bound his men more closely to him. Robinson would ultimately be acquitted and granted an honorable discharge on medical grounds.
Finally in June 1944, immediately after the Allied invasion of Normandy, the battalion was alerted for movement to Europe. It departed New York in August, and after a brief stay in England it drew new tanks and other vehicles and landed on Omaha Beach on 9 October 1944. George S. Patton, commanding Third Army, had asked for the well-trained battalion and assigned it to his 26th "Yankee" Infantry Division.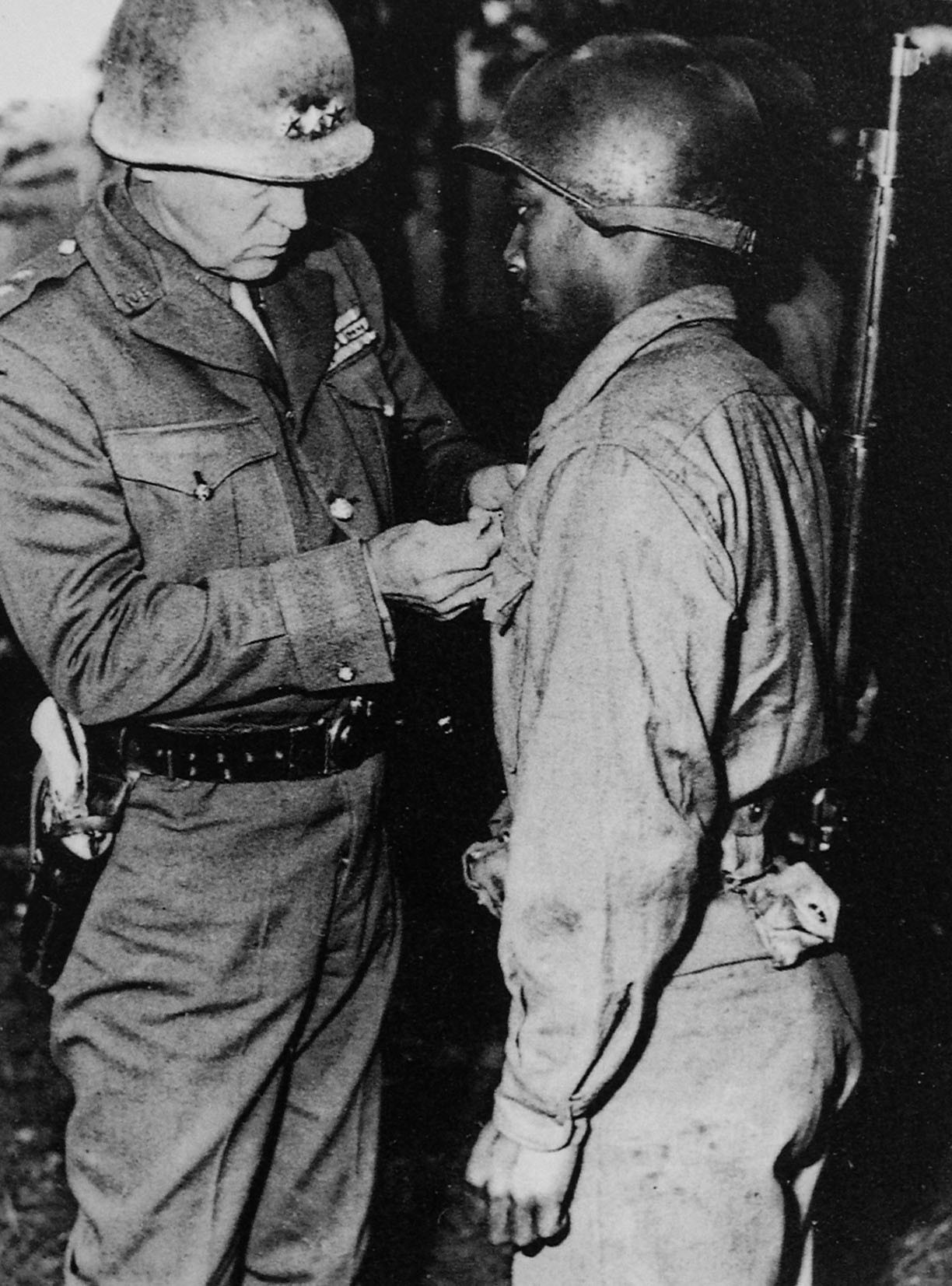 "Who the fuck asked for color?" he responded to a War Department missive informing him that only a Colored (the official term in 1944) tank battalion was available. "I asked for tankers."
On 2 November, Patton visited the 761st Tank Battalion, drawn up in battalion formation just east of Nancy, France. There are several versions of the speech he gave in his typically high-pitched screech; Patton gave similar profanity-laced talks to many units in Third Army:
Men, you are the first Negro tankers ever to fight in the American army. I would never have asked for you if you were not good. I have nothing but the best in my army. I don't care what color you are as long as you go up there and kill those Kraut sons of bitches. Everyone has their eyes on you and are expecting great things from you. Most of all, your race is looking forward to your success. Don't let them down, and damn you, don't let me down.
Patton then climbed on one of the Shermans and harangued gunner Ellsworth McConnell, an 18-year-old New Yorker who had enlisted at 16 by lying about his age – despite standing only 5-foot-7 and weighing 140 pounds.
"Listen, boy," the general shrieked, "I want you to shoot every goddamn thing you see – church steeples, water towers, houses, old ladies, children, haystacks – every goddamn thing you see. This is war! You hear me, boy?"
"Sir," Bates' driver, Cpl. Howard Richardson, softly addressed the battalion commander so as not to draw Patton's attention, "that old man is crazy."
You can order Black Panthers right here.
Please allow an additional three weeks for delivery.
Sign up for our newsletter right here. Your info will never be sold or transferred; we'll just use it to update you on new games and new offers.
Mike Bennighof is president of Avalanche Press and holds a doctorate in history from Emory University. A Fulbright Scholar and NASA Journalist in Space finalist, he has published an unknowable number of books, games and articles on historical subjects. He lives in Birmingham, Alabama with his wife, three children and his dog, Leopold.
Want to keep Daily Content free of third-party ads? You can send us some love (and cash) through this link right here.