Cone of Fire:
The Battleship Rio de Janeiro
By Mike Bennighof, Ph.D.
February 2018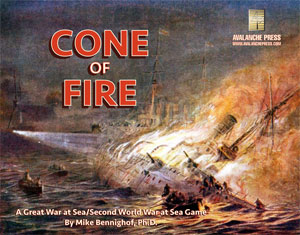 When Brazil accepted her first two battleships, their builder, Armstrong's, had concerns that the Brazilians might attempt to renege on their promise to build a third one. The original contract had been for three much smaller battleships, and Armstrong's had only agreed to alter them on the slipways if Brazil signed guarantees that all three would be constructed.
The new ships brought Brazil the desired international prestige and notoriety, but volatile prices for her chief exports, coffee and rubber, made it difficult to keep up payments. The November 1910 mutinies aboard the first two battleships, Minas Geraes and Sao Paulo, put political pressure on the navy to spend its funds on its sailors rather than more warships. But even before those events, many in Brazilian government circles wanted to delete the third battleship from the naval program.
As soon as Minas Geraes slid into the water in September 1908, the British yard began pressuring their customer to start a new battleship on the same slipway. The Brazilians had signed contracts promising to do just that, but now wavered and asked for an indefinite postponement. Armstrong's instead offered a one-year delay, and payments would now be made in cash rather than Brazilian government bonds. By 1910 the Brazilians felt able to make their payments and directed that the third sister, Rio de Janeiro, proceed. In March the keel was laid, to the same design as the first two battleships.

Under the White Ensign. HMS Agincourt, the one-time Rio de Janeiro.

As with the stillborn pre-dreadnoughts ordered in 1904, Rio de Janeiro quickly fell behind the Royal Navy's latest advances. In November 1909 the first "super dreadnought armed with 13.5-inch guns, Orion, had been laid down at Portsmouth Dockyard, the government facility that had built Dreadnought. As with the earlier ship, Orion's greater size and armament did not immediately become obvious to the Brazilians. But in April 1910, Armstrong's commenced construction of her sister, Monarch, on the slipway next to Rio de Janeiro. Brazilian visitors quickly saw that their ship was noticeably smaller and more lightly armed, and in May the Brazilians ordered a halt to redesign the ship.

Armstrong's presented several alternatives, and after some thought the Brazilians chose an enlarged version of Minas Geraes mounting twelve 14-inch guns in the same turret arrangement. She had much improved armor protection, and was faster than the earlier ships at 22 knots. For several months the Brazilians dickered over details, insisting on revisions of her hammock stowage, searchlight suite and boat arrangements. "Some suggestions," Armstrong's chief negotiator, Tennyson D'Eyncourt, reported back to his directors, "had been too silly for words."

Finally, in October 1910, the Brazilians signed, but Armstrong's had meanwhile initiated a lockout of shipwrights and work could not begin until late December. During the delay, the naval mutiny had destroyed Brazil's will to build the ship and led to the appointment of a new Navy Minister, Admiral Margues Leao. The Brazilians had inserted a clause requiring that a new minister had to approve the design, and Leao was in no hurry to do so. To protect his employer, D'Eyncourt had countered with another clause that if any alterations were made, the new ship had to cost at least as much as the original order.

During a tour of European shipyards and naval facilities, Leao had met the German Kaiser, Wilhelm II, and described his new ship to the emperor. Wilhelm, often dismissed as a dilettante by popular historians, did possess a fair amount of naval knowledge although much of it was useless trivia. The supreme warlord explained his navy's conviction that the 12-inch gun was perfectly adequate to penetrate enemy armor and its higher rate of fire and greater reliability more than compensated for the bigger gun's heavier shell weight. This fit with the views of many in the Brazilian navy, who questioned the need for a larger caliber. Leao now asked for fresh designs reverting to the 12-inch gun.

The shipyard presented several revised versions of Minas Geraes, reducing the main armament from a dozen 12-inch guns to ten, but giving the same broadside thanks to better layout. Anticipating more Brazilian wavering, they also put forward designs with 16-inch guns in case their clients once again tried to shock the world. D'Eyncourt traveled to Rio de Janeiro and found Leao "much more sensible" than his predecessor, but when he invoked the clause requiring the Brazilians to spend at least as much as they had for Minas Geraes, Leao balked at spending more money for a ship that on paper appeared to be less powerful than the previous ships. The Brazilians had committed themselves to 12-inch guns, yet the ship mounting them had to be more powerful than Minas Geraes. Armstrong's duly presented a design for a ship with fourteen heavy guns. The Brazilians signed in June 1911 and Rio de Janeiro was laid down for the fourth time in September.
Buyer's remorse set in almost immediately. Brazilian newspapers questioned the purchase of the new ship when the Americans were building powerful battleships for Argentina with 14-inch guns, and Chile was building her own pair at Armstrong's 14-inch guns as well (and as an added insult, with the very same barrels ordered for the 14-inch-gun version of Rio de Janeiro).
After months of grumbling, in September 1913, the Brazilians directed Rothschild's, their financial agent in the warship purchases, to dispose of the ship. In a final effort to salvage the contract, Armstrong's presented a revised design replacing the seven double turrets bearing 12-inch guns with single turrets each mounting a 15-inch gun. Royal Navy tests had shown that a single mount had a rate of fire about 20 percent greater than that of a double mount, and so the new arrangement would offer about the same firepower as Britain's new Queen Elizabeth class.
The Brazilian decision touched off a frenzy among potential buyers: Despite her somewhat obsolete armament, a dreadnought of any type that could be completed quickly had great value to nations engaged in their own arms races. Turkey eventually won the bidding war, slipping her offer past France and Greece with the aid of a friendly French banker. Freed of her obligation and holding 1.2 million sterling from the Turks, Brazil now began shopping for a replacement. But that's a completely different story.
Rio de Janeiro appears in Cone of Fire in both her 12-inch and 15-inch guises. She's appeared in numerous Great War at Sea games.
Mike Bennighof is president of Avalanche Press and holds a doctorate in history from Emory University. A Fulbright Scholar and award-winning journalist, he has published over 100 books, games and articles on historical subjects. He lives in Birmingham, Alabama with his wife, three children and his dog, Leopold.