Cruiser Warfare:
The East Asia Cruiser Squadron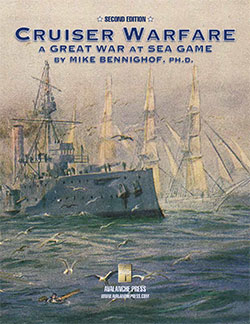 Like their counterparts in other countries, supporters of the German Navy's building program in the early Twentieth Century cited the need to protect overseas trade as a primary reason for building and maintaining a fleet. But while Britain's Royal Navy assumed world-wide responsibilities, Germany's remained limited to a few station ships at colonies and the East Asia Cruiser Squadron, usually just called the "Cruiser Squadron" since it was the only such formation stationed overseas.
Germany's very limited trade with China began to grow during the Napoleonic Wars and continued to increase over the decades that followed. With other European navies staking a claim to Japanese trade with "friendly visits" to forcibly open the Empire's ports, the Prussian Navy dispatched two frigates and a schooner – about half of its strength – to visit Japan and China. They remained on station for close to three years, and afterwards German warships began regular visits to Chinese waters.
The arrangement became permanent in 1869, when the North German Confederation's Navy established a China Station. For its first dozen years it featured one ship – the screw corvette Medusa - but grew to a squadron in the early 1880's. The Germans did not have a base of their own, but used the Chinese port of Yantai (Chefoo) in Shandong Province. But "mission creep" set in, with the cruisers stationed off China called away to show the flag, rescue missionaries and enforce German will in the South Pacific, the coasts of Africa and even South America.
Following the Sino-Japanese War, European powers began a scramble to seize Chinese ports and Germany would not be left out. Using the murder of two Lutheran missionaries as a pretext, a German squadron landed 717 armed sailors in November 1897 to seize the city and harbor of Tsingtao in Shandong near Chefoo.

Tsingtao in 1914.
The Germans rebuilt Tsingtao in their own image, complete with a brewery, beer garden, university, Lutheran and Catholic churches and a German-style railway station. By 1914 the town totaled 53,000 Chinese residents, 2,000 European civilians and 2,400 Imperial German Marines of the garrison. And it now served as the major base for the East Asia Cruiser Squadron, with coal yards and a small dockyard to service the cruisers.
The initial Cruiser Squadron included two armored cruisers, an elderly re-constructed ironclad and a number of smaller cruisers and gunboats. The Boxer Rebellion of 1900 brought a major reinforcement to the East Asia station, with a division of battleships temporarily coming to China along with more cruisers and smaller warships.
In the first decade of the new century, the squadron was built around the then-new armored cruiser Fürst Bismarck with a mixture of protected cruisers and light cruisers to support her. In April 1909 the flagship returned to Germany for a lengthy, expensive and ultimately worthless reconstruction. She was to have returned to Tsingtao after the work had been completed, but it went slowly and the First World War broke out before it had been completed.

Scharnhorst (right) and the British armored cruiser Minotaur at Tsingtao, June 1914.
Replacing her as flagship, the brand-new armored cruiser Scharnhorst had been flagship of the High Seas Fleet's scouting forces since her completion in October 1907. Well-designed, well-protected and well-armed, Scharnhorst might have been the finest example of an armored cruiser at the time of her commissioning. Unfortunately for her owners and her crew, the new battle cruisers left ships like Scharnhorst hopelessly outclassed.
Scharnhorst had been noted for excellent gunnery, but she ran aground in early 1909 and despite repairs never regained her speed. That damage, and the advent of the new battle cruiser von der Tann, commissioned in March 1909, made her expendable and in April 1909 she set out for Tsingtao.
Eighteen months later, her sister Gneisenau followed. Gneisenau had always made better speed than her sister, even before the grounding damage to Scharnhorst, and four times won the Kaiser's Cup for the best gunnery performance in the entire fleet.
The deployment of the two big, modern armored cruisers to Tsingtao marked a change in German naval policy. The protected cruisers of the Victoria Luise class came home in the years just after the Boxer Rebellion, along with most of the older ships. In their place the squadron received reasonably modern light cruisers; by 1910 three of them accompanied the two big armored cruisers and that became the squadron standard during the last years of peace.

Light cruiser Leipzig, seen in 1912.
Leipzig, a Bremen-class cruiser, joined the squadron in September 1906 as her first deployment. She was probably due for overhaul at home by late 1914. Squadron commander Maximilian Graf von Spee was due to be replaced by Friedrich Gädeke then, and the new admiral likely would have brought a new cruiser with him. If the pattern of sending brand-new cruisers to Tsingtao held, this likely would have been Regensburg.
Leipzig had been the slowest of her class, making only 22 knots when new. The typical missions of the Cruiser Squadron did not require high speed, and the German Navy shows a definite pattern of keeping its faster cruisers with the High Seas Fleet and detaching the slower ones to Tsingtao. While that didn't matter during peacetime, the lack of speed would prove deadly when Spee's slow-moving cruisers encountered British battle cruisers off the Falkland Islands.
Nürnberg, of the following Königsberg class, came out to Tsingtao in February 1910. Though she had been commissioned in April 1908, she had been taken out of service again in July of that year, as soon as her trials had been completed, due to chronic personnel shortages in the High Seas Fleet. The assignment to the Cruiser Squadron represented her first deployment.
Like Leipzig, Nürnberg had been the slowest of her class during trials. The four ships of the Königsberg class had been a testing ground for the new turbine-driven propulsion systems, and Nürnberg had the old-style triple-expansion engines. Her turbine-equipped sister Stettin logged trial speeds two knots faster than Nürnberg's 23 knots, and all subsequent German light cruisers would be powered by turbines, except for one last test case.

Nürnberg and her crew at Tsingtao before the Great War.
Emden, of the two-ship Dresden class, joined in April 1910, two weeks after her commissioning. Unsure of the advisability of the new turbines – which were expensive, difficult to maintain and supplied by foreign manufacturers – the German Navy decided to test them again, given suspicions that the British firm of Parsons had provided substandard machinery for Stettin. And so Dresden had Parsons turbines while Emden retained triple-expansion engines. Emden made 24 knots on trials, still less than Dresden's 25 knots, and would be the last German cruiser with the old-style power plant as new German-made turbines became available for the next class.
When the Cruiser Squadron set out to steam around the world, it would do so with the slowest ships of each of their classes.
Squadron commanders served a term of roughly 18 months; Maximilian von Spee neared the end of his own deployment when war broke out in August 1914. Like his predecessors, Spee drilled his ships constantly and all five cruisers scored impressive gunnery results and displayed a very high level of crew proficiency. The squadron cruised every year through Germany's Pacific possessions, visiting New Guinea and the Marshall, Caroline and Marianas Islands.
The cruise took on new import in the summer of 1914. The Cruiser Squadron underwent crew rotation in every even-numbered year, with half of the ships' crews returning to Germany and being replaced by fresh recruits and new officers. That switch had taken place in June 1914, and Spee would need a rigorous training cruise to bring his ships back to the efficiency they had displayed before the rotation.
Conducting such a voyage with Scharnhorst and Gneisenau, Spee was ashore on the island of Ponapé in the Caroline Islands when news came on 5 August 1914 that Britain had declared war on Germany the previous day. He and his close friend Capt. Gustav-Julius Maerker of Gneisenau had been indulging in their shared passion for collecting plant specimens along the beaches in hopes of classifying them and perhaps finding a new species. But now there would be no more time for hobbies.
Click here to join the Gold Club.
See your Gold Club Insider newsletter for ordering information.
Sign up for our newsletter right here. Your info will never be sold or transferred; we'll just use it to update you on new games and new offers.
Mike Bennighof is president of Avalanche Press and holds a doctorate in history from Emory University. A Fulbright Scholar and NASA Journalist in Space finalist, he has published a great many books, games and articles on historical subjects; people are saying that some of them are actually good. He lives in Birmingham, Alabama with his wife, three children and new puppy. He will never forget his Iron Dog, Leopold.
Want to keep Daily Content free of third-party ads? You can send us some love (and cash) through this link right here.