Race in America:
Red Summer
By Mike Bennighof, Ph.D.
July 2021
The faults of our country are our faults. Under similar circumstances, we would fight again. But by the God of Heaven, we are cowards and jackasses if now that that war is over, we do not marshal every ounce of our brain and brawn to fight a sterner, longer, more unbending battle against the forces of hell in our own land.
- W.E.B. DuBois, "Returning Soldiers"
With the South turning to violent racism, many African-Americans streamed northward, taking up work in the urban industrial centers of the Northeast and Upper Midwest. White men had been drafted into the Army, opening many jobs previously reserved for whites, while others were newly-created as American industry became the Arsenal of Democracy. Huge orders for munitions, vehicles, clothing and other goods poured in not only from the U.S. armed forces but those of Britain, France and Italy as well. Someone had to man all of those machines.
The flow began in 1916, when a group from Selma, Alabama, headed out for Chicago. A boll weevil infestation had devastated cotton crops in the first decade of the century, ruining sharecroppers and the market for hired hands. Black people had migrated in smaller numbers for two generations, as "Exodusters" walked off their former plantations and headed North, fearing that the end of Reconstruction would bring with it the re-imposition of slavery. For most of them, the act of walking away from the land represented the first major decision they had taken on their own, one of the few acts of defiance available to them.

A white mob assaults the Douglas County Courthouse. Omaha, Nebraska 28 Sept. 1919.
It brought them second-class status, voter suppression and terrorism, but the population shift created Black communities and institutions that reached out. The Chicago Defender, the most popular Black-owned newspaper in the United States, urged Southern Blacks to move North. Industrial recruiters scoured the South for workers, offering steady pay at rates much less than what white workers had made, but more than a man could make sharecropping cotton. As an added incentive, moving to states without oppressive Jim Crow laws meant that Black men (and after the 20th Amendment's ratification in August 1920, Black women) could vote.
The Pennsylvania Railroad paid the travel expenses for 12,000 Black workers from the South and their families. The Illinois Central handed out free passes North to Black migrants, underwritten by the steel mills, slaughterhouses and factories that sought their labor. By 1919, up to one million Blacks had made the trek from the Deep South. Detroit's Black population multiplied sixfold between the 1910 and 1920 censuses, Philadelphia's five times over. Every Northern city saw increases, and with that shift in the racial mix came increasing racial tensions. Not included in that figure are the hundreds of thousands of rural Blacks who streamed into Southern cities like Birmingham, Atlanta and Charlotte.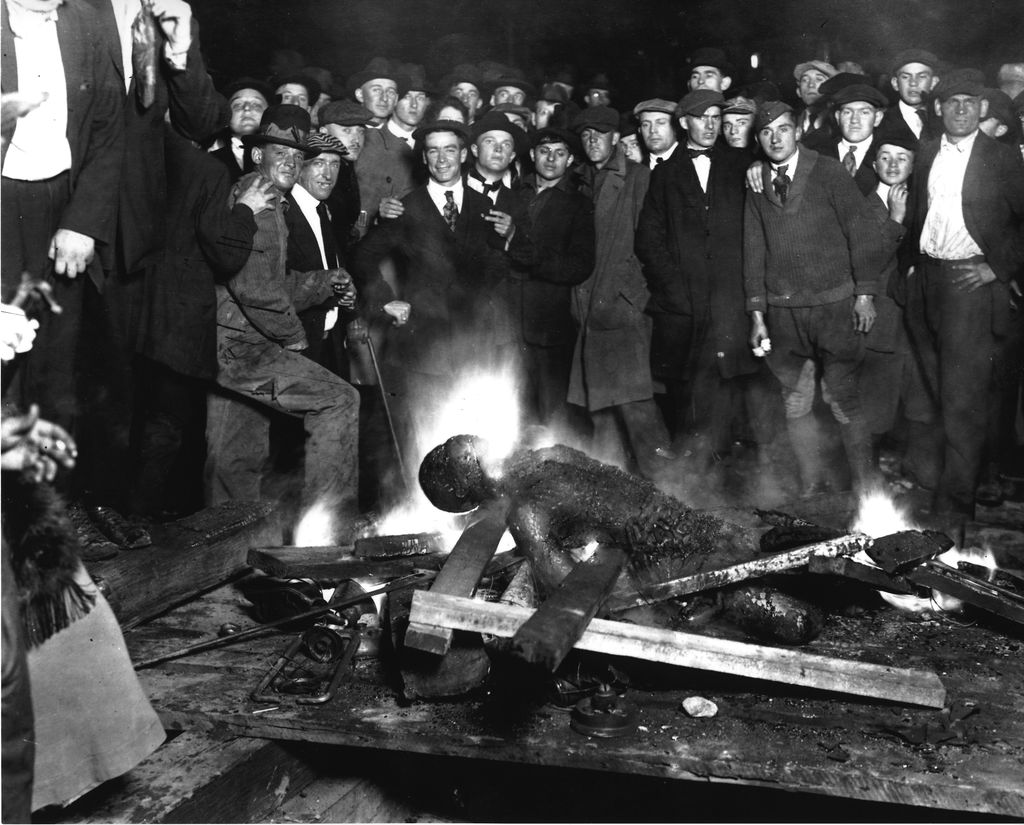 Smiling with the burning body of Will Brown. Omaha, Nebraska 29 September 1919.
The United States mobilized 4.3 million men for the First World War, including 350,000 African-Americans. By early 1919 they were returning, bringing with them an influenza pandemic and an eagerness to return to their pre-war lives and jobs. The U.S. government made no preparations to integrate the returning soldiers back into civilian life. The demobilized soldiers were sent home, bearing influenza but no pension or other mustering-out payment for their service other than their final pay. President Woodrow Wilson's administration had given civilian government employees additional pay to help cover the rising costs sparked by wartime inflation, but these were not extended to the military and when the war ended, so did wartime price controls. Inflation roared, and veterans wanted their jobs back.
In many cases, they found those jobs already filled by someone else, sometimes a white woman, and sometimes a Black man. While the white women workers for the most part went back to their pre-war places, the Black men did not and their employers preferred to keep them. Black workers were excluded by unions; the American Federation of Labor stood for segregated workplaces. And that meant that Black workers made less for the same work than their white counterparts, leaving many whites even angrier that they were being undercut.
White rage boiled over into open violence in the spring and summer of 1919, what became known as the Red Summer. Helping to fuel the violence, the U.S. Army had allowed returning soldiers to keep their personal weapons – rifles and pistols. The specter of interracial sex topped a list of white grievances, but the sight of Black men wearing U.S. military uniforms (mostly Army, some Navy, but no Marines, who had remained lily-white) incensed many white racists. And many of these Black veterans were in no mood to return to shuffling their feet and mouthing "Yassuh" and "Nosuh," stepping off sidewalks or doffing their hats for white people who had not fought for their country.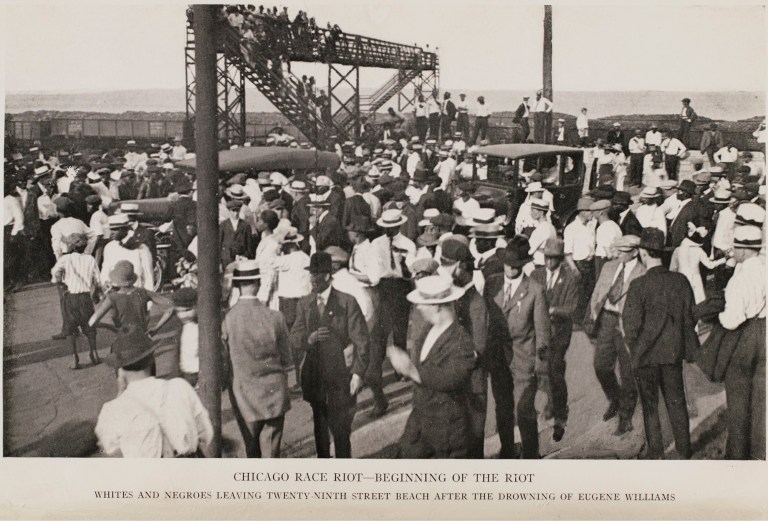 Angry white people gather at the 29th Street Beach, Chicago. 27 July 1919.
As the year wore on, the violence grew more intense. When a Jenkins County, Georgia deputy sheriff shot an unarmed Black man, the victim's son, a returned Army veteran, shot and killed the deputy and wounded a policeman, and then beat him to death. An enraged white mob sought but could not find the shooter, and lynched two of his brothers and his best friend instead. The mob burned three Black Masonic ledges and seven Black churches.
In May, over a thousand white U.S. Navy sailors rampaged through the black neighborhoods of Charleston, South Carolina after a group of five sailors claimed they had been cheated in a game of pool by a Black man. They attacked and beat random Black people, destroyed city streetcars and ransacked Black-owned businesses. Six Black people were killed before Marines restored order; two white sailors were later court-martialed and given dishonorable discharges.
Early July saw white mobs attack Black people in Longview, Texas and Indianapolis, Indiana. In Bisbee, Arizona, white police engaged in a brief firefight with Black troopers of the 10th Cavalry; their white commander, Col. Frederick S. Snyder, accused the police of seeking excuses to murder his men and refused to allow any to face serious punishment.

He alone, who owns the youth, gains the future. - some failed painter.
Chicago, July 1919. These children have sacked and burned this Black-owned home.
White mobs began attacking Black residents of Washington, D.C. on 19 July, after rumors spread that a white woman had been assaulted by a Black man (reports differ as to whether he "embraced" her or deployed verbal abuse). The next day saw even more mob violence, and on the 21st the Washington Post proclaimed "Mobilization for Tonight," calling for white veterans to assemble and "clean up" the uppity Blacks.
Black residents responded by emptying the city's gun stores and bringing in still more weapons and ammunition from Baltimore. Two thousand Black veterans, most of them just-demobilized soldiers from the 372nd Infantry Regiment, dug in around LaDroit Park to await the white assault. Firefights between the 372nd Infantry veterans – many of them uniformed and carrying their Lebel rifles - and Washington police continued through the night, as white mobs behind the cover of the police lines assaulted Black civilians and torched homes and businesses. A 17-year-old Black girl, Carrie Johnson, shot and killed a white plainclothes police detective who had smashed in the front door of her home; she was tried for capital murder but the U.S. Attorney eventually dropped the charge.
By morning, 39 people had been killed along with one police horse; this would be the only incident during the Red Summer when more white people died than did Blacks. But it would get worse.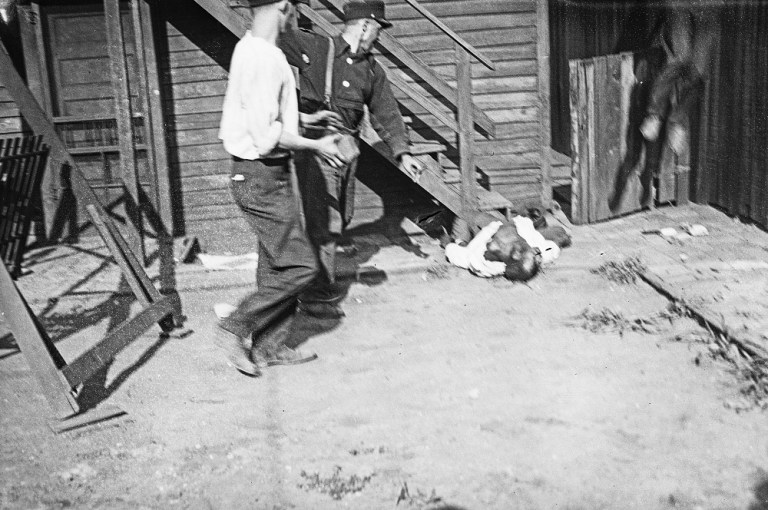 Chicago, July 1919. Two white men stone a Black man to death.
Chicago had been a major destination for the Great Migration; its black population doubled between 1915 and 1920. Racial tension – that is, white resentment – had grown throughout the spring and summer, after newly-enfranchised Black voters made the difference in electing a Republican mayor in a bitterly-contested April election. On 27 July, a Black teenager named Eugene Wilson swimming in Lake Michigan strayed into a section that white bathers had claimed as their own - the beach was not segregated. White men began throwing rocks at him; one hit him in the head and the 17-year-old slipped under the water and drowned.
A Black cop tried to arrest the rock-thrower, but a white cop stepped in, stopped that arrest and arrested a Black man instead. Fistfights along the beach turned into attacks by white mobs against Chicago's "Black Belt," while white gangs dressed in blackface set fire to Polish neighborhoods in a futile effort to incite violence between Black and Pole. White mobs did not penetrate deep into the Black Belt, as over 2,000 Chicago police and 1,000 Cook County sheriff's deputies held the perimeter, but on its fringes they burned and sacked Black-owned businesses and homes and assaulted Black residents.
Seven days of rage finally eased when the Illinois National Guard intervened. Thirty-eight people died (15 white, 22 Black civilians and one Black police officer, John Simpson) and 537 were injured. Thousands of Black residents fled Chicago. A commission formed by the city in 1922 blamed the rioting on white servicemen who expected to return to their jobs and homes after the war, only to find them occupied by African-Americans. Ges Stauber, who threw the fatal rock, was charged with manslaughter but acquitted. Four Black men were eventually convicted of murder, but no whites.

Prosecutors ruled this killing justified, as the man was said to have been sniping at white people from a window.
In late August, white mobs attacked the Knox County Jail in Knoxville, Tennessee, in search of a Black man accused of murdering a white woman. They dynamited the doors, liberated white prisoners and consumed many barrels of confiscated whiskey. The suspect had been transferred to Chattanooga in hopes of averting the assault, and the crowd took out their frustration by invading the city's Black business district. Seven people were killed as the business owners fought back.
A month later, an angry white mob in Omaha, Nebraska likewise attacked the county courthouse in search of a Black man accused of raping a white woman. They found the suspect, hanged him and burned his body, then celebrated with a rampage through the city's Black neighborhoods.
A day after the Omaha murder, white mobs in rural Philips County, Arkansas attacked Black sharecroppers attempting to form a union. Accusing the Blacks of fomenting socialism, they began to randomly murder Black people. Arkansas Gov. Charles Brough, calling the incident a Bolshevik uprising, asked for troops from Camp Pike to help quash the non-existent rebellion, and they joined in the killing spree. Up to 856 people were murdered; five whites also died. The state of Arkansas charged 79 Blacks and no whites with various crimes including murder; all of the defendants were found guilty (no African-Americans were allowed to serve on Arkansas juries). All 12 convictions for murder were eventually overturned.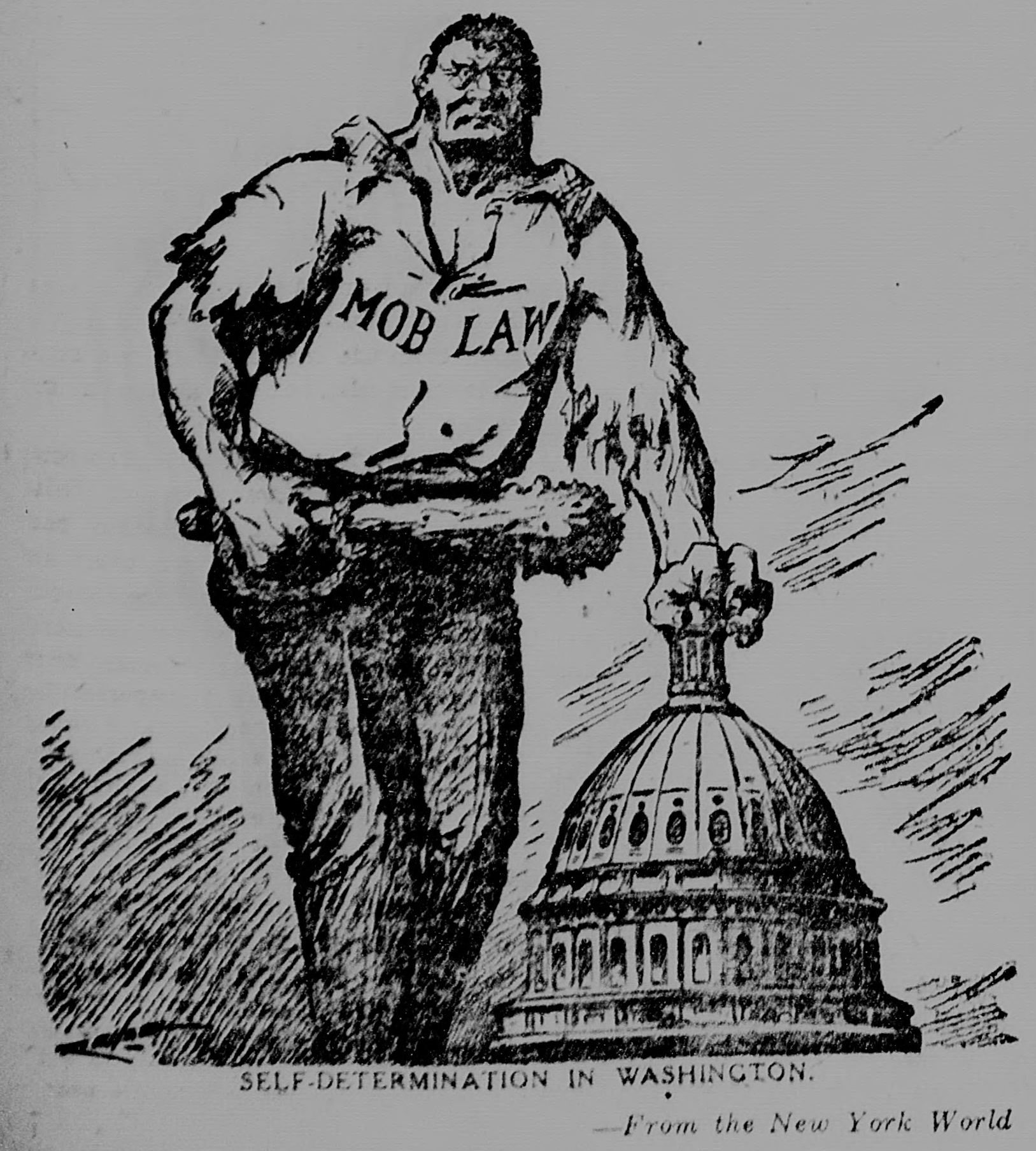 Plus ça change, plus c'est la même chose. No, this is from July 1919.
In addition to mass murder, widespread lynchings, individual murders (at least eight Black people were burned at the stake), beatings, and other violence took place across the country, not only in the South. In Birmingham, Alabama, streetcar conductor J.D. Summerlin shot Sgt. Major John Green three times in the head when Green asked for change from his fare. Summerlin then kicked Green's body off the streetcar, stood over it to smoke a cigarette, and then continued his route. Summerlin was arrested, charged with murder, and then released on his own recognizance; he was acquitted five months later following an 18-minute trial.
Nineteen days after Summerlin's acquittal, Birmingham hosted its first Armistice Day parade, touted since 1947 as the nation's largest celebration of Veteran's Day.
The full series is here:
• Race in America: Founded on Slavery
• Race in America: Civil War
• Race in America: Jim Crow
• Race in America: The Black Doughboys, Part One
• Race in America: The Black Doughboys, Part Two
• Race in America: Red Summer
• Race in America: Tulsa
• Race in America: Klan Scam
• Race in America: Strange Fruit
You can order Black Panthers right here.
You will need Panzer Grenadier: Elsenborn Ridge to play Black Panthers.
You can order them together for one low price right here.
Sign up for our newsletter right here. Your info will never be sold or transferred; we'll just use it to update you on new games and new offers.
Mike Bennighof is president of Avalanche Press and holds a doctorate in history from Emory University. A Fulbright Scholar and NASA Journalist in Space finalist, he has published an unknowable number of books, games and articles on historical subjects. He lives in Birmingham, Alabama with his wife, three children and his dog, Leopold.
Want to keep Daily Content free of third-party ads? You can send us some love (and cash) through this link right here.