Java Sea:
The Dutch East Indies Cruiser Squadron

Dutch warships first took up permanent station in the huge island chain now known as Indonesia in the early 1600s. By the time of World War Two, Dutch practice was to patrol the archipelago with a force of cruisers and destroyers, to enforce Dutch neutrality in time of war and provide at least some deterrent to potential enemies. The navy liked to keep three cruisers available, so two could be on patrol and the third under refit.
The East Indies Squadron is at the center of our Second World War at Sea: Java Sea game. The Dutch ships appear in most of the scenarios. They only sometimes survive them.
The two oldest cruisers on station in 1941 were Java and Sumatra, laid down in 1916 in Dutch yards with some German assistance. When originally ordered these were powerful cruisers by current standards: 6,600 tons and ten 5.9-inch guns, compared to 4,100 tons and five 6-inch guns in the contemporary British "C" class, and 5,600 tons and eight 5.9-inch in the German Cöln class of 1916.

The cruiser Java.
Wartime material shortages and post-war economic problems caused work to grind to a halt for years, and the cruisers, contracted for delivery in 1918, only joined the fleet in 1925 and 1926. By that time, the new heavy and light cruisers produced to the Washington Naval Treaty's standards by other navies (in particular, the Japanese) left them hopelessly outclassed.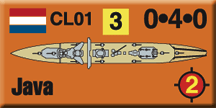 A third sister, to be named Celebes, was laid down in 1917 and finally cancelled in 1919 after attempts to re-cast her design were abandoned.
Java fought in the battles around her namesake island in 1942, and was sunk on 28 February 1942 by torpedoes from the Japanese heavy cruiser Nachi. Sumatra was under refit at home in May 1940 when the Germans attacked the Netherlands, but she escaped. In December 1941 she was under refit again, this time at Soerabaya in the East Indies, and once again she escaped with a skeleton crew. She saw little active service before being scuttled in June 1944, as part of the breakwaters that formed artificial ports off the Normandy beaches.
After several false starts, the Dutch States-General authorized a replacement for Celebes in 1930. Originally intended as a heavy cruiser and a suitable flagship, financial structures caused the design to shrink several times and she emerged from the drawing table as a 6,400-ton light cruiser with six 5.9-inch guns. After some changes to hull form and use of lightweight materials, a seventh 5.9-inch gun was added but the new cruiser, named De Ruyter, did not satisfy the navy's needs. She did boast the sophisticated new Hazemeyer fire-control systems for both her main battery and her anti-aircraft guns.
Nevertheless, she served as the Allied flagship in the operations around Java and was lost along with Java at the Battle of the Java Sea after multiple shells hits and one from a Long Lance torpedo fired by the Japanese heavy cruiser Haguro.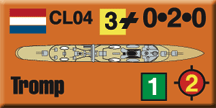 Another pair of cruisers was authorized in 1935, this time much smaller ships intended to lead destroyer squadrons. As if to thumb their noses at the Fijenoord yard that built De Ruyter, Tromp and her sister Jacob van Heemskerck, built at the rival Nederlandse dockyard in Amsterdam, carried six 5.9-inch guns, only one less than De Ruyter, and six torpedo tubes (De Ruyter had none) on only 3,350 tons displacement.
However, Nederlandse only had one suitable slipway, and Jacob van Heemskerck could not be laid down until Tromp had been launched. Tromp was commissioned in August 1938, but her sister was still fitting out when the Germans invaded the Netherlands in May 1940. Her crew took the incomplete ship across the North Sea, and she was completed at Portsmouth dockyard as an anti-aircraft cruiser The British yard could not come up with a fire control system for the Dutch cruiser's main battery that matched the Hazemeyer's technical sophistication.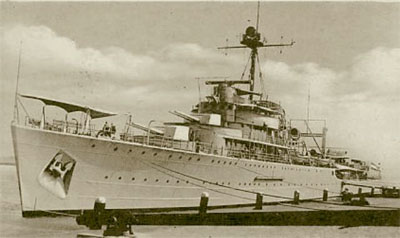 Tromp at dockside, pre-war.
Tromp set out for the East Indies in August 1939, and patrolled the islands for the next two years. She fought in the engagements around Java, and was hit 11 times in the night action in Bandung Strait on 20 February 1942 when a crewman snapped on her searchlight and attracted a rain of Japanese fire. After hasty repairs, she was sent to Australia and missed the destruction of the Allied force a week later. She spent a year in Australian waters after her repairs, and then served with the British Eastern Fleet in the Indian Ocean for the rest of the war.
Jacob van Heemskerck spent her first year aiding the Royal Navy in European waters, but when the Japanese attacked the East Indies she set out to join the defense. She arrived in Ceylon in late February, took on extra ammunition, and headed for Java. While en route, radio intercepts told of the Dutch defeat at the Battle of the Java Sea. Ordered to turn back, she fended off air attacks and joined the British Eastern Fleet. She remained in the Indian Ocean until January 1944, when she was sent back to England for overhaul, but along the way was added to a troop convoy in the Mediterranean as an emergency anti-aircraft escort and remained on that duty for six months. Badly overused, the ship finally entered drydock in June 1944 and did not emerge until the war was over.
Don't wait to put Java Sea on your game table! Join the Gold Club and find out how to get it before anyone else!
Sign up for our newsletter right here. Your info will never be sold or transferred; we'll just use it to update you on new games and new offers.
Mike Bennighof is president of Avalanche Press and holds a doctorate in history from Emory University. A Fulbright Scholar and NASA Journalist in Space finalist, he has published countless books, games and articles on historical subjects; some of them are actually good. He lives in Birmingham, Alabama with his wife, three children and his dog, Leopold.
Want to keep Daily Content free of third-party ads? You can send us some love (and cash) through this link right here. You don't have to, but Leopold would like it if you did.