Defiant Russia: The Next Generation
By Roger Brouillard
December 2009
As the father of three boys, 13, 3 and 1, I'd hoped to pass on my enjoyment of war board games when the time was right. Well, the time has come! My 13-year-old has enjoyed chess and Risk for a few years, so I thought, let's step it up. I went online and tried to find the games I grew up with: Panzer Blitz, Squad Leader, et al. Well, they are long gone, but in my searching I came upon the site for 119694_avalanche Press. I scanned through it and was impressed with the quantity and apparent quality of their games. Quality is very hard to judge with just pictures, but I was right: 119694_avalanche Press is quality.
Off we went to the local hobby store — I wanted to lead him in the direction of war games but was going to let nature take its course. We looked around for about an hour, picking up almost every box, reading it then putting it back. You can imagine the fun this was with a very active three-year-old and a very curious one-year-old. But this was my older boy's rite of passage, as we were looking for his first foray into the great world of wargaming.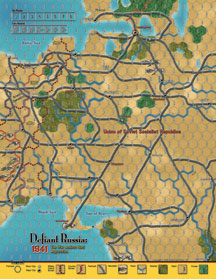 After about another 30 minutes we settled on two games: a card game and 119694_avalanche Press' Defiant Russia. This game is great! It is the perfect starter game for the new player. The rules are simple enough that we were able to get into the game very quickly, yet there was a taste of how the rules will expand as we play more games. I could see the wheels spinning in his head and his questions showed that he grasped the general concepts of the game system.
When it came to the actual playing, Defiant Russia shone again. Set up was a snap and there are no large groups of charts that you need to reference for the results of a battle. The terrain and weather effects are easy to understand, and the weather effects are optional. The game map (which I laminated to prevent the younger guys from tearing it apart) fits very nicely on the kitchen table, and the game wrapped up in under three hours. Perfect for a young man's attention span during football season.
At first the simplicity of the game made me think it would play the same each time (except of course for the chance factor with the dice). This proved to be a false assumption. Part of the thrill of this game is that you don't have to set the pieces up the same each time. Yes, there are some pieces that are required to be set up in certain cities, but there is so much freedom of choice with so many units that the game can be and should be different and better each time. This combined with the availability of reinforcements, replacements, shock armies, partisans, airborne and the Axis minors make this simple game very exciting to play, time and time again.
To wrap it up, there is no better choice than Defiant Russia to introduce the enjoyment of wargaming. Plus it is a great game for those of us who already enjoy the hobby but are pressed for time. I think the game is very under-priced for the amount of enjoyment and playability you get from it. Just don't tell the folks at 119694_avalanche Press marketing this; let's keep it our little secret.
Go out and buy this game — the box fits very nicely in a backpack or briefcase (just in case you happen to run into a fellow gamer).
Have fun!
This piece originally appeared in February 2006.