Birth of a Fascist
By David H. Lippman
July 2016
I was born on 29 July 1883, at Varnano dei Costa, an old hamlet in on the top of a hill in the village of Dovia, which is near the village of Predappio. I was born at two in the afternoon on a Sunday . . . The sun had entered the constellation of Leo eight days before.
So Benito Mussolini opens his autobiography, writing while in Forli Prison's Cell 39 in 1911.
Mussolini comes from a tiny village of bare hillsides and dirt tracks, and a poor, hardworking, divided family. His mother Rosa, a schoolmistress who is the family's primary breadwinner, is a devout Catholic, with a portrait of the Virgin over her side of the bed. Alessandro Mussolini (over there on the right), on the other hand, is an obstinate hard-drinking and womanizing Socialist blacksmith, who places a portrait of Giuseppe Garibaldi over his side of the marital bed. When not manning his forge and buying gifts for his mistresses, Alessandro writes articles for republican newspapers, and argues politics. The police watch Alessandro. After serving a six-month term for socialist activity, Alessandro must get permits to travel out of town, even to see the specialist who treats their eldest son, Benito.
Alessandro names his eldest son after Mexican revolutionary Benito Juarez. He is the oldest of three children, and baffles his parents by remaining mute for his first three years of life. Rosa wants her eldest son to become a priest. Alessandro wants him tough, raising his children with a thick leather strap. When an older boy steals Benito's tiny wooden cart of corncobs, Benito runs to his father. But Alessandro gives no sympathy from the forge, merely saying, "Men have to defend themselves – not ask for pity. Don't come back to me until you've licked them." Benito gets the point. He turns round, finds his robber, and beats him severely.
But in the Romagna province in the Appenines, that philosophy is a way of life. Everyone is poor. Everything, even wood, is scarce. Benito and his brother Amilcare and sister Andrea survive in a three-room apartment of a disintegrating palazzo, eating unleavened piada bread and vegetable soup. On Sunday dinner with Rosa's mother, they enjoy a treat: a pound of boiled mutton.
Rosa tries to inculcate her son with respect for the church. Instead he pinches other people in the pew until the priest throws him out. After that, Benito climbs a nearby tree and hurls stones at priests and choristers. Soon enough, Benito is a young leader, taking his gang out to steal quinces from farmers.
At age nine, Benito is packed off to a boarding school run by Salesian priests, riding on the bucking donkey cart for six hours through autumn fields. Alessandro tells his son, "Pay attention to what they teach you, especially the geography and history – but don't let them stuff your head with nonsense about God and the saints."
Benito answers confidently, "Don't worry, Papa – I know there's no such thing as God."
The young atheist finds the school unpleasant. No talking at mealtimes. Absolute silence in the week before Easter. The boys wake up at 5 a.m. in summer, 6 a.m. in winter, and shiver through daily mass each morning. The priests divide up the three grades according to wealth, and Benito is at the poor children's table, fighting for kitchen scraps.
Benito is uncontrollable in school, endlessly in conflict with his teachers and priests. He avenges all insults, and seeks to dominate his schoolmates. When one priest smacks Benito with a ruler, the youngster hurls an inkpot back. The priests demand his expulsion. Rosa prevails on them not to do so. Instead the priests order 12 days of punishment. Benito must kneel for four hours each day on a spiky carpet of maize grains. Benito kneels in silence, with burning pain in his torn knees to the end.
But the punishment doesn't work. After another disciplinary breach, Benito has to sleep in the yard with the watchdogs one night. He jumps over the gate instead. The priests order Benito to spend each recreation break by standing in a corner of the playground, face to the wall. That doesn't work, either. Benito stabs a schoolmate with a penknife. The priests expel him.
Sent home, Mussolini starts reading Les Miserables, finds it fascinating, and reads it aloud to his pals, drawing small crowds for the excellence of his readings. He practices in front of a mirror, to Rosa's amazement. She asks her son what he is doing.
"Preparing for a day when I make the whole earth tremble," Benito answers. Benito's next school is Forlimpopoli Secondary Modern College, seven miles from Predappio. There Benito and the other poor children again subsist on scraps, this time sour stone-hard bread. At least church attendance is voluntary and he can go home on weekends
But this time, Benito finds a way to fight back against the poor food. He faces the rector and bellows, "Enough! We're treated worse than in a pauper's hostel!" He leaps onto the table, and the rector flees. The boys, empowered, hurl loaves at the steward, but Benito silences them. "To throw bread is to insult the food of the poor." The case goes before the mayor, who samples the bread and then sides with Mussolini.
By now, Mussolini is an attention-getter, a "man among boys," according to schoolmate Rino Alessio, dancing with a knife in his teeth, or reading Zola in the chapel belfry. Mussolini's first visit to a brothel leaves him feeling "dirty – staggering like a drunken man," but filled with permanent lust. "I've begun undressing every girl I see with my eyes," he tells Alessio, and undresses real girls and women every chance he can get.
Mussolini continues to irritate his teachers with defiance. Faced with the essay subject, "Time is money," Mussolini writes, "Time is money – so I'm off to study geometry for tomorrow's exam. Surely more logical?" Mussolini gets a 10-day suspension from classes, but applause from his schoolmates. Still, he manages to finish the six-year program, and later tells cronies that he graduated at the head of his class. The headmaster remembers him as a mediocre student. The schoolmates remember him as a bully who slides down knotted sheets at night to sneak into Forli's brothels.
On July 8, 1901, Mussolini returns home with an elementary school teacher's certificate. Rosa urges Benito to apply for the vacant job of Communal Scrivener. Benito hikes off daily under his big black shepherd's umbrella to the Predappio and Forli Public Library to study the books. But he doesn't get the job. The town fathers know Mussolini's father.
Alessandro is enraged, and roars at the Mayor and Corporation in Town Hall, empowered by Sangiovese wine. The oratory does no good. "Your place is not here in this village, boy," Alessandro tells his son. "Go out into the world, take your place in the great fight."
Mussolini stumps off but only as far as the township of Gualtieri in Reggio Emilia, 100 miles away, earning 12 shillings a week as a substitute teacher. When not teaching, he enjoys cards, alcohol, and women, and memorizing Dante. But his personal habits – bathing naked at dawn in the Po, walking to school barefoot along the railway track, and sleeping on the floor of the cobbler's shop instead of his rooms at Signora Panizzi's place – unnerve the town leaders. Nor are they impressed with his liaison with a woman whose soldier husband is on duty elsewhere. Mussolini inflicts violence on her and other girlfriends, stabbing one with a knife. They do not renew Mussolini's contract. Disgusted, he wires his family for 45 lire for the train fare to Switzerland. They send the money – one month's salary for Rosa.
On July 9, 1902, Mussolini goes to the station to take the train to Lausanne, clutching his only purchase, a pair of new shoes from the cobbler's shop, escorted by Signora Panizzi's maid. When Mussolini boards the train, the hunchbacked maid hands up the shoes. Then Benito tosses back the parcel. "Keep them as a souvenir!" he shouts. "The luck of a Mussolini won't hang on a pair of shoes!"
Not a smart move. Within 10 days, Mussolini's old shoes are torn up, and the only job he can find is as a bricklayer, working 11 hours a day for 32 centimes an hour at Orbe, near Yverdon. There he hauls a barrowload of bricks to a building's second story 121 times a day. His only possession is a nickel medal bearing Karl Marx's image. Like Hitler, he lives in men's shelters. Dire poverty seems good training for dictators.
On Saturday, July 19, 1902, Mussolini quits, his shoes cut to ribbons, his hands calloused and bleeding. The boss hurls the 20 francs at Mussolini, shouting that it's "stolen money."
With the cash, Mussolini buys a pair of mountain boots and heads for Lausanne, where he burns with hunger, angrily eyes rich people dining in hotels, and steals food from dinner tables. He sleeps under bridges in a packing crate. "I was a Bohemian in those days," he later writes. "I made my own rules and I did not keep even them."
He steals food from English women having a picnic on a bench in Geneva, bullies prostitutes, and even stabs one in the thigh with his penknife. When he works for a wine merchant, the boss accuses him of drinking too much of the merchandise.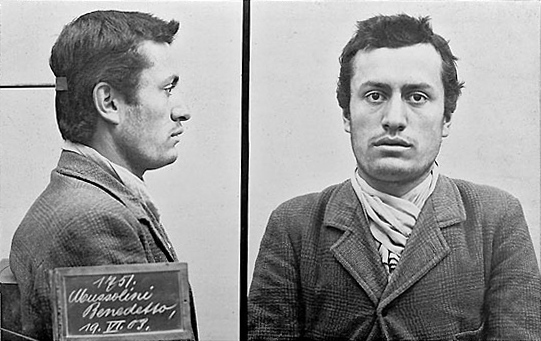 Benito Mussolini's Swiss mugshot.
The Swiss cops, finding him irritating, toss Mussolini in jail for vagrancy. "Hunger is a good teacher," Mussolini later writes, "Almost as good as prison and a man's enemies." The experience gives him a lifelong hatred of wealthy people. After emerging from clack, he hooks up with other Italian bricklayers, and finds they all hate their bosses. He regales them with Socialist theory as a solution to their problems. The bricklayers elect him secretary of the Italian Trade Union of Bricklayers and Bricklayers' Assistants. Mussolini starts signing his name, "Benito Mussolini, Bricklayer."
Mussolini's talent for oratory serves him well at union meetings and demonstrations. He denounces the wealthy, the Italian monarchy, the military, and God. At one speech, he whips out his watch and yells, "It is now 3:30 p.m. If God exists, I give him five minutes to strike me dead." God is not impressed. The crowd, however, roars with applause. At age 19, Mussolini is the "Duce" or "Leader" of the Italian Socialists in Switzerland, and all the rage with Polish and Russian émigré girls in the evenings.
Although Mussolini later claims to have read Marx, Nietzsche, and other heavy thinkers, the only book he seems to read cover to cover is Gustave Lebon's "The Psychology of the Crowd." His theories are based on the last book or article he read. He writes contradictory and erratic articles for revolutionary papers, whose sole linking thread is a plea for a day of vengeance. He demands the abolition of parliament and private property.
The Swiss cops again find Mussolini irritating and toss him back in the pokey in 1903 for advocating violence to achieve workers' demands. "He needs watching," note the Swiss police, calling him "impulsive and violent." They ban his newspaper 11 times and jail him six times.
On his release, the cops ship Mussolini back to Italy and Romagna, where he works for his father in Alessandro's new wine-shop by day, and writes articles for Socialist newspapers – which also land him in an Italian jail. Alessandro does find the energy to take a common-law wife, Anna Guidi, and his 19-year-old daughter, Rachele, tends the bar. As a girl, Benito was one of Rachele's teachers, and flirted with her, even saying he would marry her.
In 1904, Mussolini heads back to Switzerland to evade conscription. He's not a coward – he opposes nationalistic war. Later, his official biographies omit the fact that he – like Hitler – tried to escape from conscription. He walks to Paris and lives there for a while, working as a fortune-teller. Then it's on to Germany and Austria, working at casual jobs in factories and distilleries, all the while denouncing religion and clericalism in all forms.
Publicly labeled an enemy of society by Swiss and Italian cops, and found guilty in absentia of evading the Italian draft, Mussolini toys with going to Madagascar, or New York to work on an Italian socialist weekly. He takes a few classes a Lausanne University, but finally heads home to Italy under a general amnesty and does his 18 months in uniform, starting in January 1905. The officers look on Mussolini with distrust, thinking he'll be a subversive, but Mussolini has learned – he ingratiates himself with his bosses.
In February 1905, Mussolini's mother, Rosa, dies. Benito is devastated, and some accounts suggest he is filled with grief for having been an inattentive son.
David H. Lippman, an award-winning journalist and graduate of the new School for Social Research, has written many magazine articles about World War II. He maintains the World War II Plus 55 website and currently works as a public information officer for the city of Newark, N.J. We're pleased to add his work to our Daily Content.