Ellinikos Stratos
When Greek dictator Ioannis Metaxas rejected Italy's rather vague demands for submission in late October 1940, he did so from a very weak military position, at least on paper. The worldwide economic depression of the 1930s had hit Greece especially hard, and the armed forces disposed of very little modern equipment.

Greek gunners and a 65mm mountain gun, 1940.

Italian forces invaded Greece from Italian-occupied Albania on 28 October 1940, but were hampered by poor logistical planning and worse leadership. The Greek Army had to divide its forces between the Albanian front and the border facing Bulgaria, long known to be very hostile to Greece. The "Army of Western Macedonia" holding the eastern half of the frontier had one division and one brigade, plus a number of independent mountain infantry units, the famous skirt-wearing "Evzones." The Epirus Detachment covering the western part of the line also had just one division and one brigade. Against them the Italian sent only one armored, one mountain and four infantry divisions, somewhat better equipped but smaller than the Greek units (Italian "divisions" were about the size of other armies' brigades).

Unable to score a quick victory, though Italian Alpini made a gallant advance deep into the Greek lines, the Italians had given the Greeks time for mobilization. By early November Greek forces on the Albanian frontier were up to seven divisions and two brigades; after the Greeks determined that Bulgaria would not join the attack their forces there rose to 12 infantry divisions, four brigades plus a cavalry division.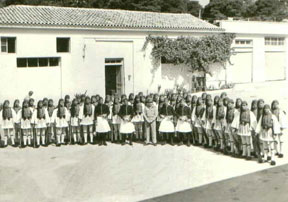 Evzones mobilize for war, September 1940.

At maximum strength, the Ellinikos Stratos, or Royal Hellenic Army, numbered 19 infantry divisions, one cavalry division, one motorized division and one tank brigade. Even that strength is deceiving: several of the divisions were no more than re-designated infantry brigades. Artillery was weak even by the standards of 1914, with most divisions having only 32 guns on paper, 24 of them 75mm pieces, and fewer than that in reality. The infantry brigades often had no artillery at all beyond a handful of Italian-made 65mm mountain guns suitable for nothing more than direct-fire support.

The "motorized" division moved its infantry in requisitioned buses and its artillery and supplies with captured Italian trucks. The tank "brigade" had but six Italian Fiat 3000B machines and four Vickers Type E (very similar to the Soviet T-26); 40 Carden-Lloyd light tanks ordered by the Dutch but cancelled due to their utter uselessness had been picked up by the Greeks but not delivered before Greece fell to German attack in April 1941.

Greece had paid some attention to anti-aircraft defense and possessed a better range of anti-aircraft weapons than most of Eastern Europe's bayonet armies, including several dozen of the fearsome Rheinmetall-Borsig 88mm anti-aircraft gun. But financial hardship made ammunition short, and the German Afrika Korps had not yet taught the world what those guns could do to tanks.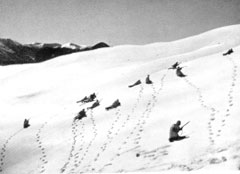 Greek infantry in the Pindos Mountains, 1940.

In Third Reich we represented those forces with three 2-3 infantry units, with two 1-3 infantry available to be built. In the Player's Guide we recommended that all five Greek infantry pieces begin the game in play, and this seems a good adjustment.

The Greater Greece variant calls for larger Greek forces, but we did not provide new pieces for it, instead relying on those from Kevin Nikolai's Insane Byzantine Panzer Variant. Which has the misfortune of coming from a very addled perspective.

The download available here adds one 3-3 infantry, labeled EV (Evzone). The tough Evzones never approached corps or even division strength, and Greece's military standing does not justify an elite unit without substantial materiel assistance that did not actually appear.
Greek cavalrymen advance into Albania, December 1940.

As a variant to the standard game, replace one 2-3 INF with the 3-3 INF once Greece has been an ally of a major power and at war with another major power for at least 2 turns. Thus its not likely to be used unless Greece is both lucky and good. This represents the addition of modern weapons, especially artillery, to the Greek order of battle.

Greece deployed six submarines during the war, which performed gallantly both during the Italian invasion and afterwards from exile. Add 1 SUB to the Greek "At Start" forces in the standard game.

For the Greater Greece variant, initial Greek forces should be as follows:
1 x 3-3 INF
3 x 2-3 INF
6 x 1-3 INF
2 x TAC
1 x 9 SURF
4 x SUB
The Force Pool should contain: