Leyte Gulf:
The Mexican Air Force
By Mike Bennighof, Ph.D.
August 2008
When Mexico declared war on Germany, Italy and Japan in May 1942, Mexican President Manuel Avila Camacho offered to send Mexican troops to fight alongside the United States wherever the North Americans wished. For two years this offer stood unredeemed, but in the spring of 1944 President Franklin Roosevelt directed that a Mexican Air Force squadron be formed for overseas service.
Col. P.A. Antonio Cardenas Rodriguez led 300 men to the United States for training in July 1944. They were split into smaller groups for training as pilots and ground crew, with the Republic P47 selected as the squadron's aircraft. In February 1945 they were declared combat-ready and officially designated the 201st Mexican Fighter Squadron. They remain the only Mexican unit ever to see combat outside the borders of the Republic.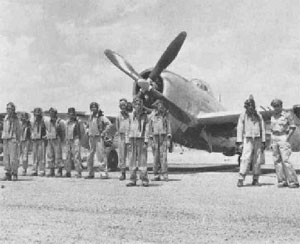 Pride of Mexico. 201st pilots at Clark Field,
Philippine Islands.
Captain First Class Radames Gaxiola Andrade was named squadron commander, with Rodriguez serving as Mexican Expeditionary Force commander. But the North American advisory group attached to the squadron was led by Lt. Col. Arthur W. Kellong and Kellong appears to have been treated as the actual commanding officer by the North Americans.
The squadron arrived in the Philippines in April 1945 and began operations in small flights attached to other squadrons of the 58th Fighter Group, flying planes loaned by those squadrons. In July, however, the Mexicans received new P47D fighters and began their own squadron operations. They flew 59 combat missions as a squadron, beginning with four fighter sweeps over the Japanese-held island of Formosa and an attack against the port of Karenko there. Most of their missions were to provide ground support for the U.S. Army's 25th Infantry Division in the Cagayan Valley.
"I felt very proud to fly this modern fighter," Flight Lt. Amador Samano Pina wrote of the arrival of new P-47D planes, "that our leaders had put us in this modern flight equipment, that made up for the economic hardships to support our unit, compensated by our combat missions in the campaign, with these experiences passed down to the new pilots."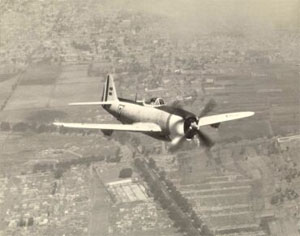 A Mexican P47 over Manila.
Five Mexican pilots were killed in action: one to anti-aircraft fire, one in a crash-landing and three lost at sea after running out of fuel. Flight Lieutenant Jose Espinosa Fuentes saw his engine fail on takeoff from an airstrip at Florida Blanca on Luzon. Rather than punch out and allow his plane to crash into a cluster of tents housing U.S. Army troops, he veered off but his plane smashed into a sugar mill, burning him to death in the process. When the group commander, Col. Ed Roddy, asked Rodriguez why the Mexicans did not lower their flag to half-staff as was the practice when an American squadron lost a pilot, Rodrigeuz replied that no man was greater than the Republic, and the flag would remain at full height to honor Espinosa's sacrifice.
In the Philippines, the Mexican officers were often socially snubbed by their American counterparts, but were very popular with the Spanish-speaking upper crust of Filipino society. The Mexican squadron developed a reputation for "friendly fire" incidents after a flight of eight P47s from the squadron strafed an American infantry company on Purro Mountain and dropped 16 bombs on them. Investigation found that the Mexican formation (which included two American pilots attached to the 201st) had hit the target designated by forward air controllers. No Mexicans were disciplined, but both Americans were replaced as liaison officers.

While overeager boosters have exaggerated the squadron's achievements, it shot down no enemy planes during its brief combat deployment. It did fly nearly 800 combat sorties, dealing out extensive damage to the Japanese and dropping nearly 1,500 bombs. A group of ground crewmen out looking for firewood also captured two Japanese soldiers after a brief firefight.
When the squadron went overseas, no replacement pilots had been sent through the American training system and after those losses the 201st could not field its full strength. Several Mexican pilots were rushed to the U.S. for familiarization with the big P47 fighter, but it would take some weeks for them to be certified and reach the Philippines. In the rush to get new pilots ready and maintain Mexico's place in the front lines, two more pilots died in flight accidents in Florida. When the 58th Fighter Group left the Philippines for Okinawa that fall, the Mexicans stayed behind. They flew their last combat mission as a full squadron on 26 August, escorting a convoy north of the Philippines.
The squadron returned to Mexico City in November 1945. The sqaudron's number and traditions are carried on by the 201st Counter-Insurgency Squadron stationed at Cozumel, which saw extensive service during the 1994 uprising in Chiapas. A film version of the squadron's World war II service, to be called Aztec Eagles, is reportedly in development.
This piece originally appeared in July 2005.