Bismarck:
Raiding St. Nazaire, Part Three
By David Lippman
April 2015
Our story began with Part One and continued, amazingly, in Part Two.
With all the tools assembled, the Chariot Force "sealed up" on March 25th. Commandos cleaned their webbing and weapons and wrote out wills in their pay-books, officers inspected kits to make sure everything was in place, and Newman was summoned to Atherstone for an urgent conference. There he found Atherstone's skipper, Cdr. Robin Jenks, and the other Chariot leaders, with the latest RAF reconnaissance photos of St. Nazaire. They showed five German destroyers had just steamed into port, the 5th Destroyer Flotilla under Korvettenkapitän Moritz Schmidt.
This was a major threat to the operation. Newman was asked what he thought. The Commando said, "We'll slip on board them and sink them with limpet mines," doing so with his 12 reserve men.
Inspired by Newman's confidence, the raid would go on as scheduled, but the Admiralty was asked for two more destroyers to cover the withdrawal. Cleveland and Brocklesby were quickly assigned.
The German tin cans were not the only defenses in the port. Kapitän zur See Zuckschwerdt had overall command of the Loire defenses from La Baule, and had a considerable force. The 280th Naval Artillery Battalion (coast artillery) under Lt. Cdr. Dieckmann deployed 28 70mm, 150mm, and 170mm guns on both sides of the estuary, and a battery of 240mm railway-mounted guns at La Baule. An anti-aircraft brigade under Kapitän Mecke had 43 guns of 20mm, 37, and 40mm caliber, many of them deployed in the port itself, on top of concrete blockhouses, with concrete armor. Ships in port beyond the destroyers included four harbor defense boats, 10 ships from two minesweeper flotillas, and three tankers: Passat and Schletstadt, both under repair in the Normandie Dock, and Uckermark in the harbor.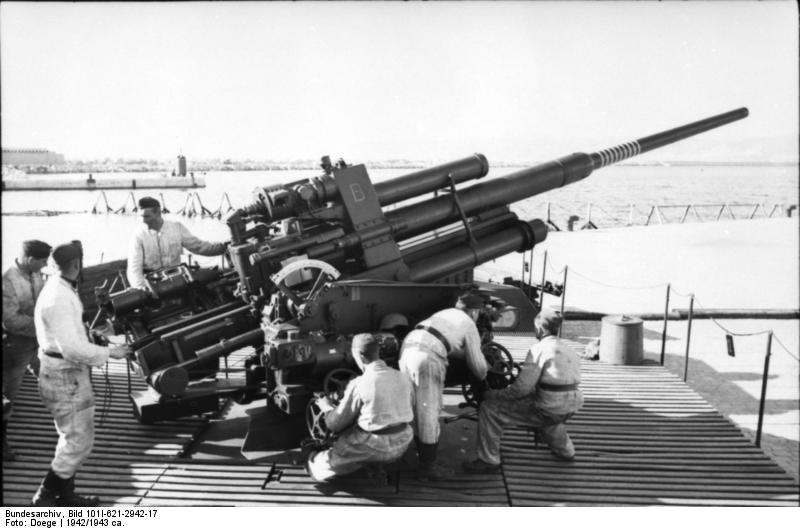 Kriegsmarine flak gunners pretend to prepare their weapon.
The latter ship was well-known to the British under her previous name, Altmark. As the pocket battleship Graf Spee's supply ship in 1939, she had held the prisoners taken in that warship's ill-fated raiding cruise, until their liberation by the Royal Navy in Jossingford, Norway, in early 1940.
Passat also had an unusual history: Originally the Norwegian freighter Storstad, she had been captured by the German disguised merchant raider Pinguin south of the Dutch East Indies in 1940, outfitted as a minelayer, and re-named Passat. In that role, she had laid mines off of south Australian ports, which sank two ships, forcing the Royal Australian Navy to close the port of Melbourne and the Bass Strait until they were fully swept. Having done so, she made it back to occupied France jammed with captured Allied merchant seamen.
The German defenders of St. Nazaire added up to 6,000 men, and if Zuckschwerdt needed more boots on the ground, he could call in men of the Army's 333rd Infantry Division, stationed a few miles inland from the port.
None of this mattered to the British force, which sailed at 2 p.m. on March 26th from Falmouth, under Spitfire cover. The attacking force consisted of 345 naval officers and ratings, 257 Commandos (demolition and fighting parties), together with the medical team, three liaison officers, and two reporters, Gordon Holman and Edward Gilling, both of the Exchange Telegraph. The raiders included Scotsmen in kilts, Canadians, Australians, and New Zealanders – the British Empire's toughest warriors at their absolute best.
Navigator A.C. Green had worked out a course that would take the force west of the Nazi-occupied French coast. To check their accuracy, as the force made its final approach up the Loire, it should encounter the submarine Sturgeon, lights winking, as a navigational beacon.
To add to the concealment, Commandos were not allowed on the upper deck unless they were wearing Navy-issue duffel coats or sweaters. The ships flew German flags. By day, the force steamed in a V-shaped anti-submarine sweep formation, and tightened into columns by night.
On 7 a.m. on the 27th, the force turned to course 112, southeast towards France. 15 minutes later, Tynedale spotted a possible submarine to port, and sprinted towards it, under German colors. The object was U-593, a brand-new boat under a new skipper, Kapitänleutnant Gerd Kelbling, and she fired a rocket of five stars as a recognition signal. Tynedale answered back – at pure guess – with five long flashes of her signal lamp. That seemed to satisfy the U-boat, and she sat there unmoving until Tynedale closed the range to 5,000 yards. Then Tynedale broke out the White Ensign and opened fire – much too soon. U-593 crash-dived, and disappeared when Tynedale's sonar malfunctioned. Ryder ordered Tynedale to head southwest before rejoining the force, to fool the U-Boat.
Ryder's ploy worked. U-593 reported to German Navy Group Command West that a British force was on the move, and Group West thought it was a mine-laying mission heading home. The Germans ordered the destroyers at St. Nazaire to head to sea to intercept the "mine-laying" mission, which took them out of harbor and out of the way for the critical hours of the attack.
Next, the Chariot force met up with a collection of French fishing boats, which scattered quickly. Ryder ordered two of the nearest boarded, the Nungesser et Coli and Le Slack. The captain and crews of both ships were delighted to be grabbed by the Royal Navy, and boarded the escort destroyers, ultimately serving in the Free French forces. The skipper of Le Slack assured Ryder that the other fisherfolk carried neither radios nor German observers, so the force sailed on.
As the afternoon turned to dusk and then evening, the force turned northeast and toward the Loire Estuary. Ryder ordered the motor launches to cover their wheelhouses with grease, paint, or paper, to reduce reflections or light. On Campbeltown, Commandos placed 3-inch mortars on the forecastle. Someone realized that the ship's stores were fully stocked, and all of it would go up in smoke, so all food and NAAFI provisions were "on the house" and freely given away. Commandos and Sailors enjoyed vast plates of eggs, ham, and sausages for dinner, then made "toothpaste" sandwiches, and sang Army and Navy songs.
At 6:30 p.m., Lt. Douglas Briault's motor launch's engines broke down, and had to be dropped from the assault, her Commandos transferred to one of the torpedo MLs, which otherwise were not carrying raiders.
At 8 p.m., it was time to sort out the force into battle order, Atherstone and Campbeltown broke the tows on MGB 314 and MTB 74, and Ryder and Newman boarded the MGB. With Curtis's MGB 314 leading, two columns of MLs steamed up the Loire, led by torpedo MLs commanded by Lieutenants Thomas "Nero" Boyd and C.S.B. Irwin. Between the two columns was Campbeltown. At the tail was Sub Lt. Bob Nock's torpedo ML, followed by Wynn's MTB 74.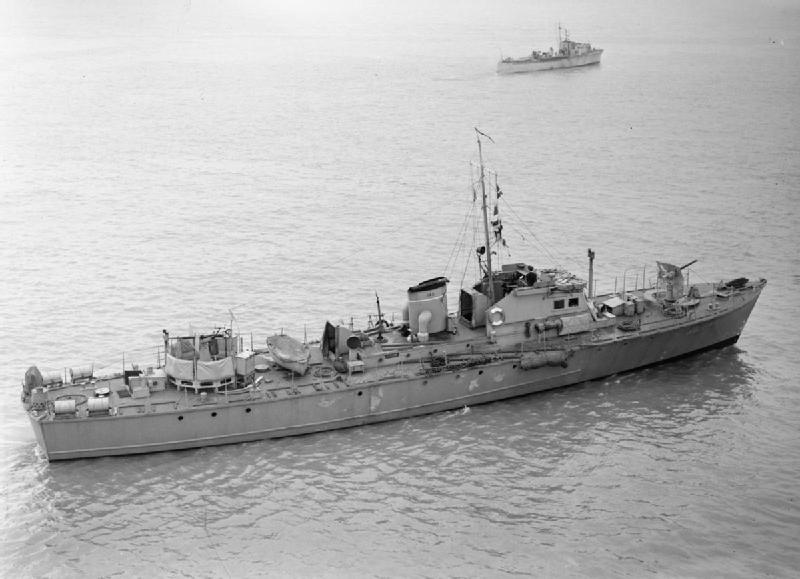 A Fairmile motor launch of the type used at St. Nazaire.
At 10 p.m. precisely, Sturgeon's light flashed out of the darkness, exactly where Lt. Green said it would be, putting the Chariot Force right on target. As the Charioteers passed by Sturgeon, Commandos and sailors greeted each other. Jenks on Atherstone greeted Sturgeon's skipper, Lt. Cdr. Mervyn Wingfield, through megaphone, asking, "Hello, Mervyn; are you in the right place?" Wingfield responded, "Yes; within 100 yards, but don't make so much noise!"
With that, the two escorting destroyers took up their patrol stations off the coast, awaiting further developments. The Charioteers were on their own, with 40 miles to go.
At 11 p.m., Lt. Nigel Tibbits activated the eight-hour pencil delay fuses in Campbeltown, and a few minutes after that, 35 RAF Whitley and 27 Wellington bombers roared in over St. Nazaire, with orders to bomb only if there was clear visibility. But the aircrews found 10/10ths cloud and icing, so only four aircraft could penetrate the clouds, dropping their bombs one plane at a time. German anti-aircraft guns opened up and searchlights probed the sky. German guns shot down one Whitley; her crew was picked up by a German minesweeper, unharmed but out of the game. Another damaged Whitley crashed in England, but her crew was rescued.
Midnight tolled on French clocks, and half an hour later, the Charioteers entered the Loire Estuary, the crew of Campbeltown and the 60 Commandos aboard her grimly aware that they stood on a ticking bomb. Capt. Donald Roy's party of Commandos, all Scots, wore kilts, ready to leap out onto the South Caisson and attack the AA guns atop the winding house. Canadian Surgeon-Lt. W.J. Winthrope stood in his sick-bay and waited.
On all the vessels, Commandos in full kit stood ready, demolition kits by their sides. All guns were manned, morphia in each wheelhouse, empty fuel tanks filled with sea water. The force passed by the grisly wreck of the British liner RMS Lancastria, bombed and sunk in 1940 while evacuating British troops and civilians from St. Nazaire. Some 3,000 had died in the attack, and the liner sank in shallow waters, leaving the wreck's upper works extremely visible. Many of the raiders were familiar with her from prewar years or her use in a more successful withdrawal of Commandos from Norway. It was bad omen.
Visit St. Nazaire! Click here to order Bismarck right now!
David H. Lippman, an award-winning journalist and graduate of the New School for Social Research, has written many magazine articles about World War II. His new book, World War II Plus 75, is now available. We're pleased to add his work to our Daily Content.