Peruís Armada, Part One
By Mike Bennighof, Ph.D.
January 2012
For the first six decades of Peruís independent existence, the Peruvian navy built a proud tradition. Though the Chilean fleet carried out much of the fighting in the early years of the wars of liberation, it was a Peruvian squadron commanded by Martin Guise that won the final battle of the war, defeating a Spanish squadron at Callao in October, 1825. Peru obtained her independence, though the Spanish refused to sign a formal peace treaty or recognize this state of affairs. The Peruvians fought their former Colombian comrades in the 1830s, and fought the Spanish again in the 1860s during Spainís bizarre attempt to re-establish rule over (or at least extort payments from) her former South American colonies.

Admiral Casto Mendez Nunezís Spanish squadron bombards Callao, 25 April 1866.

The War of the Pacific, lasting from 1879 to 1884, crushed Peruís naval power. Chileís economy had steadily pulled ahead, and the Chilean fleet was now much more powerful. Daring raids by Admiral Miguel Grau and the monitor Huascar could not change the outcome. For the next several decades, Peruís navy remained a motley collection of aging gunboats. That changed in the new century.

French naval influence arrived in 1905, when the Peruvians hired Commander Paul de Marguerye to head their naval academy. The next year Peru ordered a pair of cruisers from the British firm Armstrongís yard at Elswick. The standard ďElswick cruiser,Ē designed by Sir Philip Watts (legendary designer of the battleship Dreadnought) carried two six-inch guns, several smaller guns and had reasonable speed and sea-keeping ability. Elswick sold them to a wide array of countries, including Japan and Chile.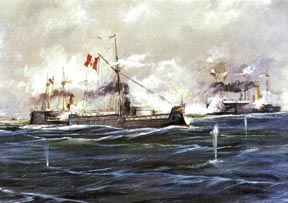 Huascar in the Battle of Angamos.

Almirante Grau and Coronel Bolognesi, named for Peruís two great heroes of the War of the Pacific, displaced 3,100 tons. Each had two six-inch guns and eight three-inch weapons, and two torpedo tubes. They were lightly armored and could make 24 knots when new. The two cruisers became the backbone of Peruís small fleet, serving as front-line units for over 50 years. In 1923 they went to Balboa in the Panama Canal Zone for conversion to burn oil, and in the mid-1930s they went to Yarrow in England to receive new boilers.

Augusto Bernardino Leguia y Salcedo had hired Marguerye during his 1904-1907 term as prime minsiter, and when he ascended to the presidency in 1908, the French officer also rose. Leguia tapped him to reorganize the navy and serve as its commander-in-chief. Marguerye naturally emphasized naval education, moving the academy to a permanent site and sending promising young officers for advanced technical training in France and Spain. But Peruís economy would not support a fleet able to match that of Chile, with which Peru was still technically in a state of war until 1929.

The French mission expanded, but without a heavy increase in funding could not hope to create a navy on the scale of Chile. Chile had five armored cruisers and in 1911 ordered a pair of dreadnoughts from Armstrongís in order to match Argentinaís order of two dreadnoughts in the United States, which in turn were ordered to match Brazilís battleship program. The French officers advised the Peruvians to buy submarines to counter the Chilean dreadnoughts, and Peru duly ordered a pair from a French yard. But submarines, while a sound purchase for a third-rate power, did not meet Peruís need for prestige. The Peruvians wanted a major warship, preferably two of them, to keep up with Chile.

The Peruvians looked over Franceís older warships, but the French Navy proved unwilling to part with any unit that might still have some military value. Even the aging turret ship Brennus, laid down in 1889, was held back from the South Americans (though she appears to have been earmarked for sale to Greece). What the Peruvians really wanted was a pair of Courbet-class dreadnoughts, the big ships then being laid down for the Marine Nationale. These would on paper be less capable than the Chilean ships, which had 14-inch guns compared to the 12-inch main battery of Courbet; aware that Peru could not afford battleships of any type, the French apparently did not reveal details of the Bretagne class with 13.4-inch guns then in the design stage.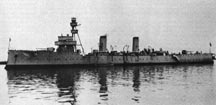 Almirante Grau during the Second World War.

Unable to afford dreadnoughts, but unwilling to walk away with empty hands, the Peruvians accepted a Navy Ministry offer for the ancient armored cruiser Dupuy de Lome. The French naval mission, now headed by Capt. Jose Theron, objected strongly to the waste of precious hard currency (the French navy insisted on payment in gold). The Peruvians, caught in a buyerís fever and willing only to hear that the old ship would cost just 15 percent of the price of a similar new one (though no one was building any similar new ones), signed for her anyway and re-named her Comandante Elias Aguirre.

Dupuy de Lome had not been a very good ship even when she was laid down in 1888. A boiler accident during construction damaged the ship and she was not completed until 1895, spending only a short time in service before going into reserve. While the Peruvian purchasing mission bought the sales talk of ďalmost new,Ē back home wiser heads noted that she had been in service for such a short time because of her defective condition. Though refitted in 1912 after the Peruvian purchase, when a Peruvian crew arrived they declared her unacceptable and Peru demanded the money back.

Recriminations flew on all sides, with Peru refusing to accept the ship and the French ministry refusing to give the money back. The French did sell a modern destroyer to the Peruvians in 1914 in hopes of easing tensions, but still Peru wanted to be repaid. Finally both parties tacitly agreed to find a scapegoat, and despite years of good service and real accomplishment, Theron and the French mission were expelled just before the outbreak of World War One. After the war, a worldwide shortage of merchant shipping led to a number of attempts to convert warships for merchant service, and the Peruvians recovered most of their money by selling the cruiserís hulk to a Belgian firm who turned her into the armored freighter Peruvier.

This piece originally appeared in October 2006.