Fading Legions:
The Tax Cut of Doom
By Mike Bennighof, Ph.D.
July 2016
The less the king exacts, the more he bestows.
- De rebus bellicis
The unknown author of De rebus bellicis, a treatise on war, governance and related matters dating from somewhere between 337 and 378 AD, was promoting a concept familiar to residents of modern democracies: a tax cut. In short, the author argues that reducing the tax rate would actually increase government revenue, as economic growth spurred by lower taxes would more than compensate for the initial decrease in the state's take.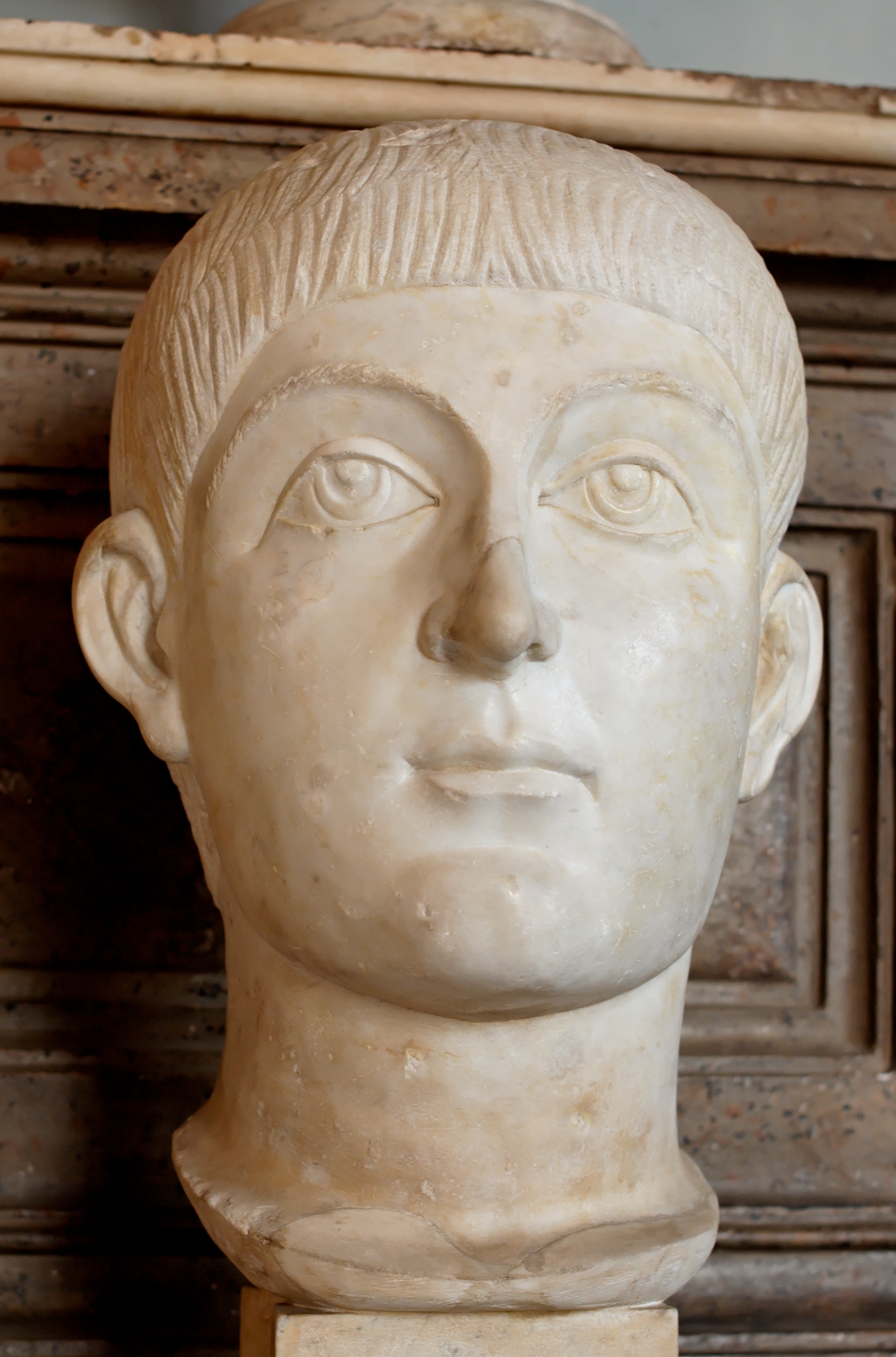 Rome's Emperor Valens (right) found that, like many economic prescriptions delivered with near-religious fervor, it's not necessarily so. It would be a tax cut that set Valens on the road to ruin, a path leading to the disastrous Battle of Adrianople and his own death there.
Valens became emperor only via a series of improbably accidents. In 363 AD, the Emperor Julian launched a well-prepared (and very expensive) campaign against Sassanid Persia, ending in defeat and his own battlefield death. Possibly by mistake, the army acclaimed Jovian, commander of the Imperial bodyguard, as his successor. Jovian made peace with the Persians, and died in February 364 while on the way to Constantinople to assume his rule – apparently expiring after inhaling paint fumes while sleeping in a hastily-renovated roadside inn.
Rome needed another new emperor, and it would again be up to the army to decide. The senior officers, meeting at Nicaea on the road to Constantinople, wished to avoid giving the crown to a leader of one of the various factions and settled on a relatively junior officer named Valentinian. Valentinian was a tribune commanding one of the guard units, the Secunda Schola Scutatorium., with a great deal of military/diplomatic experience but none in imperial administration. He was an Illyrian, like a number of recent emperors, he came from the guard establishment, like other recent rules, and best of all he was not with the main army and so could not easily decline the honor.
While the troops accepted Valentinian, they demanded that he appoint a co-emperor, as had been common in the two centuries preceding Julian and Jovian. This would, they hoped, provide a stable succession in case of another freak death or battlefield calamity. Valentinian sought out the advice of the army's generals and the other officials gathered at Nicaea. Only the guard commander, Dagalaifus, offered a suggestion, urging the new emperor to choose anyone but his brother. Insulted by what he saw as a slur on his family, Valentinian proceeded to do exactly that.
Valens, 36 at the time of his elevation, had even less experience than his older brother. He appears to have been serving in the army at the time, also in the guard corps, but probably only since 359. Prior to his possible military service, Valens managed the family estate in Pannonia until it was confiscated in 351, when his father Gratian was accused of supporting a usurper against the Emperor Constantius II.
Just what Valens did between 351 and 359 is unknown; the historian Ammianus Marcellinus hints that he continued to manage farms but the pagan Ammianus clearly hated the Christian Valens and went out of his way to portray him as a country bumpkin (and notably ugly as well). Whatever his background, Valens' brother expected loyal service and received it. Valentinian would rule the Western Empire and Valens the East; officially they shared power equally but all understood that Valentinian was the senior emperor.
Julian's Persian adventure left the empire's treasury empty and its economy and army shattered. The brothers soon took steps to repair the damage. To build the army they needed to face the multiple threats against the Empire, they had to have resources: gold, men and grain.
They began by reforming the tax system, starting with a thorough accounting of both state and private property held throughout the Empire. The actual collecting of taxes passed from local officials to members of the provincial governors' staff, who were considered less prone to corruption (and easier to punish if they were not). By the time the brothers took office most taxes were paid in kind, usually grain, which would be stored in state granaries and allotted to the army or state officials but for sustenance and as pay. This proved much more awkward than collecting money, which could then be used for any of the Empire's needs, but money had become so debased as to be nearly worthless. No one trusted coins to actually contain the claimed amount of gold or silver.

A gold solidus of Valens. The emperor would not have approved: this coin has been shaved (someone has sliced a little gold off the rim).
For money to become useful again, it had to be trustworthy. The brothers established mobile mints that followed in their train, and only these mints could produce gold and silver coins. Older coins collected as tax payments were melted down and re-struck as pure, certified metal. Trust in Imperial coinage steadily returned, allowing the Emperors to commute more taxes to cash. But the amount of cash circulating in the Empire declined: officially debased coins contained about four percent dross, which meant that the brothers lost four percent of tax revenue when the money was re-coined. Counterfeit coins, often struck in the same mints as official currency, usually had much higher proportions of non-precious metal. Replacing them with pure coins cost the treasury even more. The substitution also reduced the Empire's money supply, causing a deflationary effect on the economy.
Valens went even farther than his brother into the details of monetary policy. He recognized that the Empire did not have enough gold to keep its economy growing, and more importantly to pay its taxes in hard coin. He could not raise the troops he needed, nor equip them, by trundling wagons of wheat across the Empire. Only gold could buy these things, and so Valens needed gold.
De rebus bellicis is dedicated to two "most sacred emperors" and most scholars believe that it was written between 366 and 375. The document lays out the argument that a tax cut would increase economic activity and therefore boost tax revenue well beyond the amount lost via the reduced rate, as it does for many of the economic measures taken by Valentinian and Valens. The unknown author of De rebus bellicis may well be the originator of the Laffer curve. De rebus bellicis also weighs in against economic equality, accusing the rich of driving the poor into desperate acts of civil disobedience. Through tax cuts, he or she argues, the Emperors can restore the prosperity and loyalty of all Romans.
Roman taxpayers faced a rate of 4 (four) percent, considered crushing at the time. The brothers lowered it to three percent, a 25 percent cut. Rather than grow, tax revenue appears to have declined by . . . about 25 percent. Valentinian quickly cancelled the cut and his revenue held steady. Confronting financial disaster, Valens refused to go back on his tax cut; he empathized with the plight of estate managers struggling to pay their taxes and remained convinced that a lower rate would allow them to thrive and ultimately pay more. But that future prosperity paid no legionaries in the endangered present. The needed money would have to be found somewhere else.
The easiest route to obtaining more gold was, of course, to obtain more gold. Both brothers pressed miners to produce more metal, but again Valens took much harsher steps. Gold mining became a hereditary occupation; miners could not quit, and neither could their sons. Those who attempted to escape were subject to torture. In Thrace, an important center of gold mining, miners literally fled into the hills to escape Valens' exactions, establishing fugitive communities outside Roman law. Large-scale punitive expeditions swept the countryside in search of miners; in 373 Valentinian himself led one such campaign.
And what gold did circulate within the Roman Empire needed to remain there. Valens cut off trade across the border into the former Roman province of Dacia (abandoned in 275 after its gold mines had been played out). The goods provided by the Gothic tribes now ruling the region had been exchanged for Roman gold. By cutting off that trade, Valens hoped to both keep gold within the Empire and stimulate import-replacement within Roman territory (in this case, chiefly stock-raising, grain production and high-quality pottery). The expected boost never took place; instead Roman glass-makers suffered the loss of an important export market while the Goths learned to make glass for themselves.
Rome lacked the means to extend credit to the government; what the state needed, the state had to purchase with cash. When the magic of the marketplace failed to appear, Valentinian and Valens turned to another source: magic. Even as Valens put his faith in the invisible hand, so did he persecute those who allegedly believed in other invisible hands: séances, spirit readings and similar practices. Large-scale trials took place in Rome and Antioch, with those convicted subjected to harsh physical tortures and confiscation of their estates. The proceeds from sale of their property then went into the Imperial treasury.
The brothers also sold off Imperial lands and other properties, often at enormous discounts in order to raise ready cash. But the Empire only held a limited amount of property to be sold, and likewise the supply of supposed magicians (at least wealthy ones with property worth seizing) was quickly exhausted.
Yet Valens stubbornly refused to raise tax rates. At any time, the magic of the marketplace would take hold and the gold would flow.
When emissaries arrived from Gothic tribes wishing to cross the Danube River into Roman territory, they provided a heaven-sent opportunity to solve two of Valens' shortages at once: money and manpower. Roman conscription laws demanded recruits from communities and land-owners, rather than individuals. At the State's option, the requirement to produce a recruit could be commuted to 36 solidi, the Empire's standard gold piece (30 for the recruit, six for the equipment the community/landowner was expected to fund). And even better, this payment could not be rendered in kind.
Each stout young Goth enrolled in the Roman army therefore represented not only an increase in manpower, but in the state's gold reserves as well. And it appealed to Valens' inner farm overseer as well: every Goth enlisted meant one free Roman farm worker (the army did not accept slaves or freedmen) not taken out of productive work.
Things did not work out as planned. In 376 the Goths crossed into Roman territory where they were promptly mistreated by local officials – who perhaps were not free-lancing, as Ammianus states, but instead jumped the gun on Valens' plan to exploit the immigrants. The Goths rose in revolt, and found thousands of angry fugitive gold miners in the hills of Thrace eager to act as guides and allies. Valens' supply-side economics had exploded into a disaster of epic proportions, as the Goths could not be contained by the Roman garrison of Thrace and rampaged across the province. Valens finally met them in battle in 378, losing his life and most of his army outside the city of Adrianople.
Valens died still waiting for the invisible hand to work its magic.
Fight the Goths! Click here to order Rome at War: Fading Legions.
Mike Bennighof is president of Avalanche Press and holds a doctorate in history from Emory University. A Fulbright Scholar and award-winning journalist, he has published over 100 books, games and articles on historical subjects. He lives in Birmingham, Alabama with his wife, three children and his dog, Leopold. Leopold denies the validity of supply-side economics.