The Real Tiger of Malaya
By Mike Bennighof, Ph.D.
June 2008
Every nation has its heroes, and most become known to outsiders as well. For Malaysia and Singapore, the heroic symbol of resistance to Japanese aggression is Adnan Saidi of the Royal Malay Regiment.

2nd Lt. Adnan Saidi
The Royal Malay Regiment began in 1930 with an "experimental" unit of 25 Malay recruits under a British officer. The unit remained small until 1939, when it was expanded into the 1st Battalion of the Royal Mayal Regiment (Rejimin Askar Melayu DiRaja). The British agreed to limit recruitment to Malays, excluding Malaya's ethnic Chinese community.
In our Tiger of Malaya game, both Malay battalions appear. Japanese Gen. Tomoyuki Yamashita became known as the "Tiger of Malaya" in Japanese propaganda, but the title truly belongs to a different man.
Among the Royal Malay Regiment's early recruits was Adnan Saidi, a well-educated young man from Kajang when he enlisted in 1933 at the age of 18. Selected as the unit's best soldier, he became the first Malay NCO in 1936 when he was promoted to sergeant. In 1937 he attended officer training school in Singapore and became the first commissioned Malay.
A second Royal Malay battalion was formed in December 1941, less than a week before Japanese troops began landing in Malaya. The two battalions formed the 1st Malaya Brigade, and fought on the mainland alongside 44th Indian Brigade.
Adnan had married schoolteacher Sofiah Fakir after winning his commission, and now moved his family to the safety of Singapore. They took up residence among the British officers' families in the Pasir Panjang area. But there was no safety to be had — within weeks, the Japanese had forced their way ashore.
Alarmed, Adnan sent his pregnant wife and two small children back to Kajang.
"I was only 4," his oldest son, Mokhtar, recalled later. "I did not realize that it would be the last time I would see my father. My brother and I kissed our father's hand before he left us. He did not say much. He merely told us to take care of ourselves and not be naughty. I could see that my mother was very sad. She did not say anything."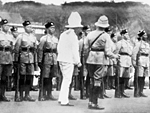 1st Battalion on parade
On 13 February 1942, with the British-led defense of Singapore collapsing, the remnants of 1st Battalion, about 300 men, took up positions on Bukit Chandu, or Opium Hill, site of a opium processing plant in the early 1900s that later became a trendy housing area for senior British officials — the very spot where Adnan had sent his family. Over the next 48 hours, wave after wave of Japanese from the elite 18th "Chrysanthemum" Division broke on the hill. The Malays fought them all back in savage hand-to-hand combat.
At the front of the defense stood C Company. Capt. H.R. Rix told his men they would retreat no further, and that he would die with them where they stood. In a bungalow at 31K Pepys Road, Rix stationed 42 men led by Adnan. Repeatedly the Japanese fought their way into the buildings under a shower of grenades, and just as often the Malays threw them back out. At the Alexandra Brickworks, D Company also stood fanatically, mowing down hundreds of Japanese who came forward in human-wave assaults.
"Lt. Adnan came to my stockade through the communication trench," Datuk Abbas Manan, one of the 42 heroes, remembered. "He asked me to help him. He wanted to fire the machine gun, so he needed me to change the magazines while he was firing. Incidentally, the Japanese were coming from the front of the stockade positions. They were wearing disguises. So Adnan opened fire. The Japanese soldiers scattered when they were fired on, and many died. Then Adnan said to me, 'Mr. Abbas, if I should die today, I am quite willing as long as someone can look after my family.' Those were his last words and that was the last time I saw him alive."

Japanese advance up Opium Hill.
Adnan, suffering from several bullet and shrapnel wounds and a broken arm, refused to leave his men and fought alongside them with pistol, sword and finally as ammunition ran out, his bare hands.
Australian troops fighting nearby looked on with horror at what happened next. "The Malays started to fight the Japanese on Reformatory Road," said Lt. Penrod V. Dean of the 2/4th Machine Gun Battalion. "They had dug slit trenches but they didn't have a lot of weapons. They started fighting the Japanese just with rifles virtually. And when the Japanese broke through them, the Malays took to them with bayonets, they put bayonets on the rifles and with a bayonet charge they drove the Japanese back across Reformatory Road. They were very brave people. They fought very hard, but for every Malay soldier there was about 10 or 12 Japanese soldiers. So it was inevitable what was going to happen."
The next day, the British surrendered. The Japanese separated officers and men among their prisoners, sending the Malay rank and file to join Indian enlisted men in an enclosure at Farrer Park. Rix and all the battalion's British officers had died fighting.
And then there was the Malay lieutenant.
Grievously wounded, Adnan was instantly recognized as the short berserker who had personally killed dozens of Japanese. His captors beat him savagely, then slowly killed him with bayonet thrusts.
Two days later, Sofiah gave birth to a daughter, who died soon afterward. Sofiah survived the war but died in 1949, leaving her two young boys in foster care.
Five other Malay officers were captured by the Japanese. "My husband, Ibrahim Sidek, and his friends were told by the Japanese to take off their Malay Regiment uniforms and accept release," Sharifah Khadijah Hamid recounted years later. "They refused. They didn't even want to remove their badges of rank. A week later, the Japanese executed them. My children were still very young, too young to know their father. His body was never found. We cannot even remember him with a grave."
A Malaysian movie studio is currently working on Adnan's story.
This piece originally appeared in May 2005.
Meet the REAL Tiger! Click here to order Tiger of Malaysia now!