Mine Warfare In
'Second World War at Sea'
Part II: Mine Warfare Ships, Subs and Aircraft
By Steven Ford High and Kristin Ann High
February 2007
Mine warfare is conducted by ships and aircraft, although in the period covered by SWWAS aircraft may only sow mines, not sweep them. Mine-warfare ships may be classed as belonging to one of four types:
Dedicated fleet auxiliaries, including minelayers, minesweepers, and mine warfare craft that combine both layer-and sweeper capabilities — SWWAS ship types ML, MS, & AM.

Converted obsolete fleet destroyers, escort destroyers, and light cruisers — SWWAS ship types DM, DMS, CM, and CMS.

Modified fleet destroyers and, occasionally, destroyer leaders or light cruisers, mounting mining apparatus in place of A/S weapons or torpedoes — SWWAS ship types DD, DL, and CL.

Submarines of all types — SWWAS ship type SS — carrying mines in place of torpedoes, torpedo reloads, fuel, or possibly all three.
Each of these four types has capabilities, advantages, and liabilities associated with their employment in the mine warfare role. Lastly, aircraft play a prominent part in offensive mining operations.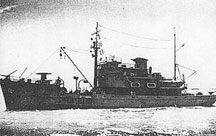 U.S. Army minelayer Mayback.

Fleet Auxiliaries
(MLs, MSs, AMs)

Dedicated mine warfare ships — mine warfare auxiliaries — are the most efficient ships for minelaying or mine sweeping, the moreso as their crews have extensive experience with handling mines. Mine warfare auxiliaries carry a greater load of mines, and place them more accurately and more efficiently. Most importantly for defensive minelaying, their crews can be counted on to produce a well-charted minefield.

The combination of technical features and crew expertise makes mine warfare auxiliaries excellent choices for defensive work, mining or sweeping friendly ports, yards, shore facilities, and invasion beaches. One of their principal drawbacks is their lack of speed and defensive armament. These factors make dedicated mine warfare auxiliaries difficult to operate in contested or enemy waters, unless they are protected and screened by warships.

Converted Obsolete Warships
(DMs, DMSs, CMs)

Another drawback is the expense of producing and operating ships dedicated to mine warfare. For many nations, modern dedicated mine warfare craft are simply a luxury they cannot, or will not, afford. For such nations, mine warfare craft are rebuilt or reconstructed from other ships, such as trawlers, sloops, and tugs. These ships tend to be slow, vulnerable, and difficult to sail in open waters.

Converted warships — obsolete or obsolescent DEs, DDs, and CLs — are often permanently modified to perform minelaying or mine sweeping missions. Converted warships are something of a compromise between the mine warfare auxiliary and the modified fleet destroyer. They are faster, better armed and better protected than dedicated mine warfare auxiliaries. Because they are usually older and have all been modified to carry mines and minelaying gear, or mine detection and sweeping gear, converted warships do not possess the same firepower and speed as the modified fleet destroyer. The principal advantages of converted warships are their relative economy, and their suitability for tasks other than mine warfare.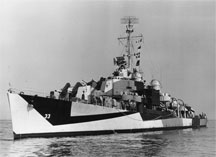 Destroyer and minelayer USS Gwin, DD-772 and DM-33.

Modified Fleet Destroyers, Destroyer Leaders and Light Cruisers (DDs, DLs and CLs)

The best offensive minelayer is also the most expensive and most jealously guarded — a modern fleet destroyer (DD). Swift, well armed and well protected against submarine, surface, and air attack, fleet destroyers are potent weapons. The multiplicity of their roles — they are scouts, shadowers, submarine and MTB hunters, plane guards, convoy escorts, and fleet escorts — gives some idea of the demand for these workhorses.

To employ the fleet's DDs on minelaying missions is usually seen by the fleet commander as a diversion of strength from the main effort — finding and sinking the enemy's surface and submarine forces. Worse, a DD modified to carry and lay mines has to land a significant amount of its normal warload — usually ASW weapons and torpedo armament. Without these weapons, the DD is less effective in its primary roles.

Unfortunately for the fleet commander, the speed of fleet destroyers makes them effective offensive minelayers. They can run at high speed deep into enemy-controlled waters under cover of night, sow their mines in likely places, and run back to their forward bases before dawn. Their minefields are nowhere near as good as those of the other ships used for minelaying operations, but the fleet destroyer's speed gives them the key element of surprise.

Their minefields might only damage a ship, yet by sowing their mines deep in what had been safe waters, they cause disruption and instill caution in the enemy. On the other hand, a minefield sown by fleet destroyers, being unexpected, could reap high rewards, and this only served to increase the demand for DDs modified for offensive minelaying. The fact that yard time was required to put on and take off mine warfare fittings also served to make conversions rather one-sided — a DD might be modified for mine laying, and not be refitted for normal duties until it was docked for damages or in need of routine refit in the yards.

Offensive minelaying became an established fleet destroyer task in the Second World War. While the first modifications were carried out in the yards on a trial basis, with each fit being unique and requiring highly-skilled ship fitters, by the middle years of the Second World War, even the famous American Fletcher-class DDs and their follow-on Allen M. Sumner-class and Gearing-class DDs had "minelaying kits" mass produced for them; the kits were standardized and could easily be installed in the yards or even by a destroyer tender, and be removed in the same way, as-needed. Larger DDs fit for flagship duty — sometimes called destroyer leaders (DLs) — or some of the more modern, faster light cruisers (CLs) were also sometimes modified for mining missions, in the same manner as fleet destroyers.

Submarines (SSs)

The stealthiest of all minelayers is the submarine. From the beginning of both wars, submarines were used to lay minefields. Like the fleet destroyer, employment of submarines on minelaying missions was generally seen as a diversion of resources from the vital mission — attacking the enemy merchant fleet. Nevertheless, submarines enjoyed the supreme advantage of stealth, and their minelaying capabilities were superior to those of the fleet destroyer. The principal disadvantage to employing a submarine as a minelayer was again similar to the problems of employing a fleet destroyer, the mines had to be taken on in place of torpedoes and fuel, reducing patrol time and limiting the possibilities of attacking convoys — or warships — with torpedoes.

On the other hand, submarine minefields were even more likely to achieve surprise than those sown by fleet destroyers, because the submarine could hide in daylight, and need not use speed to avoid detection. The British Battleship HMS Nelson — flagship of the home fleet and one of only two British battleships not laid down before the Great War in service at the time — struck a U-boat-layed mine on 4th December, 1939, and was drydocked for four months.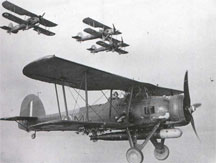 Fairey Swordfish often carried massive mines in place of the usual torpedo.

Aircraft and
Mine Warfare

During the Second World War, all the major belligerents employed aircraft to lay mines. The mines were carried aboard bombers or naval strike aircraft. The famous Fairey Swordfish and its younger stablemate, the Fairey Albacore, could each carry a single 1,800-pound sea-mine in place of the 18" aerial torpedo they normally carried. Land-based level bombers were generally more effective at sowing minefields than carrier aircraft. Not only could they usually carry more mines, they could also operate at greater ranges, without exposing valuable aircraft carriers to danger. They were the only alternative for the Italian and German navies, neither of which succeeded in commissioning an aircraft carrier of any sort. Land-based bombers could also use other bombing raids as cover, breaking off to drop their parachute-equipped sea-mines in rivers and ship channels without drawing the same attention a lone flight of mine laying aircraft would.

The major drawbacks to employing aircraft in offensive mine warfare are accuracy and density. The "simple" act of dropping bombs on target in combat had turned out to be much more difficult than anyone anticipated, so dropping sea-mines over water at night tended to be highly hit-or-miss affairs. Even if all the aircraft on a mining mission dropped on target, the density of the minefield was not as heavy as that sown by surface ships or submarines. It was due to a poorly dropped sea-mine — it landed in the mud flats of the Thames estuary — that the British were able to take the superb German magnetic mine apart, and thereby create effective countermeasures for it.

Tune in next time for the third and final installment in this series, which presents variant rules and tables for mine warfare in Second World War at Sea!

See mines at work in Second World War at Sea: Bomb Alley.