Ohwa! Tana! Siam!
During the playtest of Great Pacific War in 2002 and early 2003, one unit quickly became our favorite: the Siamese Navy. We like to include exotic game pieces in our historical games, and Yul Brynner's fleet is one of the most unusual.
Siam had avoided foreign colonial rule during the 19th century, and as war drew near in the 1930s nationalists were determined to not only avoid this fate, but to re-gain the provinces lost to foreign control. Britain had seized several along the southern border, adding them to Malaya, but Thai hatred focused primarily on the French.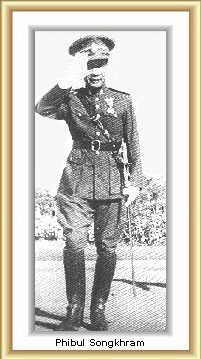 Phibul Songkhram,
Siam's maximum leader
Siam's King Pradjadhipok abdicated in 1935 in the face of popular revolution, giving way to a regency council led by Col. Luang Phibul Songkhram. Songkhram, a nationalist dictator in the East European manner, directed his countrymen's rage on the French colonialists next door in Indochina, and demanded a feverish pace of modernization to prepare Siam for a war of revenge.
When Germany defeated France in June 1940, the Siamese saw their opportunity. Siam began making territorial demands on the Vichy colonial government in Hanoi. With a defiance fueled more by racial arrogance than military confidence, the French rejected the claims. On 20 October 1940, Songkhram ordered mobilization.
The Siamese Army of 1940 that went to war with Vichy France numbered six infantry divisions, plus one armored and three cavalry regiments. The divisions had three infantry regiments each and between one and three artillery battalions. French and Japanese military missions had assisted in training, and the Siamese had purchased a variety of fairly modern equipment: Vickers 6-ton tanks, Krupp and Bofors artillery, Mauser rifles, and Madsen and Browning machine guns.
The Navy was built around two armored coast defense ships, with two more armored gunboats and a number of small torpedo boats. Four small submarines had also been acquired. A major naval buildup began in 1938, with four more submarines ordered from Japanese yards and two cruisers in Italy.

Siamese sailors take delivery
of the coastal battleship Sri Ayuthia
in Kobe, Japan, 1938
The Army advanced into French-ruled Cambodia and won a meeting engagement at Battembang on 16 January 1941. But the next day the navy met with disaster at Koh Chang roads, as an outnumbered French squadron sank both coast defense ships (one would later be repaired) and three torpedo boats against no losses of their own.
Siam now accepted a Japanese-brokered peace, and soon afterwards Indochina came under Japanese occupation. Siam received only a sliver of the demanded territory.
Japanese troops crossed into Siam on the morning of 8 December 1941, and the British from Malaya followed a few hours later. Siamese soldiers resisted both. Soon afterwards Songkhram ordered resistance to the Japanese to cease, and on 21 December signed an assistance treaty with Japan. Three Siamese divisions invaded Burma alongside the Japanese, and on 25 January 1942 Siam declared war on Britain and the United States.

Siamese tankers on parade
Siamese forces conducted their biggest offensive of the war in May 1942, taking Kengtun in northern Burma from the Chinese 93rd Army.
As the war ground on, the Thai population came to dislike the Japanese presence more and more. In June 1944, Phibul was overthrown. The new civilian government tried to distance themselves from the war effort but did not expel the Japanese. After the war, American influence prevented Thailand (as the state was now known) being treated as an Axis nation, but Britain demanded 3 million tons of rice as reparation and the return of areas annexed from Malaya during the war. Thailand also had to return the portions of Burma, Cambodia and Laos that had been taken. The American-born King Rama IX ascended the throne after his brother's mysterious death in 1946, and Thailand has been a staunch American ally since.
Gamers always want more, of course. So we've got more, in a free download here for Great Pacific War. Included we have a Siamese submarine unit, a second SURF point and a TAC unit to represent the 290 combat aircraft of the Royal Thai Air Force. The air unit is probably justified, especially with the delivery of 93 Japanese planes in late 1940. The submarine is at the edge of our calculations in this game system, but delivery of the second division of four boats would clearly have justified the piece's inclusion in the game. Place the TAC unit in Siam's At Start forces in all scenarios, and the SUB and second SURF point in the Force Pool.
And because we know that many Thai nationalists play our games, we have two 3-3 INF pieces representing Songkhram's plans for the army's eventual expansion. Siam had purchased modern weapons for its existing divisions, but forging an army of that quality would not have been easy. We'll let you decide what to do with them.