Why Do We Do This?
November 2007
Shane Ivey
Webmaster, Layout
I've always been something of a dilettante, recklessly pursuing Quixotic enthusiasms. That was certainly the case in college. My goal was to get a job with the FBI, so I majored in criminal justice with a minor in psychology. But I was more interested in history and literature than anything else, so I took enough courses in those subjects to qualify for minors in them as well. In three or four of my history courses — this was in 1991 and 1992 — I had a young teacher named Mike Bennighof.
Mike was far and away my favorite teacher at UAB, and I wasn't the only one, judging by his showing in the Best Teacher polls. But I graduated in 1993, got married, moved to New York, barely managed to miss getting into the FBI, had kids, and time passed. In late 1997 I was back in Birmingham again and toyed with the notion of graduate studies in history at UAB, but when I went to look Mike up he no longer worked there.
In 2002 I had come back to UAB again, now working for the university as a magazine editor. Late in that year I was talking to a colleague about starting up a roleplaying game publishing company, and I started reading as many articles about the industry and interviews with company owners as I could find. I stumbled across an interview with 119694_avalanche Press president Mike Bennighof.
"Huh," I thought. "How about that?"
It turns out he had set up a game company of his own around the time I graduated from college.
A few emails later, Mike and I started meeting for lunch. I soon left UAB to start up my own game company, Arc Dream Publishing, while working nights at the Birmingham News. 119694_avalanche needed help modernizing its website, and I'd done a great deal of webmastering, so I started working for Mike a few hours a week.
Gradually we ramped up the amount of work I was doing — particularly when we launched Daily Content, which started as an experiment and became one of the cornerstones of our direct sales. I also had a great deal of experience in page design and editing, so I helped in those areas as well. Over the course of the next three years, five hours a week became 40 and up.
About the only thing I haven't done on the "production" side of 119694_avalanche Press is game design. That may sound strange since I run my own game company on the side, but Arc Dream produces roleplaying games, which are a very different breed from 119694_avalanche's boardgames. Of course 119694_avalanche published RPGs of its own for a while, but that product line ended about the time I came aboard.
In the last few months my work at 119694_avalanche has scaled back to part-time again due to increasing family obligations, but it's still exciting and fun. 119694_avalanche Press is a relatively small company, so we all wear as many hats as we're able. Moving from web design to page design to editing and back fits my old dilettante habits perfectly.
As for those Quixotic enthusiasms — well. Did I mention I work for a game company?
The boss notes: Yes, I got fired for winning a teaching award — Survival of the Witless, the game of academic tenure, is a documentary, not a satire. Shane's work making Daily Content a reality has been our greatest engine of growth, and he's posted them on Christmas Day, while on vacation at Disney World, and with children hanging all over him. I've been blessed with the opportunity to staff 119694_avalanche Press with the best people I've run across during my adult life.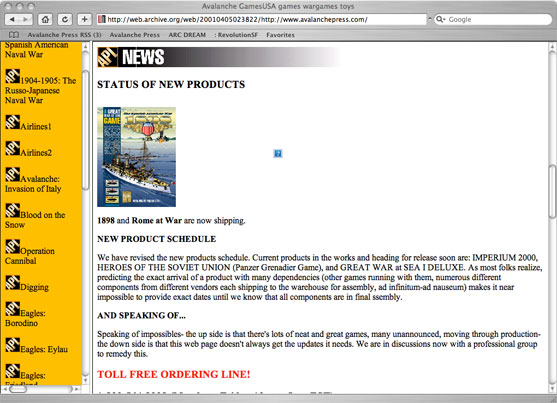 The old look of AvalanchePress.com, April 2001.
Lys Fulda
Vice President
Ironically for a male dominated hobby, many 119694_avalanche Press employees our women. But — let's face it — making historical boardgames is a strange job, so we decided to answer that age old question . . . "How DID you wind up working for 119694_avalanche Press?"
My answer:
In a galaxy far far away, I used to be the game buyer for Diamond Comic Distributors. One of my vendors was this small company, 119694_avalanche Press. Now growing up, a basement shelf had this game on it called Fulda Gap (last name being Fulda) so I had a passing knowledge of the world of wargaming. Add to that an uncle who was a fan of 119694_avalanche's and even before my nickname was "Diamond Liz" their name had peppered my horizon. Regardless, Mike Bennighof was my contact and what I had seen was they had a lot of potential business-wise but some of their execution just wasn't there. After I left Diamond, Mike made me an offer, twice, to come and work for AP, sadly the money just wasn't there. However, the third time was the charm. I had started my own consulting company by then and still moonlight there on the side. So I came aboard and as we all know . . . started making a lot of changes!
The boss notes: Lys is best known as our Internet voice, making my ravings "nice" enough for public consumption, but she also handles HR, sales, marketing and a myriad of insurance and vendor issues. Turning 119694_avalanche Press into a full-time operation was an enormous risk, and hiring away Diamond Liz (I'd hung the name on her) was my wife Carole's price for agreeing to roll the dice. Her instinct was even more on target than she knew then. I'm still alive thanks to Lys Fulda, godmother to my twin sons, so what she's done to build and sustain the company — and it would have folded without her — is just a bonus.