Tropic of Capricorn:
Ship Data Sheets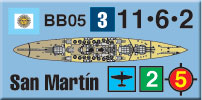 Second Great War at Sea: Tropic of Capricorn is a complete boxed game from our Second Great War alternative-history setting, pitting Argentina (whith help from Chile and Britain) against Brazil in a South Atlantic naval war that never happened. If you're going to fight a naval battle, you're going to need to track your damage, fuel use and such. Here are the data sheets from the game for your personal use:
Tropic of Capricorn data sheets
Click here to order Tropic of Capricorn right now!