The Kokoda Campaign:
Australia's Armies
By Mike Bennighof, Ph.D.
June 2021
When British regular troops left Australia in 1870, they placed the continent's security in the hands of local militia formations controlled by the separate colonial governments. These part-time soldiers saw little duty, mostly marching on parades and camping out on occasion. Massive change came at the turn of the century, when over 16,000 Australian soldiers served in South Africa against the Boer republics. With their riding and shooting skills, and a culture valuing physical courage, they were thought capable of meeting the Boer commandos on equal terms and performed very well.
When Australia became a Commonwealth in 1901, the assorted militia units were combined into a new Australian Army divided into regular and militia units. The regulars included only artillery and specialist units, with the militia, now styled the Citizen Military Forces, controlling all infantry. By law, the militia could not be called to serve overseas or against striking industrial workers. With close to 30,000 men, it was a large force considering Australia's strategic situation; the island continent had no nearby potential enemies and practically no neighbors at all.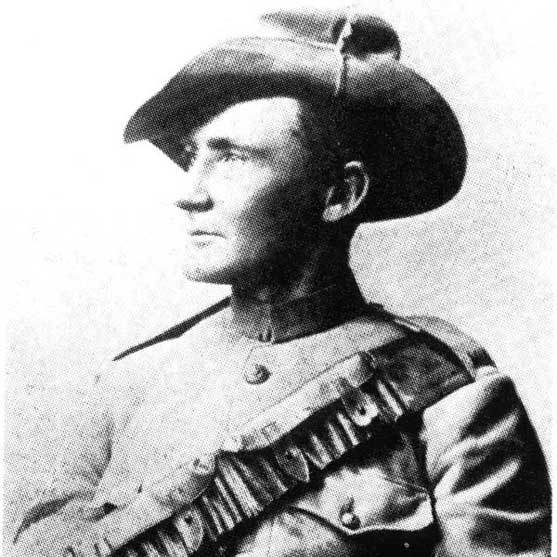 "Shoot straight, you bastards." Harry Harbord Morant. Hero or scapegoat?
When Britain declared war against Germany in August 1914, Australia answered the call with enthusiasm. Since the militia could not be sent to war, a new all-volunteer Australian Imperial Force, or AIF, was established. Almost 9,000 men would be killed in action at Gallipoli, still seen by many Australians as the crucible that fired a separate Australian national identity. Rebuilt from this disaster, the AIF went on to field five infantry divisions on the Western Front and a number of cavalry brigades (styled "light horse"in Australian parlance) in Palestine plus a camel brigade. Over 60,000 Australians were killed in action, out of 330,000 who served overseas.
Australia's Diggers
When war broke out again in 1939, Australia formed a Second Australian Imperial Force under similar circumstances. The AIF troops volunteered to fight anywhere, while the militia remained limited to Australian territory. The 2nd AIF initially formed four infantry divisions, numbered 6th through 9th to carry on the numbering sequence of the original AIF. Brigades also picked up where the Great War units left off, but battalions were numbered normally with an added "2" to signify their standing in the 2nd AIF. For example, the 16th Infantry Brigade (the first of the new formations) initially included the 2/1st, 2/2nd, 2/3rd and 2/4th Infantry Battalions.
Sixth Australian Division was formed in October 1939, and 7th Australian Division in April 1940. Both shipped out for Palestine later that year, together with I Australian Corps headquarters. One brigade from 6th Division was diverted to Britain to help defend against a potential Nazi invasion, and would later return to the Middle East. Eighth Australian Division formed in the summer of 1940, but did not join the others in the Middle East, eventually going northwards to form part of the garrison of Malaya. Ninth Australian Division formed in October 1940 from the brigade sent to England, one taken from 8th Division plus a newly-formed brigade. A planned 10th Division had to be broken up before it completed forming, to make up losses in the other units.
| | |
| --- | --- |
| | A 1940 recruiting poster. After a slow start, over 48,000 recruits signed up in June 1940. |
| | |
The AIF also began formation of an armored division in the summer of 1941, but the British proved very slow to provide tanks for colonial formations (as was also the case with Indian and South African efforts to form their own armored divisions). First Australian Armoured Division finally received American-made Grant and Stuart tanks in May 1942. Under the original plan, the division would deploy to the Middle East and receive its tanks and large-unit training there. First Armoured Brigade was scheduled to deploy in December 1941 as the first element of the division, but the Japanese attack on Allied forces prompted the Australian government to retain the division for homeland defense.
Instead, Australian divisions began streaming home. Eighth Division was lost with Singapore, but the other three 2nd AIF divisions continued to fight the Japanese until the war's end, primarily in New Guinea. All of them ended the war on Borneo, fighting the Japanese there. A second attempt to form 10th Division would have taken place, drawing on veteran volunteers of all three formations for the invasion of Japan, but it proved unnecessary when Japan surrendered in September 1945.
The Koala Army
While the 2nd AIF gained fame fighting in the Western Desert, Crete and Greece (word of the 7th Division's campaign in Syria against the Vichy French was heavily censored), at home the Militia remained untouched. Scorned by AIF troops as "koalas" (since the koala could not, under Australian law, be exported or shot) or "chocolate tin soldiers" (since they would melt away if exposed to the desert sun), many younger members burned for the chance to fight Australia's enemies. Men could not volunteer for the AIF until they turned 20, but could be conscripted for the CMF at 18, and thus firebrands eager for action in the desert found themselves stuck at home guarding the Cronulla beaches instead.
When the Japanese attacked the Allies, the government rescinded the provision allowing Militia soldiers to volunteer for the AIF as Robert Menzies, Australia's prime minister, finally ordered full mobilization for the Militia. Militia troops would begin full-time training to guard Australia, though most brigades had conducted multiple three-month camps. Though not up to the standard of the AIF after a year of combat, the Militia formations were probably as well-trained as the regular divisions had been when they left Australia.
Mobilization filled four Militia infantry divisions, numbered 1 through 4, and two cavalry divisions. Almost immediately the two cavalry divisions began converting their Light Horse regiments into motorized infantry and armoured regiments, though they had almost no tanks until the summer of 1942. By the end of 1941 they had been re-designated as 1st and 2nd Motor Divisions, and in 1942 they became 2nd and 3rd Armoured Divisions. The Militia also added three more infantry divisions in 1942, numbered 5th, 11th and 12th.
While Menzies agitated for the return of his regulars and refused to enlist Australia's last reserve in more of Winston Churchill's lunatic schemes, his government did broaden its interpretation of "Australia" to include the mandated territory of New Guinea. This allowed the use of CMF battalions in front-line fighting, and a Militia unit, 7th Brigade, took part in the first Allied victory over Japanese land forces at Milne Bay in August and September 1942. Two other Militia brigades fought in the first battles in New Guinea as well, and the Militia's 39th Infantry Battalion would become known as the "ragged bloody heroes" of the Kokoda Trail. The battalion took 409 poorly-trained young conscripts up the trail in August 1942. Only 32 marched back out of the bush, but they had stopped the Japanese advance over the Owen Stanley Mountains to the south coast of New Guinea.

These koalas have teeth. Australian infantry on Bougainville, 1944. Australian War Memorial 018777.
In February 1943 the government stretched the Militia's combat zone again, allowing deployment of CMF units anywhere south of the Equator in South East Asia. In addition, a CMF battalion could be transferred to the AIF if 65 percent of its combat strength or 75 percent of its ration strength volunteered. With their combat zone greatly expanded, the Militia divisions began to see front-line combat. Third and 5th Divisions went to New Guinea, and afterwards 3rd Division fought on Bougainville while 5th Division invaded New Britain. By late 1944 most of their battalions had elected to transfer to the AIF, making them effectively AIF divisions though they retained their CMF designations.
You can download a variant for Great Pacific War right here.
Click here to order The Kokoda Campaign (without a box) right now!
Sign up for our newsletter right here. Your info will never be sold or transferred; we'll just use it to update you on new games and new offers.
Mike Bennighof is president of Avalanche Press and holds a doctorate in history from Emory University. A Fulbright Scholar and NASA Journalist in Space finalist, he has published far too many books, games and articles on historical subjects. He lives in Birmingham, Alabama with his wife, three children and his dog Leopold. Leopold would also melt in the sun.
Want to keep Daily Content free of third-party ads? You can send us some love (and cash) through this link right here.