119694_avalanche Press Salutes
Cyril the Great!
By the staff of 119694_avalanche Press
August 27, 2004
This is a late posting, but nevertheless an important one. Here is an autographed business card — from Cyril Pasteau!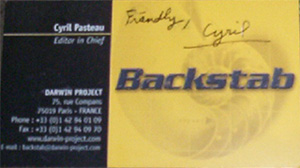 Cyril is the editor of Backstab magazine from the French magazine conglomerate The Darwin Project.
Now you may say: "OK, they have lost their minds. Why are they posting this?"
It's because Cyril is not just Cyril. He is Cyril the Great!
He is known by many titles: "Man among men" . . . "Social butterfly" . . . "Learned mind extraordinare!"
Simply put, we are great friends with all the Darwin Project editors (www.darwin-project.com), but Cyril stands out as the guy you see at every party. The one we have never seen cranky. The one who wants to learn as much as possible at the world around him and all the people in it.
Cyril — we salute you!
119694_avalanche Press