Second World War at Sea:
The Emperor's Sword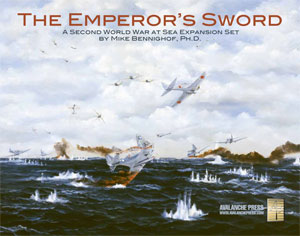 In the years before the Second World War exploded, both the United States and the Empire of Japan expanded their fleets and air forces, planning to build even more new ships and planes. The outbreak of war scuttled many of these drawing-board vessels, but that hasn't kept us from adding them to Second World War at Sea.
The Emperor's Sword is a massive expansion set for Second World War at Sea, taking place in the alternative history setting we're calling The Long War. It features the ships and planes planned by the Japanese, pitting them against the United States Navy and the additional ships and planes of its own building plans.
There are 770 brand-new die-cut and silky-smooth pieces: 350 double-sized pieces for ships and 420 standard-sized ones for aircraft and small vessels. The huge Montana-class battleships are here, the Japanese Taiho-class carriers with armored flight decks, Type B65 Japanese battle cruisers and Alaska-class American battle cruisers, flight deck cruisers, advanced aircraft and so much more.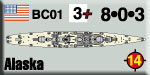 There are also thirty new scenarios letting you send these ships and planes into action. This module is not playable by itself, but requires ownership of Midway Deluxe Edition to enjoy all of the scenarios.
Links:
Stock Code APL0617
Price: $99.99
Status: Coming in 2019.