Golden Journal:
Serpent Worship Festival 2017
Nag Panchami, the Hindu festival of snake worship, takes place every summer, as believers ask the divine serpents known as Nagas - who dwell in one of the seven realms of the universe beneath the Earth - to bless their families.
Several times a year, when we feel like it, the Golden Journal brings Gold Club members a set of extras for their Avalanche Press games. Our 24th issue looks at the designs considered by the German Navy for their Deutschland class armored cruisers, the famous "pocket battleships." You get 20 new Second World War at Sea pieces, with six different versions of the ships plus the original design for the Scharnhorst class.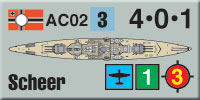 Design studies took two variant paths: an armored coast-defense ship for operations close to its bases, and a long-range commerce raider (the variant eventually chosen).
Our "Alternatives for Deutschland" variant gives you all three ships eventually built in all six variations. Some hewed to the restrictions of the Versailles Treaty; most did not. The designs range from heavily-armored ships with 15-inch guns to unusual heavy cruisers with 8-inch main batteries. And of course we have some Plan Z-related scenarios and scenario modifications for their use.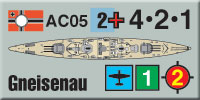 We're only printing a small number of these and when they're gone, they're gone forever - we don't want to keep Journals in stock long-term.
How do you get it? Only by joining the Gold Club – join up and we'll tell you how to get it for FREE. There's a shipping charge for it, but it's so lightweight that it usually adds nothing to the shipping total when you order it with something else.
Limit one copy per membership.
Links:
• Alternatives for Deutschland
• Ship Data
Stock Code: APL6024
Price: FREE (Gold Club members only)
Status: Coming Very Soon
Click here to join the Gold Club
See your Gold Club Insider newsletter for ordering information.