Golden Journal Number 43
River Plate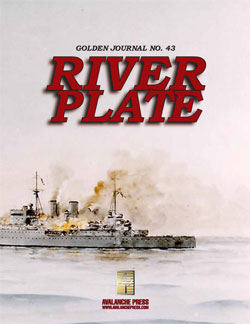 Several times a year, when we feel like it, the Golden Journal brings Gold Club members some fun extras for their Avalanche Press games. Our new-model Golden Journal features a "real" booklet, just like a small magazine, and a small set of die-cut, silky-smooth playing pieces.
In August 1939, the German armored cruiser Admiral Graf Spee set out from Germany for the South Atlantic Ocean. Several weeks after the German invasion of Poland, she began to attack Allied merchant shipping. British and French warships scoured the South Atlantic in search of the German cruiser.
After sinking nine merchant vessels totaling just over 50,000 tons' displacement, Admiral Graf Spee steamed to the waters off Argentina's River Plate estuary. Instead of more undefended shipping, she found three British cruisers. Despite the heavier guns of the German ship, Admiral Graf Spee lost the encounter and fled for the neutral port of Montevideo, where her crew scuttled the ship.
River Plate is an expansion for Second Great War at Sea: Tropic of Capricorn and Second Great War at Sea: Tropical Storm, with 23 new die-cut, silky-smooth playing pieces. You also get a set of scenarios to turn these alternative-history games into a depiction of a battle that really happened.
How do you get it? Only by joining the Gold Club – join up and we'll tell you how.
Limit one copy per membership.
Links:
• Publisher's Preview
• Ship Data and Airbase Card
Stock Code: APL6043
Price: $12.99
Status: Now Available!
Click here to join the Gold Club
See your Gold Club Insider newsletter for ordering information.