Great War at Sea:
Great White Fleet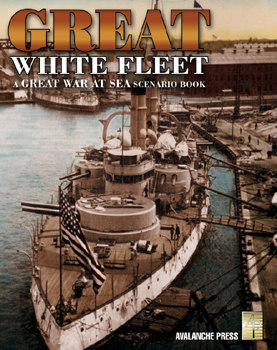 Before the dreadnoughts, the battleships ruled the seas. Armed with four huge guns in armored turrets, they swept the ironclads into the dustbin of history.
Great White Fleet is a 64-page book supplement to the Great War at Sea series, focusing on ships and battles (both real and potential) of the pre-dreadnought era. There are 30 scenarios, or separate game situations, based on battles that could have taken place in the first decade of the 20th century.
And of course the thorough background articles you've come to expect from our supplements.
This module is not playable by itself, but requires ownership of South China Sea or Plan Orange, 1904, 1898, Jutland, Cruiser Warfare, Mediterranean, Sea of Troubles or Plan Red and Black Waters to enjoy all of the scenarios.
Time: 30 minutes to many hours
Number of Players: 2
Scale: 32 miles per sea zone
Playing Pieces: Not included (not playable separately)
Playing Board: Not included (not playable separately)
Rules: 30 scenarios
Difficulty Level: 2 of 5
Solitaire Play: Fair to good
Links:
Stock Code: APL0833 (printed); APL2102 (digital)
Price: $19.99 printed, $10.99 digital
Status: Available Now!
The Avalanche Press Online Store is LIVE!
Click here to purchase the download!
OR
Click here to purchase the print version!
OR CALL OUR TOLL-FREE ORDERING LINE!
1-800-564-9008