IDF:
Israel Defense Forces
In June 1967, the Israel Defense Forces unleashed a massive assault on their neighbors Egypt, Syria and Jordan. The Six-Day War remade the map of the Middle East; its effects dominated world politics for the next 50 years and will continue to do so for years to come. Our Panzer Grenadier (Modern): 1967 Sword of Israel game covers the battles of this war in 48 scenarios.
IDF: Israel Defense Forces is a sourcebook describing the war, its participants, their armies and their weaponry. And it has additional pieces of its own: 264 die-cut, silky-smooth pieces displaying the Israeli units from Sword of Israel in an alternative, blue-and-gold color scheme. You don't have to have these pieces to play the games, but if you're a hard-core tactical gamer, then you know you have to have these pieces.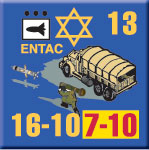 Links:
Stock Code APL0878
Price: $34.99
Status: Available Now
Click here to order IDF: Israel Defense Forces.
1967 Package
1967: Sword of Israel (Playbook)
IDF: Israel Defense Forces
Retail Price: $134.98
Package Price: $110
Gold Club Price: $88
You can experience the 1967 Package right here.