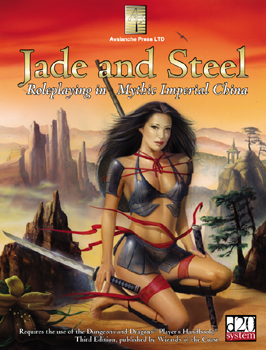 Jade & Steel: Role-Playing In Mythic China
A land in turmoil.
The Emperor is dead, his realm split into three kingdoms. Warlords, bandits and powerful families run amok. Only ChinaÕs proud heroes stand between the people and utter chaos. Jade & Steel is a d20 system supplement providing for high adventure in these troubled times. Add six new Chinese classes to your d20 fun: the Alchemist, Dim Mak (Touch of Death) Practitioner, Diviner, Geometer, Iron Hand Disciple, Sword Saint. Nine new feats help create that wire-fu spirit.
Is your chÕi sufficient to the task? Head for the Pearl Festival of Pai-San and find out!
Cover art by noted Heavy Metal magazine artist, Lorenzo Sperlunga.
d20 System compatible. Requires the use of the Dungeons & Dragons, Player's Handbook, Third Edition, published by Wizards Of The Coast.
Components: 48 pages, softbound
Stock #0904
Price: $4.99
Status: Currently Available
Read a Review of this Great Product
The Avalanche Press Online Store is LIVE!
Click here to purchase this great title!
OR CALL OUR TOLL FREE ORDERING LINE!
1-800-564-9008