Panzer Grenadier:
Liberation 1944
Playbook Edition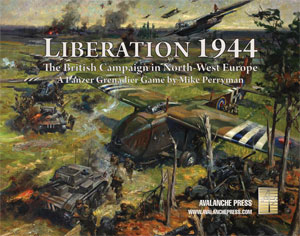 The liberation of France began with the Allied invasion on D-Day, 6 June 1944. From Sword, Gold, and Juno beaches, British Army troops fought their way across the hedgerows and rolling green hills, driving back Hitler's Wehrmacht and SS forces. Fierce German resistance, featuring skilled use of tanks on the defensive, resulted in the loss of huge numbers of men and machines - but no loss of will. The promise of 1940 would be fulfilled.




Liberation 1944 is a complete game in the Panzer Grenadier series covering the fierce struggles of His Majesty's forces through Operations Overlord, Goodwood, and Bluecoat. There are 41 new scenarios by designer Mike Perryman. Four new mapboards by artist Guy Riessen show the hedgerows, hills, towns and farmland of France. There are 517 playing pieces: 352 combat units and 165 markers.


Both sides bring swarms of tanks to your game table: Shermans and Fireflies, Cromwell and Churchills match up with Panthers, Panzer IV's, and Tigers. The game comes in Playbook format (that is, with a book and not a box).
Links:
• Publisher's Preview
• Scenario Preview, Part One
• Scenario Preview, Part Two
• Scenario Preview, Part Three
• Scenario Preview, Part Four
• Scenario Preview, Part Five
• British Forces, Part One
• The Tetrarch Tank
• Britain's 17-Pounder
• Criminal Youth
• Map Preview
• The Tiger Tank
• The Royal Tiger Tank
• German Forces, Part One
• Home-Made German Armor
Stock Code: APL0721
Price: $79.99
Status: Coming Soon
You can order Liberation 1944 right here.
Please allow an extra two weeks for delivery.