Panzer Grenadier: Little Saturn
Death of the Armata Italiana in Russia

In July 1942, Benito Mussolini scaled up the Italian participation on the Eastern Front as a show of Fascist solidarity. Seven new divisions departed for Russia, bringing the total deployed there to 10. By late autumn 1942, the Armata Italiana in Russia (ARMIR, also known as the Italian Eighth Army) was operating on a 250-kilometer front along the Don River, covering the left flank of the German 6th Army between Hungarian and Romanian forces. Heavy snow and severe frost were hampering troop movements, and defenses were minimal.

The Soviets launched "Operation Uranus" on 19 November 1942, aiming to encircle and isolate the German 6th Army with a double envelopment. To exploit this victory, the Soviet general staff planned a winter campaign of continuous and highly ambitious offensive operations, codenamed "Saturn." When the Germans attempted to relieve the trapped armies at Stalingrad, the Soviets moved up their Saturn timetable (renaming it Little Saturn) and launched a counteroffensive. They encircled the 200,000 soldiers of the Italian 8th Army on the Don. In February 1943, the surviving remnants of the Italian 8th Army were disbanded by Il Duce; a quiet end for the brave men of the ARMIR.

Little Saturn is a supplement for the Panzer Grenadier series, with 10 scenarios based on the battles of the Italian Eighth Army. This module is not playable by itself, but requires use of the Battle of the Bulge, Eastern Front and Road to Berlin boxed games and Fronte Russo supplement. No other games or supplements are needed to enjoy all 10 scenarios.

Little Saturn

is sold via .pdf download OR in a printed edition.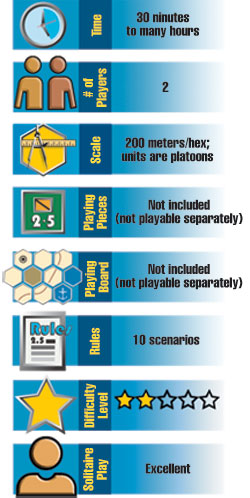 Stock Code: 1826 (printed); 1535 (download)
Price: $5.99 download; $10.99 print edition
Status: Available NOW!
The Avalanche Press Online Store is LIVE!
Click here to order the print version!
OR
Click here to purchase the download!