Panzer Grenadier
Kursk: Burning Tigers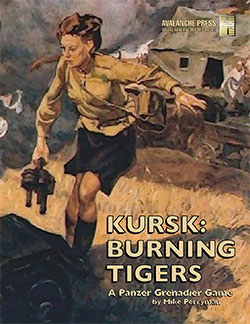 While the SS assault the Kursk salient from the south, German plans had the Ninth Army hurling three panzer corps against the bulge's northern flank. With weeks to prepare, the Soviet 13th Army had dug in with multiple lines of anti-tank guns, and once the Germans broke through they had to face the Second Tank Army.
Kursk: Burning Tigers is a stand-alone game in the Panzer Grenadier series: You do not need any other game in the series to play any of the 40 scenarios. Design is by Panzer Grenadier veteran Mike Perryman.


In this game the German Army wields new weapons for its long-planned offensive. Panther tanks, Ferdinand tank destroyers, Goliath explosive tanks and more are in the German arsenal. The Soviets counter with masses of the excellent T-34 medium tank, plus Lend-Lease Churchill tanks, T-70 light tanks and much more.
You get four semi-rigid mapboards, plus 517 die-cut and silky-smooth playing pieces. And 40 scenarios.
This game and its companion, South Flank are exactly the games for which the Panzer Grenadier series was intended. These are the ultimate tank battles that every Panzer Grenadier player will want to fight.
Stock Code: APL0321
Retail Price: $79.99
Status: Available Now!
Content Links:
• Soviet Tanks
• Publisher's Preview
• Map Preview
• Scenario Preview, Part One
• Scenario Preview, Part Two
• Scenario Preview, Part Three

Click here to order Burning Tigers right now!
Note: This game has no box.