Great War At Sea:
U.S. Navy Plan Emerald
In May 1919, Éamon de Valera, a U.S. citizen and the president of the revolutionary Irish Republic, arrived in the United States to seek financial, political and military support for Irish independence. He remained for a year and a half, having some success in raising money, but he failed to meet all of his goals thanks to his unpleasant personality.
Had De Valera displayed slightly more charm, outright American support for the Republic could have meant direct conflict with the United Kingdom. And that's the premise of U.S. Navy Plan Emerald.
U.S. Navy Plan Emerald is an expansion book for Great War at Sea: Jutland (second edition), based on the naval war between the United States and Great Britain fought in Irish waters. The Americans are attempting to prop up the Republic with arms shipments and eventually troops; the Royal Navy is out to stop them.
It's all told in our story-arc format, with 40 new scenarios telling the story of this naval war that never happened. It's part of our Red-Orange Naval War alternative-history setting.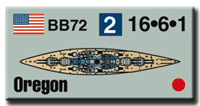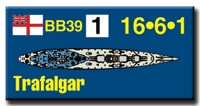 The book comes with 210 playing pieces, that originally appeared in U.S. Navy Plan Red. That's 70 double-sized pieces for major warships like the British N3 battleship or American 1919 battleship, both of them planned but never built. And 140 standard-sized ones, for markers, aircraft and minor warships.
The fleets of Plan Emerald include lots of ships planned, but never actually built. The British also get their huge G3 battle cruisers, the F class cruiser design, the last three, never-completed R-class battleships and the three proposed but never-built Canadian dreadnoughts. The American fleet includes the proposed fast armored cruiser and the 1916 design for the Lexington-class battle cruiser. Plus some odd ships that actually existed, like the Arkansas-class coast-defense monitors.
Links:
Stock Code: APL8821
Price: $34.99
Status: Coming Soon
Click here to join the Gold Club.
See your Gold Club Insider newsletter for ordering information.