Panzer Grenadier: Polish Steel
| | |
| --- | --- |
| | |
| | |
For almost six years, Polish soldiers fought against Nazi tyranny. After the war, over half of them chose not to return to a land now ruled by Communists and under the control of the Soviet Union. Tensions over the multi-national occupation of Berlin rose throughout the early months of 1948, but ultimately did not lead to the war many feared. Had it broken out, the freedom-loving Polish exiles would once again have been in the forefront of Allied resistance.

Polish Steel is a supplement for the Panzer Grenadier system based on the potential battles of such a campaign, as the Polish I and II Corps fight their way across northern Germany in an effort to spark a rising in their homeland. This module is not playable by itself, but requires ownership of our 1940: The Fall of France, Road to Berlin, Cassino '44, Eastern Front, Guadalcanal, Battle of the Bulge and Elsenborn Ridge games and Iron Curtain and White Eagles supplements. There are 10 scenarios included.



There are 77 new Polish pieces. They include Black Prince, Centurion I, Pershing and Chaffee tanks, Jackson tank destroyers, Priest self-propelled artillery plus close-support tanks, captured German tanks, Polish paratroopers and 17-pounder anti-tank guns. These are die-cut and mounted pieces, just like those found in our regular boxed games.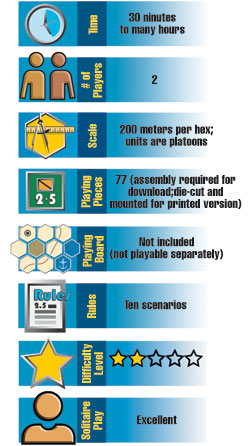 Links:
Stock Code: 1822
Price: $19.99
Status: Available NOW!
The Avalanche Press Online Store is LIVE!
Click here to order this great title!
OR CALL OUR TOLL-FREE ORDERING LINE!
1-800-564-9008