Panzer Grenadier: Saipan 1944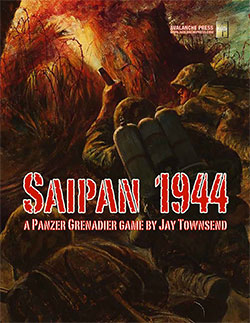 In June 1944, American Marines and soldiers stormed ashore on Saipan, a large island in the Central Pacific whose possession would put Allied heavy bombers in range of Japanese cities. Three weeks of savage fighting would finally see the island secured, as places like Death Valley, Hell's Pocket and Purple Heart Ridge entered the U.S. Marine Corps' lexicon. The campaign saw the largest tank battle of the Pacific war, and also its largest banzai charge as almost the entire Japanese garrison (and much of the island's Japanese civilian population) chose death over surrender.


Saipan 1944 is a complete boxed game in the Panzer Grenadier series based on these fearsome battles. Designer Jay Townsend has provided 40 scenarios. There are four new mapboards by artist Guy Riessen showing the jungles, hills, beaches and cane fields of Saipan. And 495 die-cut, silky-smooth playing pieces.



The U.S. Marines have awesome firepower – every third man wields an automatic rifle – and bring tanks, flamethrowers and heavy artillery to the battlefield. The U.S. Army is present, along with the Imperial Japanese Army and the Imperial Navy's elite Special Naval Landing Forces.
Links:
Mapping Saipan
Saipan Scenario Preview Part One
Saipan Color Terrain Key
Japanese Special Naval Landing Forces
Designer's Notes
Alligators at War
Stock Code: APL0322
Retail Price: $79.99
Status: Now available!
Click here to order Saipan 1944 right now.
Note: This game has no box.
Add More Fun!
Marianas 1944
American Marines and soldiers battle the Japanese on Tinian and Guam in this expansion for Saipan 1944, with 30 new scenarios, 24 new die-cut, silky-smooth pieces and two new maps. $34.99
You can order Marianas 1944 right here.
Leyte 1944
Forty-six new scenarios for Saipan 1944 (you'll also need Marianas 1944 and, for just one scenario, Elsenborn Ridge) devoted to the American return to the Philippines: Japanese paratroopers, rocket-firing gunboats and more! Plus 88 new die-cut, silky-smooth playing pieces. $29.99
You can order Leyte 1944 right here.