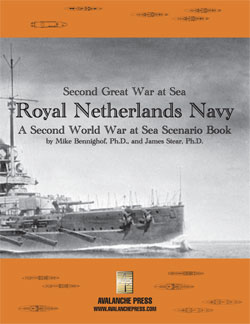 Second World War at Sea:
Royal Netherlands Navy
In Royal Netherlands Navy, the fleet the Dutch admirals hoped to build in our world, but could not get approved, finds itself pressured by the Japanese in the Far East and the British and French in Europe. Defending their rights with armed force, the Dutch find themselves drawn into desperate battles in the South China Sea and the interior waters of the East Indies.
In the 1930s, Dutch shipyards stood at the leading edge of naval technology: Dutch submarines first deployed the schnorkel breathing device, for example, and Dutch warships boasted the sophisticated Hazemeyer fire control system that would be enthusiastically copied by the Royal Navy and others. The Netherlands had the industrial and financial means to create a large and modern fleet, and the oil wealth of Borneo and Sumatra provided the motive. Seeing deficits as a more lethal enemy than the Axis, the Dutch government of our reality doomed both the home country and the colonies to defeat and occupation. In the world of Wilson's Peace, things are a little different.
There are 300 playing pieces: 120 double-sized "long" ship pieces and 180 standard-sized ones representing task forces, aircraft and smaller warships. The Dutch fleet that never was is present, along with French, British, Japanese and German ships, aircraft and airships. Yes, airships!

There are also thirty new scenarios based on the battles that might have been waged by the Royal Netherlands Navy in this alternate world. This module is not playable by itself, but requires ownership of Strike South and Eastern Fleet to enjoy all of the scenarios.


How do you get it? Only by joining the Gold Club – join up and we'll tell you how to get it for FREE.
Note: This product is a digital download. Pieces require assembly.
Links:
Stock Code: APL1554
Price: FREE (Gold Club members only)
Status: Downloading Now!
Click here to join the Gold Club
See your Gold Club Insider newsletter for ordering information.