Soldier Emperor:
Sultan and Shah
Give me a Turkish Army. I will conquer the world. - Napoleon Bonaparte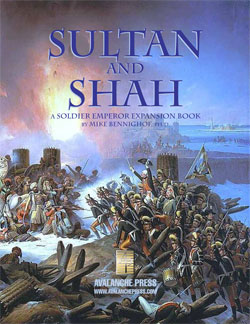 During and after the Napoleonic period, Ottoman Turkish armies fought the French, Russians, British, Persians, Wahhabis, Greeks, Serbs and Egyptians. The decaying empire retained enormous military strength, and despite repeated defeats both maintained its independence and enacted a series of military, economic and political reforms aimed at restoring the empire's power.
Sultan and Shah is an expansion book for Soldier Emperor, focused on the Ottoman Empire as well as its satellite Egypt and rival Persia. Just as these so-called gunpowder empires formed a bridge between east and west, so does Sultan and Shah, which connects Soldier Emperor and Indian Empires into one large game stretching from Scotland to Scindia.
Sultan and Shah includes a full-sized (22x28 inches) map of Persia and Central Asia connecting the two games, plus a dozen new high-quality playing cards, 25 new huge playing pieces representing armies and fleets and 24 simply large ones that serve as leaders and markers. The book includes historical background, game analysis, additional scenarios and variants for Soldier Emperor and Indian Empires, and the rules, cards and pieces needed to link the two games together.
Links:
•
Stock Code: APL0841
Price: $39.99
Status: Coming Soon
Don't wait to put Sultan and Shah on your game table! Join the Gold Club and find out how to get it before anyone else and at a sweet discount!