Second Great War at Sea:
Tropic of Capricorn
In late 1916, U.S. President Woodrow Wilson attempted to bring an end to the First World War. He failed.
In another reality, he succeeded. The great empires survived, yet the peace proved flawed and world-wide war returned in 1940. That war is the background of our Second Great War at Sea series.
Tropic of Capricorn is a complete game in the Second World War at Sea series, bringing our alternative-history Second Great War story arc to the shores of South America. Argentina, assisted by Chile and Britain, faces off against Brazil in a naval war in the South Atlantic.
Tropic of Capricorn includes one 22x34-inch operational map, the same "Rio de Janeiro" map included in our old Cone of Fire game (a game long out of print). It covers the most important politically- and economically-important stretches of the Argentine and Brazilian coastlines including Buenos Aires and Rio de Janeiro.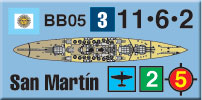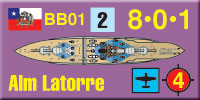 Tropic of Capricorn also has 180 new silky-smooth and die-cut playing pieces: 100 "long" ship pieces and 80 standard-sized ones representing small warships and aircraft as well as task force and flight markers. These represent the fleets of Argentina, Brazil, Britain and Chile, though not exactly as they appeared in our reality.

Each of these fleets has undergone the expansion and reconstruction allowed by strong economic growth and relative political stability - without a German economic collapse to fuel it, the Great Depression is no more than a world-wide recession. Political and especially economic ties have aligned the Latin powers with their European partners: Argentina with Italy, Chile with Britain, and Brazil with the Central Powers of Imperial Germany and Austria-Hungary.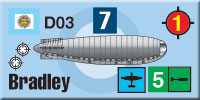 Tropic of Capricorn tells the story of the Second Great War in South American waters in our popular story-arc format: there are 24 scenarios, tied together with a narrative of the wider events they represent. The Second Great War setting was designed to maximize battleship action, and Tropic of Capricorn delivers.

Tropic of Capricorn comes in Playbook format - everything you need to play is included, but it's a book, not a boxed game.

Links:

Time:

30 minutes to many hours

Number of Players:

2


Scale:

36 miles/sea zone


Playing Pieces:

100 1-inch oversized "long"; 80 1/2-inch square


Playing Board:

One 34 x 22-inch operational map


Rules:

32 pages, 24 scenarios


Difficulty Level:

2 of 5


Solitaire Play:

Fair

Stock Code: APL0716
Price: $49.99
Status: Available NOW!
Click here to order Tropic of Capricorn (Playbook edition) right now!
The Story Continues!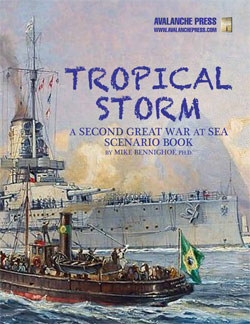 Second Great War at Sea: Tropical Storm
Add an additional map, 30 new scenarios continuing the story of Tropic of Capricorn, and 80 new die-cut and silky-smooth playing pieces. $34.99.
You can order Tropical Storm right here.