Second Great War at Sea:
Tropical Storm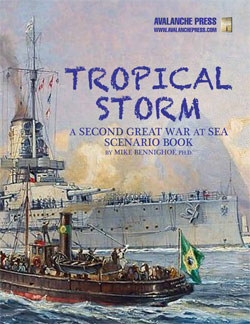 Second Great War at Sea: Tropic of Capricorn told the story of a war that never happened: a naval conflict between Argentina, Chile and Brazil breaking out in 1940 as part of the world-wide Second Great War. Tropical Storm picks up the story, as a German squadron arrives to aid the Brazilians and the naval war continues.
The Second Great War is our alternative-history setting, in which American President Woodrow Wilson's attempt to mediate an end to the fighting succeeds, leaving the great empires intact to fight again a generation later. War spreads around the globe, eventually engulfing the empires' South American allies.
Like all the other Second Great War at Sea games and books, Tropical Storm uses the rules from Second World War at Sea and is fully compatible with that series' historical games.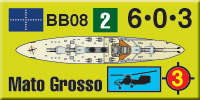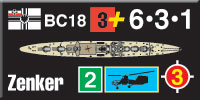 Tropical Storm includes a map (covering Argentina's central coast) and 80 new die-cut, silky smooth playing pieces (60 "long" ship pieces and 20 standard-sized square ones). Thirty new scenarios move the story along, and put even more hot battleship action on your gaming table.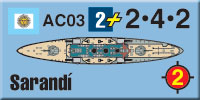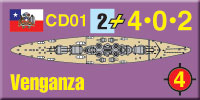 Tropical Storm is not a complete game. You'll need a copy of Tropic of Capricorn (and only Tropic of Capricorn) to play its scenarios.
Links:
• Ship Data
• Fancy Carrier Cards
• Modifiable Ship Data
• Publisher's Preview
• Designer's Preview
Stock Code: APL0896
Price: $34.99
Status: Available Now!
You can order Tropical Storm right here.