Great War at Sea
The First World War took place on all of the world's oceans, from the huge battles in the North Sea between fleets of battleships to commerce raiding in the Indian Ocean, We cover all of these — plus some conflicts that never actually happened beyond the plans of naval staffs — in our Great War at Sea series. Each boxed game covers a campaign or theater of war, with multiple scenarios, or separate game situations, based on the missions undertaken there.
Each scenario lists the ships available, the goals each player needs to achieve in order to win, and the amount of time available. Battle scenarios cover clashes between surface ships and can be resolved in an hour or two; operational scenarios are based on historical missions and can take much longer. Missions include amphibious invasions, convoy escort, commerce raiding, shore bombardment and more. Players find enemy fleets and stop them from accomplishing their missions, while achieving their own ends.
The operational map covers the theater of operations and is divided into square zones, offset in a "brick" pattern. Each zone represents an area 32 nautical miles across. Players form their ships into fleets and move them on this map. Their moves are pre-plotted on log sheets, so that a player does not know what the enemy has done. Even though the player can see the enemy fleet marker on the map, he or she still must determine whether its ships are spotted by friendly ships. If this occurs, play moves to the tactical map, where battle takes place.
Ships are rated for primary, secondary and tertiary gunnery (big, medium and small) and torpedoes. They maneuver on the tactical map and fire on each other with these weapons. Ships are also rated for size and armor. Heavy armor can only be penetrated by torpedoes and primary guns, light armor by those plus secondary guns, and areas with no armor can be damaged by all weapons. When a ship loses all of its hull boxes, it sinks.
Other aspects of the game include submarines, aircraft minefields, motor torpedo boats and still more. It's not a complicated game (most game functions involve rolling a 6) but it does simulate a rich tapestry of naval history.
Pacific Crossroads is a low-cost ($29.99) entry point designed specifically for players new to the series.
Here's a look at all of our Great War at Sea products:
Boxed games
Pacific Crossroads
Cone of Fire
Cruiser Warfare
Jutland
Mediterranean
U.S. Navy Plan Gold
Remember the Maine
U.S. Navy Plan Crimson
Books
Bay of Bengal
U.S. Navy Plan Scarlet
Black Waters
Dreadnoughts
Great White Fleet
Sea of Troubles
Zeppelins
Dutch East Indies
Confederate States Navy
Supplements
Airships
South China Sea
Digital Supplements
Reichsmarine
Destroyers
Boxed games
Boxed games are the heart of the Great War at Sea game system. Each of them is a "core" game: it has everything you need to play, and you don't need any parts or rules or anything else to play every scenario (complete game situation) in the box.
Pacific Crossroads
START HERE!
Japanese and American battleships and battle cruisers meet in a war both sides planned for, but was never fought. The introductory game for the Great War at Sea series, just $29.99.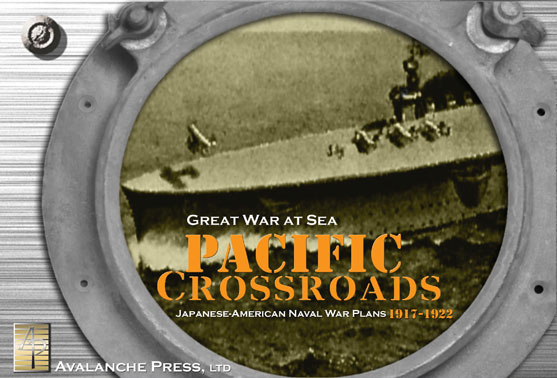 Cone of Fire
Our only game for both Second World War at Sea and Great War at Sea. The fleets of South America join the wars, with six maps and 42 scenarios. $99.99
Cruiser Warfare
German commerce raiders range around the world seeking Allied merchant shipping, while the German East Asia Cruiser Squadron desperately tries to make it home from China. $49.99
Jutland
The massive clash of dreadnoughts, plus many other operations in the North Sea and the Baltic with German, British, Russian, Swedish, Danish, Norwegian, Dutch and American forces, and more! $74.99
Mediterranean
Six dozen (72!) scenarios ranging from the Italo-Turkish War of 1911 through the Russian Civil War of 1922, with Austrian, Italian, British, French, Russian, Turkish and Greek forces, and more! $64.99
U.S. Navy Plan Gold
The United States Navy drafted plans to fight just about every conceivable enemy, including America's old ally France. French and American fleets attempt to seize control of the vital Caribbean basin in a war that never actually took place. $59.99
Remember the Maine
The Spanish-American naval war of 1898. A boxed game with a whole passle of scenarios, two maps and 240 laser-cut and mounted playing pieces.
U.S. Navy Plan Crimson
American and Canadian fleets battle for control of the Great Lakes in the early 20th Century. It's a war that never happened, in a world that never was, in designer Milan Becvar's unusual vision of a NAFTA gone really, really wrong. A boxed game with 34 scenarios, two maps and 230 laser-cut and mounted playing pieces. This game is only available direct from Avalanche Press.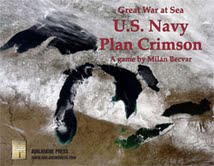 Books
These scenario books include playing pieces, and anywhere from 20 to 30 new scenarios plus background articles on the campaigns and the navies that fought them. They are not playable by themselves, but require pieces from one or more boxed games (see the individual product pages for listings).
Confederate States Navy
A fleet that never was fights a war that never happened: the Confederacy's dreadnoughts, battle cruisers and armored cruisers take on the Yankees in 1917 in a fight for the Caribbean Basin. This book includes over two dozen new scenarios and 105 laser-cut and mounted playing pieces.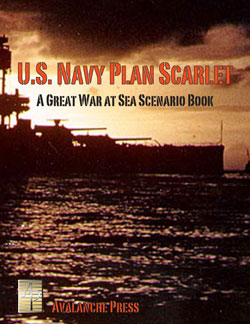 U.S. Navy Plan Scarlet
New scenarios for the map from the brand-new Great War at Sea: Pacific Crossroads, featuring American plans for war with Australia, Britain, Germany and Japan. $19.99 printed, $10.99 digital.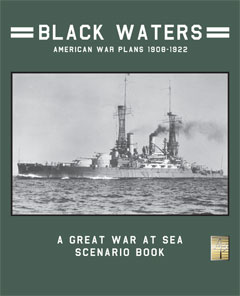 Black Waters
American and German battleships and other vessels planned but never built take to the seas in a war both sides expected to fight. Also includes War Plan Silver, Woodrow Wilson's threat to fight Italy in 1919. 210 new die-cut-and-mounted playing pieces. $29.99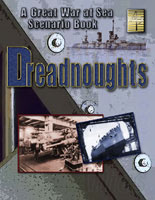 Dreadnoughts
The Spanish Armada, Austrian and Turkish naval projects, the many potential flags of the battleship Agincourt and more in this unusual book supplement. Plus advanced tactical rules that can be used with any series game. Ninety new die-cut-and-mounted playing pieces. $29.99

Great White Fleet
Teddy Roosevelt's Big Stick sails around the world, meeting interesting people, exploring different cultures — and fighting them. This scenario book is based on the actual (though sometimes outlandish) fears of contemporary writers during the 1908 worldwide cruise. $19.99 printed, $10.99 digital.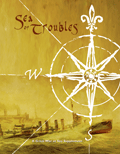 Sea of Troubles
The United States and Britain had not fought one another since 1915, but in the years just after World War One some thought another naval war was a distinct possibility. New ships and aircraft are added to the Great War at Sea system as the Royal Navy fights the Americans for control of the Caribbean Sea. 210 new die-cut-and-mounted playing pieces. $29.99
Zeppelins
Only our coolest supplement ever! 88 giant-sized airship pieces — with British, American, Austrian, Italian and Russian airships included, too. Plus scenarios in which to use them, and the unique "Advanced Zeppelin Leader" rules set. $29.99
Dutch East Indies
Dutch East Indies is a 64-page book supplement for the Great War at Sea series, focusing on battles which took place or could have taken place in and around these islands over the period 1914-1917. Conflicts between the navy the Dutch considered but never built and Japanese invaders (and others) are explored, along with historical battles and hypothetical situations. $19.99
Supplements
More scenarios for your favorite games! They're not playable by themselves but require parts from one or more boxed games and book supplements.
Airships
Ten new scenarios featuring the huge airship pieces from Zeppelins - finally, the Russian gasbag gets some use! $9.99 printed, $5.99 download.
South China Sea
American and British fleets clash in the waters of East Asia in a naval war that never happened. Ten scenarios plus one map. $16.99
Digital Supplements
These are available immediately, right off our website: Just buy them and immediately download them. Scenario booklets and playing pieces are in .pdf format; you'll have to assemble the pieces yourself. Like the other supplements, they're not playable by themselves but require parts from one or more boxed games.
Reichsmarine
What might have happened to the German battleships scuttled at Scapa Flow, under the flags of Great Britain or the Weimar Republic, $16.99. This is a digital download.
Destroyers
A special set of 420 large destroyer pieces for use in place of the smaller counters found in most Great War a Sea games. $19.99. This is a digital download.
And more!
We also add new content to the Avalanche Press site every day, and a number of these pieces have focused on Great War at Sea: