Infantry Attacks
Tactical Combat in the Great War
World War One saw fighting in Africa, Asia and most of all in Europe. Infantry Attacks is our series of games based on these battles.
The game is very similar to our Panzer Grenadier series of World War II tactical games, so much so that the maps boards are numbered in the same sequence and can be used with either set of game rules.
Complete Games
Each of these is a "core" game: it has everything you need to play, and you don't need any parts or rules or anything else to play every scenario (complete game situation) in the box.
August 1914
German and Russian armies clash in East Prussia and Poland in the epic battles of Tannenberg, the Masurian Lakes and more. Control the infantry, cavalry and artillery of two powerful empires fighting their last war including Russian Imperial Guards, German Landwehr, Cossack cavalry. Six maps, 583 pieces, 40 scenarios.
Fall of Empires
The first months of the Eastern Front in 1914, as Austro-Hungarian and Russian armies fight across southern Poland. Austria's Imperial and Royal Army faces Imperial Russia's Grenadiers, Cossacks and hard-fighting regulars. Six maps, 517 pieces, 40 scenarios.
Devil Dogs
The U.S. Marines fight the Kaiser's men in the key battles of World War One: Belleau Wood, Soissons, Chateau-Thierry and the Argonne. With two maps, 192 pieces and 30 scenarios. This game is not yet available.
Black Mountain
Exclusively for the Avalanche Press Gold Club.
On 6 August 1914, the tiny Kingdom of Montenegro declared war on Austria-Hungary, invading Austrian territory four days later. The campaign eventually ended with the Austrian conquest of the kingdom. We tell the story in this complete Infantry Attacks game, with 104 die-cut, silky-smooth pieces and 10 new scenarios drawn from the campaign.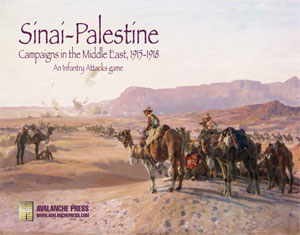 Palestine Campaign 1917
Desert campaigns in Sinai and Palestine, from the Turkish attack on the Suez Canal in 1915 through the Fall of Jericho in February 1918. Ottoman Turks aided by Germans and Austro-Hungarians take on British, Indian, Australian and New Zealand forces. There's even a tank. Six maps, 517 pieces, 40 scenarios. This game has not yet been released.
Expansions
These books usually include playing pieces, and new scenarios plus background articles on the campaigns and the armies that fought them. They are not playable by themselves, but require pieces from one or more games (see the individual product pages for listings).
Winter's Battle
A Campaign Study for August 1914 based on the February 1915 Second Battle of the Masurian Lakes. With 10 new scenarios and two new battle games. Requires August 1914 and Fall of Empires. This Campaign Study has not yet been released.
Franz Josef's Armies
An expansion for Fall of Empires featuring Austria-Hungary's national regular armies, the Imperial-Royal Austrian Landwehr and the Royal Hungarian Honvédség. Plus the tough Bosniaken. There's lots of stuff inside: 30 new scenarios, eight battle games tying them into the story of Fall of Empires, and 264 die-cut and silky-smooth playing pieces.
Edelweiss Division
An expansion book for Fall of Empires, based on the December 1914 Battle of Limanowa in eastern Galicia. The Austrian 3rd and 4th Armies, including the elite 3rd "Edelweiss" Mountain Division, defeated the Russian 3rd and 8th Armies and ended the Russian attempts to capture Krakow and break through the Carpathian Mountains to invade Hungary. With 88 new die-cut, silky-smooth playing pieces and 20 new scenarios. This book has not yet been released.
The Arab Revolt
An expansion book for Sinai-Palestine based on Arab warfare between 1902 and 1926, featuring not only the Arab Revolt of 1916 but the Rise of the House of Sa'ud, the fall of the Rashidi Emirate and the British-Turkish campaign in Yemen. With 88 die-cut and silky-smooth playing pieces, 36 new scenarios and six battle games to tie them together. This book has not yet been released.
Golden Journal No. 44: Imperial & Royal Panzers
Exclusively for the Avalanche Press Gold Club.
In 1911, Austrian Landwehr engineer Gunther Burstyn (who would later invent "dragon's teeth" anti-tank defenses) designed a small tank. The Austro-Hungarian armed forces rejected his proposal, but you can take it into battle anyway in this variant for Infantry Attacks: Fall of Empires. With 24 die-cut, silky-smooth pieces and a half-dozen scenarios so you can play with them. This volume is not yet available.
Resources
• Artillery Fire Plan download