Panzer Grenadier
World War II Tactical Combat
Panzer Grenadier is our platoon-level series of World War II combat. It's easy to play and best of all, once you learn the rules to one of the games, you can play ALL of them right out of the box. And we cover everything you could possibly imagine, with more coming all the time. From well-known battles like the Battle of the Bulge, Kursk or Guadalcanal through lesser-known conflicts like the Austrian Civil War of 1934, the Peru-Ecuador War of 1941 or the India-Hyderabad War of 1948, Panzer Grenadier puts you in command of the troops, tanks and artillery that made history.
Learn how to play in just five minutes with the starter rules that you can download here. And if you want to try the game out for free, you can download everything you need right here.
Here's a look at all of our Panzer Grenadier products:
Boxed games
1940: The Fall of France
Afrika Korps
Battle of the Bulge
Beyond Normandy
Cassino '44
Desert Rats
Eastern Front
Elsenborn Ridge
Guadalcanal
Kursk: Burning Tigers
Kursk: South Flank
Road to Berlin
Saipan 1944
Books
Airborne
Arctic Front
Black SS
Edelweiss
First Axis
Fronte Russo
Go For Broke
Hammer & Sickle
Invasion of Germany
Jungle Fighting
Kokoda Trail
Panzer Lehr
Patton's Nightmare
Secret Weapons
Sinister Forces
Winter Soldiers
Workers & Peasants

More extras
Winter Wonderland
Boxed Games
Boxed games are the heart of the Panzer Grenadier game system. Each of them is a "core" game: it has everything you need to play, and you don't need any parts or rules or anything else to play every scenario (complete game situation) in the box.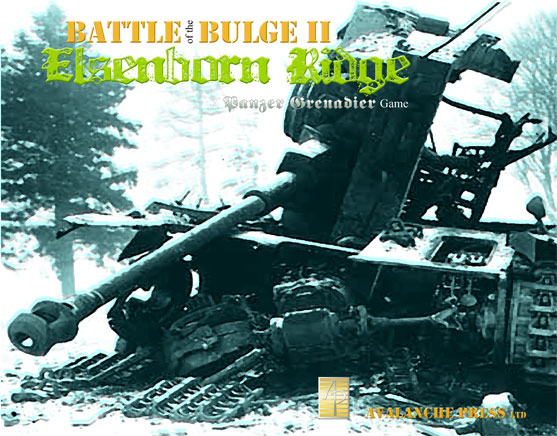 Elsenborn Ridge
A great starting point for new players, this game has 35 scenarios from the "northern flank" of the Battle of the Bulge. U.S. Army, German regular army and German Waffen SS forces. $59.99.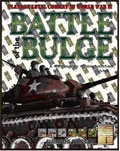 Battle of the Bulge
Fifty scenarios from the "southern flank" of the Battle of the Bulge, as American and German troops fight in and around Bastogne. $59.99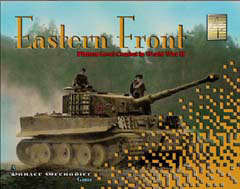 Eastern Front
The 1941 German invasion of the Soviet Union is shown with a whopping 112 scenarios. German and Romanian troops fight the Red Army of Workers and Peasants. $79.99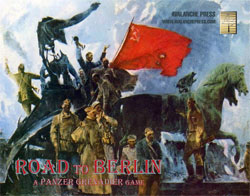 Road to Berlin
The last days of the Third Reich, with 75 scenarios from the 1945 battles in Poland, Hungary and Germany. German regular army, Waffen SS and naval ground troops face the Red Army and Soviet Guards. $79.99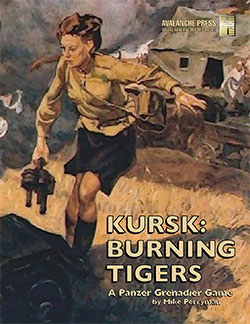 Kursk: Burning Tigers
Three German Army panzer corps assault the Soviets with new Panther tanks in history's greatest tank battles. This game is not yet available.

Kursk: South Flank
The German SS Panzer Corps challenges the Soviet 1st Tank Army in history's greatest tank battles. $74.99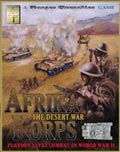 Afrika Korps
The opening battles of war in the North African desert, with 50 scenarios from 1940 and 1941. British, Italian, Australian and German troops and tanks fight on extra-large desert maps. $74.99
Desert Rats
Fifty scenarios of the desert war, including several from the East African campaign. British, New Zealand and Indian troops (including Maoris and Gurkhas) face Germans and Italians (including Italian Colonial forces) on extra-large desert maps. $74.99
1940: The Fall of France
German panzers roll into France, to be met by fierce resistance. It was no roll-over on the tactical level, and these 50 scenarios show why. $79.99 This game is temporarily unavailable.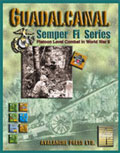 Guadalcanal
U.S. Marines battle the Japanese on "historical" maps of the island showing the actual terrain, in 24 scenarios. $64.99
Beyond Normandy
British troops face the Waffen SS in the brutal struggle for Hill 112, on "historical" maps showing the actual terrain. 44 scenarios. $74.99
Cassino '44
Four epic battles displayed in 30 scenarios, with British, American, Indian, New Zealand and Polish troops assaulting the famous abbey held by German paratroopers, on a huge "historical" map of the actual battlefield. $99.99 This game is temporarily unavailable.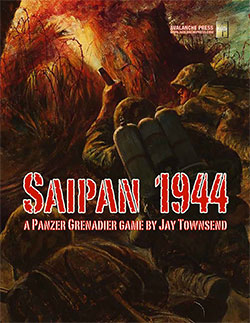 Saipan 1944
The fiercest land battle of the Pacific War us depicted in 40 scenarios, as American soldiers and marines battle Japanese army and naval troops for the crucial island base. Four maps, 495 pieces. $64.99 This game is temporarily unavailable.

Books
These scenario books usually include playing pieces, and anywhere from 30 to 40 new scenarios plus background articles on the campaigns and the armies that fought them. They are not playable by themselves, but require pieces from one or more boxed games (see the individual product pages for listings).
Iron Curtain: Hammer & Sickle
Soviet troops struggle to liberate the oppressed peoples of Western Europe in this war that never happened, with 39 scenarios and a full campaign game, plus 77 new pieces featuring the huge Soviet tanks built or designed for this war. $24.99
Edelweiss
From the Arctic to Crete, from the Caucasus to Norway, Germany's mountain troops fought on almost all fronts. Now you can add these elite troops to your Panzer Grenadier games, with 40 new scenarios and 161 laser-cut, mounted pieces. $29.99.
Panzer Lehr
Germany's elite division of tank instructors schools the British and Americans in Normandy in 27 new scenarios plus a campaign game. Also includes 112 laser-cut, mounted pieces. $29.99
Iron Curtain: Patton's Nightmare
The Cold War turns hot as American armor pushes toward Berlin in 1948 against fierce Soviet opposition. It's a war that never happened, with 20 scenarios and a full campaign game, plus 77 new pieces featuring the huge American tanks built or designed for this war. $24.99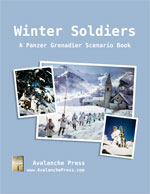 Winter Soldiers
Thirty new scenarios from the Ardennes campaign, plus an exciting campaign game. $19.99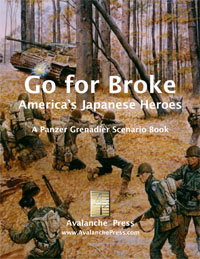 Go For Broke
The 442nd Regimental Combat Team racked up more combat decorations than any regiment in American military history. Go For Broke is a book with 20 new scenarios by Mike Perryman and 77 new die-cut and mounted playing pieces depicting this regiment in its own color scheme. $24.99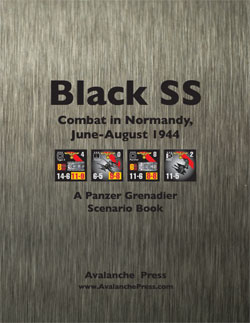 Black SS
Black Waffen SS counters for use in our Beyond Normandy, Road to Berlin and Elsenborn Ridge games. 64-page book with 30 scenarios and 165 die-cut and mounted playing pieces; $29.99
Kodoka Trail
Australian and Japanese troops clash in the jungle-covered mountains of New Guinea. Forty scenarios, two new map boards, $29.99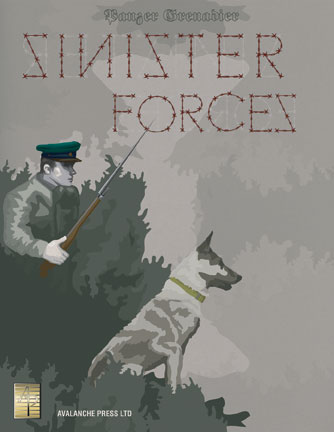 Sinister Forces
The men that made World War II the most brutal in human history, the Waffen SS and Soviet NKVD, fight in 35 new scenarios ranging from 1939 to 1942. 165 new pieces. $29.99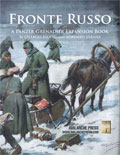 Fronte Russo
Battles of the Italian Expeditionary Corps in Russia, with 41 scenarios from 1941 and 1942 and 165 new pieces. $29.99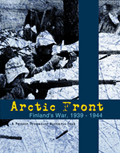 Arctic Front
Finnish troops fight the Soviets and the Germans in the Winter War. Continuation War and the Lappland War. 40 scenarios, 176 new pieces. $29.99.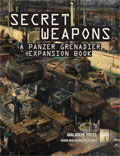 Secret Weapons
The weird weapons and giant tanks that barely — or never — reached the battlefield in World War II. Thirty scenarios, 154 new pieces. $29.99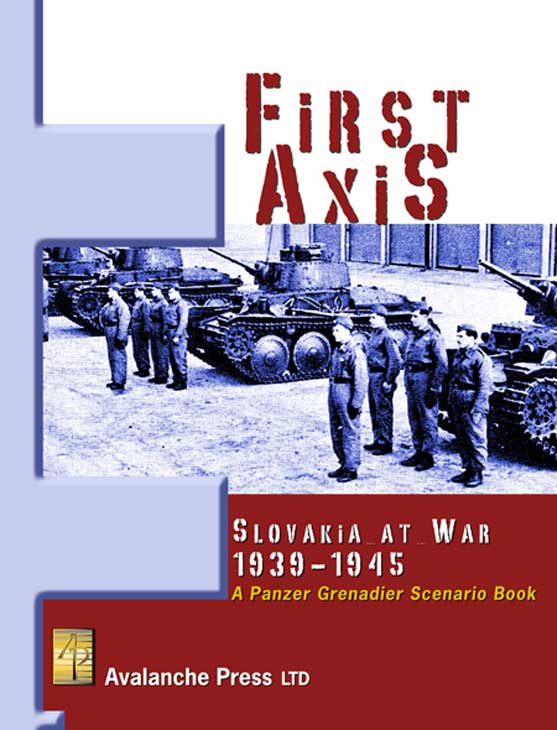 First Axis
Slovakia was Germany's first ally, and fought alongside the Nazis in 1939 and 1941 before turning against them in 1944. Thirty scenarios and 88 new pieces. $24.99
Jungle Fighting
The Marines weren't the only ones to fight the Japanese on Guadalcanal. This supplement adds 42 new scenarios focusing on the U.S. Army's sacrifices during the campaign. $19.99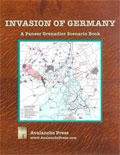 Invasion of Germany
American troops force their way across the German border in late 1944 and early 1945 in and around Aachen. 48 scenarios. $19.99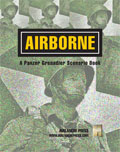 Airborne
American paratroopers battle the Germans in Normandy during the une 1944 invasion, in 35 new scenarios. Also includes full-sized, full-color map (#13). $24.99
More Extras
Additional parts to increase your Panzer Grenadier fun.
Winter Wonderland
The four maps from Elsenborn Ridge, but in a snow-covered scheme for that cold December feeling. $19.99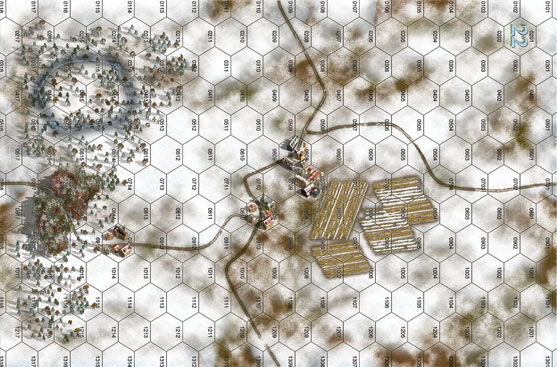 And More!
We also add new content to the Avalanche Press site every day, and a number of these pieces have focused on Panzer Grenadier: