Second World War at Sea
The greatest conflict in human history played out on all of the world's oceans, and we cover these battles in our Second World War at Sea series. Each boxed game covers a campaign or theater of war, with multiple scenarios, or separate game situations, based on the missions undertaken there.
Each scenario lists the ships and aircraft available, the goals each player needs to achieve in order to win, and the amount of time available. Battle scenarios cover clashes between surface ships and can be resolved in an hour or two; operational scenarios are based on historical missions and can take much longer. Missions include amphibious invasions, convoy escort, commerce raiding, shore bombardment and more. Players find enemy fleets and stop them from accomplishing their missions, while achieving their own ends.
The operational map covers the theater of operations and is divided into square zones, offset in a "brick" pattern. Each zone represents an area 36 nautical miles across. Players form their ships into fleets and aircraft into flights, and move them on this map. Their moves are pre-plotted on log sheets, so that a player does not know what the enemy has done. Even though the player can see the enemy fleet marker on the map, he or she still must determine whether its ships are spotted by friendly ships or aircraft. If this occurs, play moves to the tactical map, where battle takes place.
Ships are rated for primary, secondary and tertiary gunnery (big, medium and small) and torpedoes. They maneuver on the tactical map and fire on each other with these weapons. Ships are also rated for size and armor. Heavy armor can only be penetrated by torpedoes and primary guns, light armor by those plus secondary guns, and areas with no armor can be damaged by all weapons. When a ship loses all of its hull boxes, it sinks.
Aircraft are rated for air-to-air combat, range and endurance, altitude, land attack and naval attack. In air-to-air combat, each player rolls one die for each factor. On a result of 6, a hit is scored and the aircraft unit is reduced in strength. If already reduced, it is eliminated.
Ships are rated for anti-aircraft fire. Attacking planes that survive this can hit them with bombs and torpedoes. Planes are powerful, but fragile.
Other aspects of the game include submarines, minefields, motor torpedo boats and still more. It's not a complicated game (most game functions involve rolling a 6) but it does simulate a rich tapestry of naval history.
Coral Sea, is a low-cost ($34.99) entry point designed specifically for players new to the series.
Here's a look at all of our Second World War at Sea products:
Boxed games
Arctic Convoy
Bismarck
Bomb Alley
Cone of Fire
Coral Sea
Eastern Fleet
Horn of Africa
Midway
Strike South
Books
The Kaiser's Navy
Black Sea Fleets
Boxed games
Boxed games are the heart of the Second World War at Sea game system. Each of them is a "core" game: It has everything you need to play, and you don't need any parts or rules or anything else to play every scenario (complete game situation) in the box.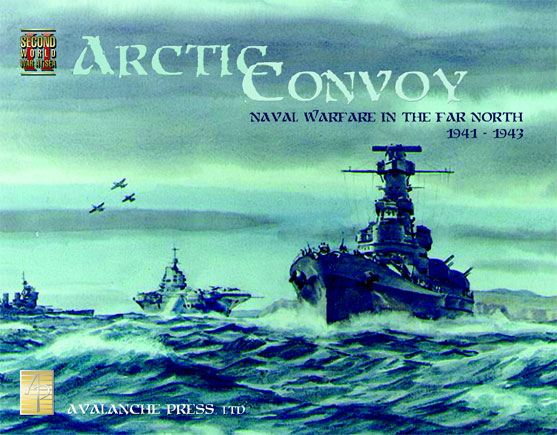 Arctic Convoy
The brutal battles between the Royal Navy (with Soviet and American help) trying to escort convoys through to Murmansk and Archangel, and the German warships, submarines and aircraft trying to stop them. $64.99

Bismarck
The German Navy's commerce raids of 1939 through 1941 into the North Atlantic. American, British and French warships hunt the grossly outnumbered Germans, who do have the vast gray Atlantic in which to hide. $64.99.

Bomb Alley
The Mediterranean naval war, 1940 - 1942. Fifty scenarios, 840 pieces - the most glorious game in the series. $79.99. This game is sold exclusively through Avalanche Press.

Cone of Fire
Our only game for both Second World War at Sea and Great War at Sea. The fleets of South America join the wars, with six maps and 42 scenarios. $99.99. This game is sold exclusively through Avalanche Press.
Coral Sea
The introductory game for the series, based on history's first carrier battle. $34.99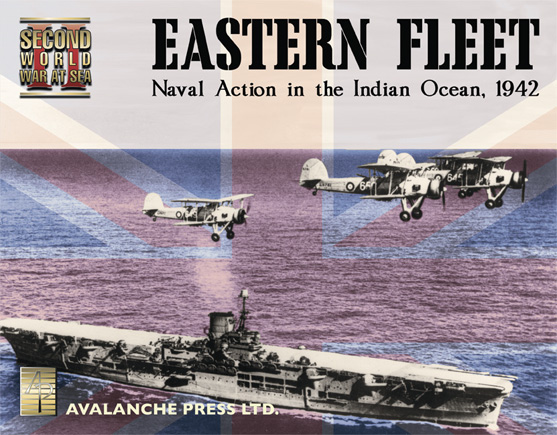 Eastern Fleet
The 1942 Japanese carrier raids into the Indian Ocean, against the British Eastern Fleet. The map covers the area from India's west coast to Sumatra and Malaya. This game has British and Japanese forces, with a tiny handful of Dutch and American ships. $49.99

Horn of Africa
Battles in the Red Sea and Gulf of Aden that actually happened (or could have happened) in 1940 and 1941, plus the possible 1936 British intervention in the Abyssinian War. $44.99. This game is sold exclusively through Avalanche Press.
Midway
Includes both the Pearl Harbor operation and the climactic battle of Midway, plus other scenarios like the Wake Island relief expedition. There are a number of alternate orders of battle. $64.99
Strike South
The Japanese storm through the Philippines and Dutch East Indies in 1941 and 1942. The Battle of the Java Sea, the last sortie of Prince of Wales, the heroic last fight of the Houston and more. $59.99.
Books
These scenario books include playing pieces, and anywhere from 20 to 30 new scenarios plus background articles on the campaigns and the navies that fought them. They are not playable by themselves, but require pieces from one or more boxed games (see the individual product pages for listings).
The Kaiser's Navy
The Imperial German Navy of 1940 goes into action in this alternate history of the Second Great War at Sea. Two dozen scenarios and 210 scorchless laser-cut mounted pieces. $34.99.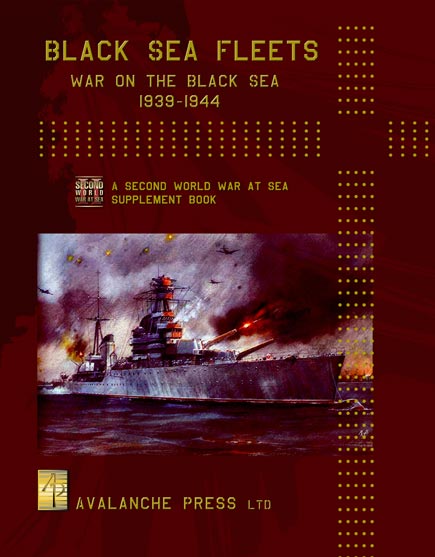 Black Sea Fleets
This book covers the Black Sea forces of the Soviet Union plus those of Turkey and Romania with 210 new die-cut-and-mounted playing pieces and a wealth of scenarios and background articles. $29.99
And More!
We also add new content to the Avalanche Press site every day, and a number of these pieces have focused on Second World War at Sea: