Instant Gratification
'Print and Play' Games from Avalanche Press
We no longer make downloads for sale - only special extras for our Gold Club.
The playing pieces are not die-cut or mounted, nor are the scenario books printed. Instead the product comes as a series of PDF files that will need to be assembled into the game's components. There are several methods, as shown here and here.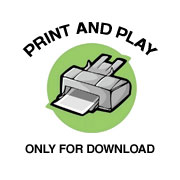 Panzer Grenadier Divisional Downloads
Entire divisions in their own unique color scheme.
The Marshal's Fist


Finland's lone armored division, equipped with captured Soviet light tanks, saw action against the latest in the Red Army's arsenal during the desperate battles of 1944. This set has 165 pieces and is perfect for use with Arctic Front. You can't buy it: it's FREE to members of the Gold Club.
Links