Instant Gratification
'Print and Play' Games from Avalanche Press
Most of our games come in boxes. We've also got supplements to the games, in the form of books or booklets. And then we have these: games or supplements that you can download in PDF form and begin reading right away.
The playing pieces are not die-cut or mounted, nor are the scenario books printed. Instead the product comes as a series of PDF files that will need to be assembled into the game's components. There are several methods, as shown here and here.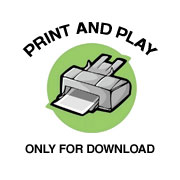 Infantry Attacks Supplements
The Mouse That Roared
Estonia's Freedom War against the Germans and Red Russians. 165 pieces, 10 scenarios, $12.99. Download now!
To Hell With Spain!
The Spanish-American War in Cuba and Puerto Rico in 10 scenarios. Buffalo Soldiers, Cuban rebels, U.S. Marines, the Rough Riders, dynamite guns and more! 330 pieces, 10 scenarios, $16.99. Download now!
Panzer Grenadier Supplements

Indian Unity
The "princely state" of Hyderabad resists the Indian Army in 10 scenarios from the 1948 invasion. Yes, it really happened! This supplement adds the Hyderabadi army of 1948 plus additional Indian and Gurkha units. 165 pieces, 10 scenarios, $12.99. Download now!
Waltzing Matilda: The Defense of Australia, 1942
Australia's Citizen Military Force stood ready to defend their country from a Japanese invasion that never came. This supplement looks at the Militia and their potential Japanese foes, with new Japanese tanks and other vehicles, Australian armor, cavalry of both sides, and much more. 330 counters, 12 scenarios. $16.99. Download now!
Grossdeutschland 1946
As the Second World War came to an end, Germany developed a whole series of secret weapons designed to turn back the victorious Allies. In this supplement Germany's best division wields weapons that never left the drawing board: the Kätzchen armored personnel carrier, Pz42t medium tank and more. 253 pieces, 10 scenarios, $12.99. Download now!
War on the Equator
Peru and Ecuador disputed their border for over a century and a half, and in the late 1930s tension began to escalate toward war. Peru armed itself with modern tanks, planes and artillery, and in the summer of 1941 unleashed these weapons against its northern neighbor in a seven-week lightning war including airborne and amphibious assaults. This supplement covers this unusual conflict, with the orders of battle for both Peru and Ecuador. 165 pieces, six scenarios, $12.99. Download now!
Panzer Grenadier Divisional Downloads
Entire divisions in their own unique color scheme. These special counter sets can be used with Campaigns & Commanders books to create campaigns, or just to make your games that much more fun to play.
Ariete Division
The elite Italian 132nd "Ariete" Armored Division fought across the deserts of Libya and Egypt in 1941 an 1942, assembling a combat record equal to any division of World War II. This set has 165 pieces and is perfect for use with Campaigns & Commanders: The King's Officers. $6.99. Download now!
DeGaulle's Division
Charles DeGaulle's hastily assembled 4th Division Cuirassée de Réserve (Armored Division) inflicted repeated defeats on the German 10th Panzer Division and showed what French tanks and crews could accomplish when aggressively led. This set features 253 pieces showing the tanks, troops and vehicles in their own special color scheme, so you can send the entire division into battle against the Nazis. $6.99. Download now!
Panzer Division
The crack German 1st Panzer Division as it stood in June 1941 — perfect for use with the campaigns of Panzer Grenadier: War in the East. This set has 330 pieces, with all of the panzers and troops and guns all bearing the division's unique symbol. $6.99 Download now!
Moscow Rifles
The elite 1st Moscow Motorized Rifle Division out-fought Heinz Gunderian's panzers at Borisov and Orsha in July 1941, becoming the 1st Guards Motorized Rifle Division in September. This set of 495 pieces shows the division as it stood during its epic stand to bar the road to Moscow, with 495 pieces in a unique color scheme including dozens of T-34, T-35 and BT-7 tanks. $6.99. Download now!
Texas Division
The pride of the Texas National Guard, the 36th Infantry Division saw action at Salerno, San Pietro and Monte Cassino as well as in southern France, the Rhone frontier and southern Germany. This set of 253 pieces displays the division with its own unique symbol. $6.99. Download now!
Second World War at Sea Supplements
The Tsar's Navy
Tsar Nicholas II planned to turn Russia into a major power at sea, but a decade of chaos got in the way. This supplement looks at how the Imperial Russian Black Sea fleet might have developed over the years leading up to World War II and performed in the 1940's. 70 "long" ship counters, 140 standard-sized pieces, 10 scenarios. $16.99. Download now!
Great War at Sea Supplements

Prizes of War
French and Russian dreadnoughts serve under British and German colors. 70 pieces, 21 scenarios, $16.99. Download now!

Reichsmarine
The German High Seas Fleet scuttled itself in June 1919, removing one point of conflict between the United States and Great Britain. This supplement looks at how the battleships that helped spark World War One might have served the Royal Navy and Weimar Republic in the early 1920s. 135 "long" ship counters, 70 standard-sized pieces, 10 scenarios. $16.99. Download now!
Links