Alamein:
Expansion Set One
Our Alamein game is the largest currently in our inventory, and we're not likely to ever make anything quite this grand again (it's pretty much beyond our current capabilities). The game covers all of the Alamein battles in the autumn of 1942 at a scale of two kilometers per hex on the maps, with the units representing battalions and a few companies.
And there are a lot of units: 1,960 pieces, most of them combat units (there are some markers in that total, too). But that's not enough for everyone. And that's why we have Alamein Expansion Set One, the first and last such.
Alamein Expansion Set One has 140 new pieces, all of them German. These add six major variants to the Alamein order of battle, including an additional German panzer division (the 10th) and a motorized-tropical air-landing division (the 22nd). All of these changes were discussed and could have occurred. Of course, such additions come at a price; that price (other formations or supplies not shipped to North Africa) is usually why the formation did not actually join Rommel at Alamein.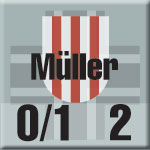 Alamein Expansion Set One is a supplement for Alamein. It is not a complete game: ownership of Alamein (and only Alamein) is necessary to play all of the six game variations included. Alamein Expansion Set One also includes playing pieces.
Alamein Expansion Set One is available only to the Gold Club.
Note: This item is a digital download.
Links:
Stock Code: APL1880
Price: FREE
Status: Exclusively for the Gold Club