Avalanche Exclusives
A few of our most special games are only available directly from Avalanche Press: they;re not sold in any store. Here's a look at them:

1967: Sword of Israel
Panzer Grenadier (Modern) is a new rules set, though very similar to its sibling - if you've played Panzer Grenadier, you'll pick up Modern very quickly. In this game, Israel takes on the armies of Egypt, Palestine, Syria and Jordan in 50 scenarios, in sweeping tank battles and tough, close-quarters infantry fights. With eight maps and 901 playing pieces. $119.99.
You can order it right here.

Horn of Africa
Second World War at Sea battles in the Red Sea and Gulf of Aden that actually happened (or could have happened) in 1940 and 1941, plus the possible 1936 British intervention in the Abyssinian War. A fairly small game with a lot of action. $44.99.
You can order it right here.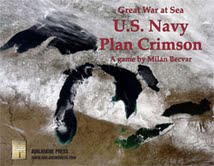 U.S. Navy Plan Crimson
It's a Great War at Sea game, but in this one American and Canadian fleets battle on the Great Lakes. It's a war that never happened, in a world that never was. This is possibly the strangest game we have ever published. And that's saying a lot. A boxed game with 34 scenarios, two maps, 230 laser-cut and mounted playing pieces. $59.99. This game is temporarily unavailable.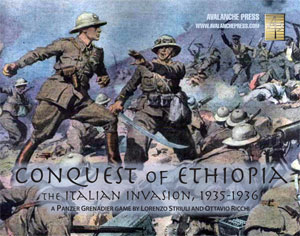 Conquest of Ethiopia
A Panzer Grenadier game of the Italian invasion of Abyssinia, 1935-36, with forty scenarios, eight maps and 517 smooth, scorchless and sootless playing pieces. Alpini, Blackshirts and tanks (but no elephants) face the Negus and his men. $99.99.
You can read the publisher's preview here.
You can order Conquest of Ethiopia right here.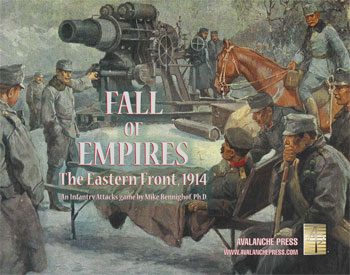 Fall of Empires
An Infantry Attacks game of the first months of the Eastern Front in 1914, as Austro-Hungarian and Russian armies fight across southern Poland. Austria's Kaiserjäger, Bosniaken, Honvédség and Landwehr face Imperial Russia's Guards, Cossacks and hard-fighting regulars. Six maps, 781 pieces, 60 scenarios. $99.99
This game is not yet available.
Lawrence of Arabia
An Infantry Attacks game of the desert campaigns in Sinai and Palestine, from the Turkish attack on the Sue Canal in 1915 through the Fall of Damascus in October 1918. Ottoman Turks aided by Germand and Austro-Hungarians take on British, Indian, Jewish, Arab, Australian, New Zealand and West Indian forces. There's even a tank unit. Eight maps, 869 pieces, 60 scenarios.
This game is not yet available.