Second World War at Sea: Java Sea
The Loss of Force Z, Part One
By Mike Bennighof, Ph.D.
November 2023
Put not your trust in princes, nor in the son of man, in whom there is no help.
Psalm 146:3
By the summer of 1941, British leaders believed a Japanese attack on the Far Eastern colonies had become inevitable; the only variable was its timing and initial targets. Admiral of the Fleet Sir Dudley Pound, the First Sea Lord, advocated sending a squadron of the old battleships then engaged on convoy escort to Ceylon as a deterrent. Prime Minister Winston Churchill, never one to doubt his self-anointed expertise, called the old ships "floating coffins" and argued instead for a small, modern striking force including at least one modern fast battleship and an aircraft carrier. Both opposition leader Clement Atlee and Foreign Minister Anthony Eden backed Churchill's assessment.
Exactly what went into that decision is hard to decipher more than eight decades later. The records of the discussions disappeared at some point afterwards, in some ways unsurprising given the outcome of the move. Churchill and his closest associates agreed to send a modern force to Singapore, but without the additional fighter planes to protect it. This while the Royal Air Force was using the German battle cruisers in port at Brest for regular target practice, with the German Air Force unwilling to commit its squadrons to defend them.
Meanwhile, the United States applied pressure on the British to commit more resources to defending South-East Asia. The Americans rebuffed Churchill's suggestions to move all or part of their Pacific Fleet to Manila, but did offer to commit more heavy ships to the Atlantic to allow a re-deployment of British assets to face the Japanese.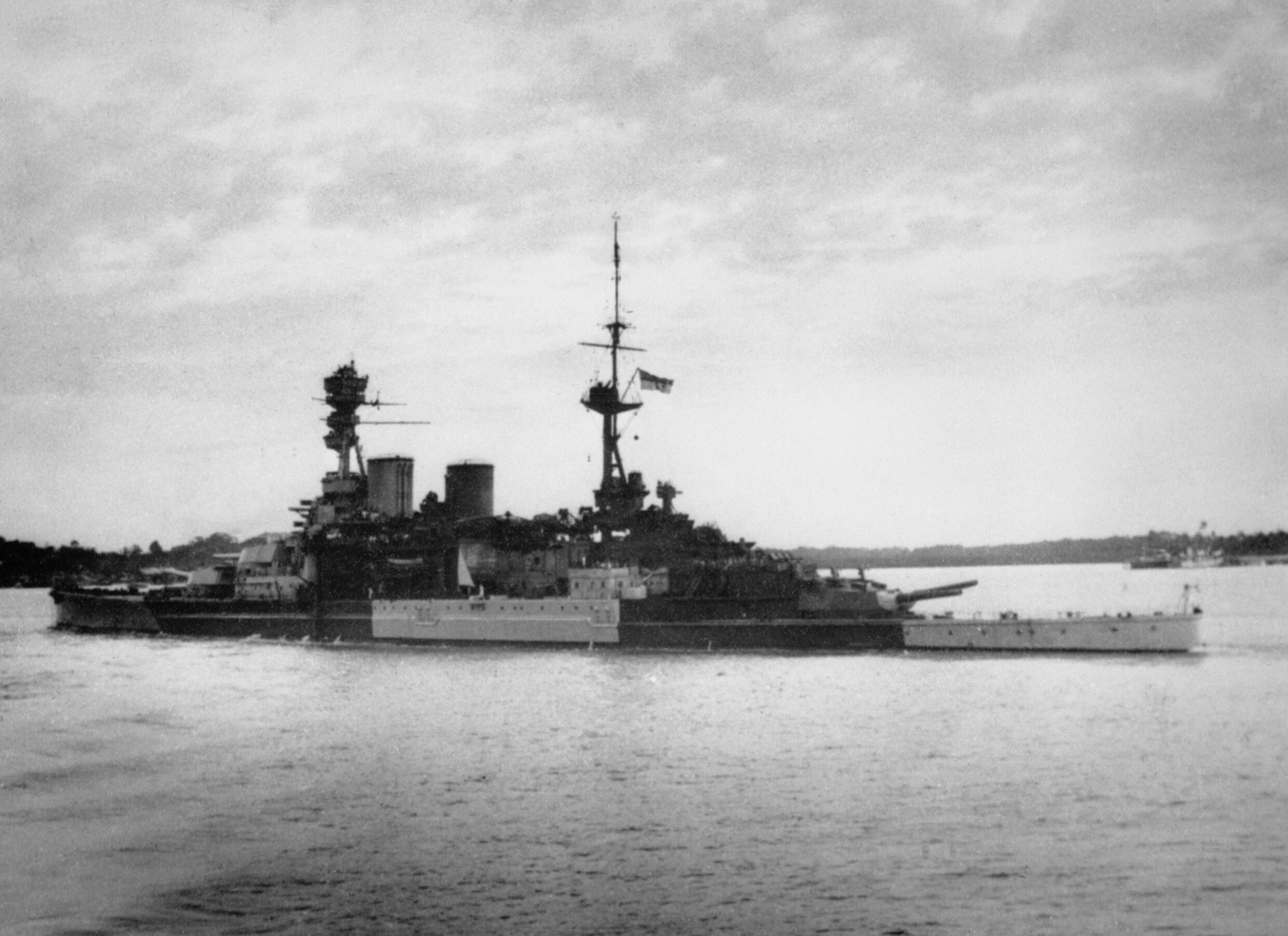 The doomed Repulse leaves Singapore. 8 December 1941.
By the spring of 1942, Churchill and Pound hoped to have that initial striking force deployed to Singapore along with at least one more modern capital ship, plus the ships of Force H then based at Gibraltar (at the time, centered on the aircraft carrier Ark Royal, battleship Valiant and battle cruiser Renown).
At the time, the summer of 1941, British planners did not foresee the audacious Japanese attempt to seize all of the Western colonies in South-East Asia: the American-held Philippines, British-ruled Malaya, and the Dutch East Indies. Holding the "Malay Barrier" would secure the Indian Ocean from Japanese raids against Allied shipping there. The threat of a heavy surface raider preying on merchant shipping and disrupting the flow of raw materials, soldiers, and other goods from India to the front in the Middle East had to be met.
In that scenario, the four ancient battleships would be available for convoy security, while the two task groups each of a modern or modernized battleship, a modernized battle cruiser and an aircraft carrier would be available to track down the interloper. Force Z, as the new task force would eventually be called, and Force H had sufficient force for this mission, but not to face the weight of the Japanese fleet – that was never the intention.
It was not a bad plan. It was simply based on a complete mis-reading of Japanese intentions.
In late October 1941, the battleship Prince of Wales left the shipyard at Greenock, Scotland, initially bound for West Africa with an escort of two destroyers. They would meet the battle cruiser Repulse at Capetown and then move on to Singapore. To command the force, and by extension the Eastern Fleet which would be declared operational once the ships arrived at Singapore, Churchill pushed his personal friend Rear Admiral Sir Tom Phillips on the Sea Lords. Phillips, vice chief of the Naval Staff, had not been to sea since 1917. The diminutive "Tom Thumb" had a scornful attitude toward both the Japanese and the threat to surface warships posed by aircraft of any nationality. Perhaps more importantly, he had spearheaded criticism of Sir James Somerville and Frederic Wake-Walker after the battles of Cape Spartivento and Denmark Strait, respectively, for not pressing the battle even at suicidal odds. The latter pall also hung over Phillips' flag captain, John Leach of Prince of Wales.
By the spring of 1942, the Admiralty hoped to add one carrier to Force Z, probably the new Indomitable. Indomitable commissioned on 10 October, but neither the ship nor her air group had been worked up and they steamed to the British West Indies to undergo trials in a location well outside the range of German aircraft. The trials started on 2 November, scheduled to last for three weeks, almost immediately the ship struck a coral reef off Jamaica and had to go to Norfolk for repairs.
She had not, at this point, been ordered to join Phillips. And had she received such orders, even without the grounding damage she would not have set out for Singapore until late November and would not have been present when the Japanese attacked on 8 December.
Phillips arrived at Singapore with on 2 December 1941, with Prince of Wales and Repulse and two destroyers. One undersized heavy cruiser, a handful of Great War-era light cruisers and some destroyers were already on station. "Tom Thumb" formally took command of the Eastern Fleet on 8 December, and held it for less than 48 hours.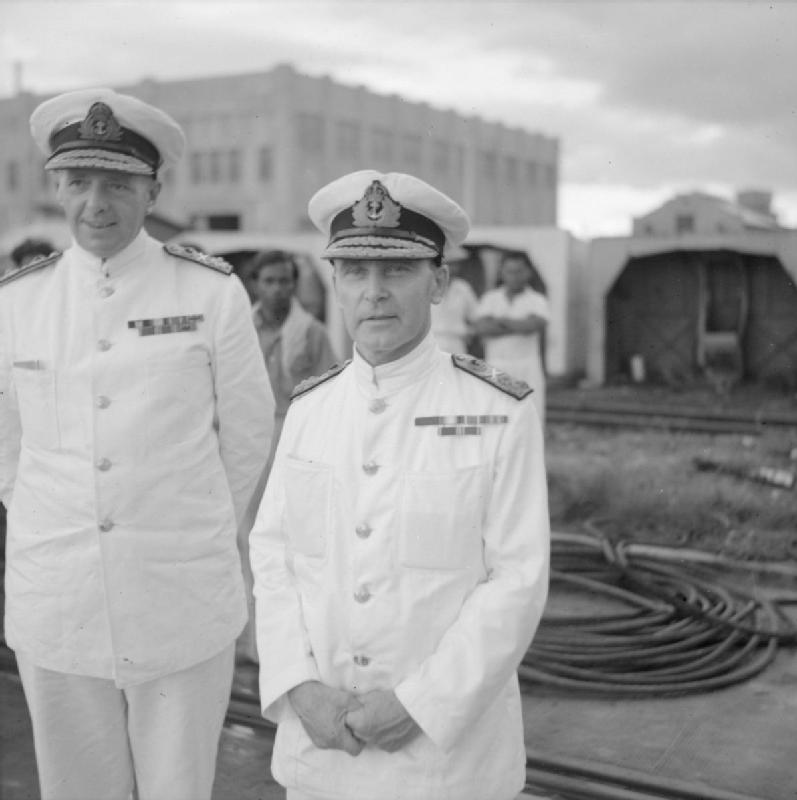 Tom Phillips (R) and his deputy, Rear Adm. Arthur Palliser. Singapore, 2 Dec. 1941.
Operationally, the Admiralty hoped that Force Z could hide among the Dutch bases in the East Indies, giving the Japanese pause as to its location and where it might fall on a Japanese invasion force. Admiral Thomas Hart had taken this very step with the cruisers and destroyers of the U.S. Asiatic Fleet, as the British knew well from their join planning conferences held with the Americans.
But stashing Prince of Wales somewhere on the coast of Borneo went against the political goals of the Prime Minister. Japan and the United Kingdom were not at war; the arrival of Prince of Wales and Repulse stood as a solid commitment to defend the Far East and a statement that more force would be on the way. But in order for Force Z to have any deterrent value, the Japanese had to know of its presence. The ships had to go to Singapore, the risk being balanced by the chance to delay a Japanese offensive until more heavy ships and carriers could arrive.
Once again, it was not a bad plan. But by this point, Japan was determined to go to war.
Prince of Wales reached Ceylon on 29 November, joining Repulse there. The Admiralty discussed holding them there, as the deterrence value would be little different yet they would be well out of range of Japanese air attack. A day earlier, the Americans had informed the British that diplomatic message intercepts showed that war could break out at any moment. Phillips flew to Singapore as soon as he arrived in Ceylon; his ships refueled and followed, departing on 30 November, and arriving in Singapore on 2 December. Among the dizzying array of challenges facing Phillips, the commander of the China Station, Sir Geoffrey Layton, reacted to Phillips superseding him as commander of the newly-formed Eastern Fleet with a childish dog-in-the-manger act, telling all who cared to listen and many who did not, how Phillips did not deserve the command that he, Layton, should have received.
You can order Java Sea right here.
Please allow an extra four weeks for delivery.
Sign up for our newsletter right here. Your info will never be sold or transferred; we'll just use it to update you on new games and new offers.
Mike Bennighof is president of Avalanche Press and holds a doctorate in history from Emory University. A Fulbright Scholar and NASA Journalist in Space finalist, he has published a great many books, games and articles on historical subjects; people are saying that some of them are actually good. He lives in Birmingham, Alabama with his wife, three children, and new puppy. He misses his lizard-hunting Iron Dog, Leopold.
Want to keep Daily Content free of third-party ads? You can send us some love (and cash) through this link right here.