Sword of Israel:
Soviet Intervention, 1967
In June 1967, Israel launched a pre-emptive wear against her Arab neighbors, crushing the armies and air forces of Egypt, Jordan and Syria. The Soviet Union refused to intervene on behalf of her Arab allies, but the Israeli high command could not be completely sure that Soviet paratroopers might not appear in the skies.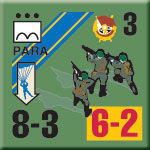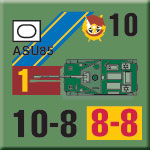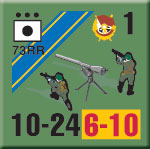 Intervention 1967 is a small expansion set for Panzer Grenadier (Modern) 1967: Sword of Israel, based on how such an operation might have played out. The Soviet Army's 103rd Guards Airborne Division is a well-trained and well-armed outfit, in the midst of preparations for the Dnepr 1967 exercises - a complete contrast to the Arab armies the Israelis face in the standard scenarios.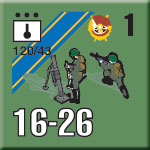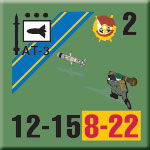 The Soviet parachute battalion of 1967 is very much a light infantry outfit - air-droppable armored carriers would only start to arrive the next year, converting the airborne formations into far more capable all-arms units. To make up for that lack, the battalion wields a large number of support weapons: Sagger anti-tank missiles, heavy mortars, recoilless rifles and the diminuitive ASU-85 assault gun.
Intervention 1967 includes 24 playing pieces representing these troops, plus a couple of new Sword of Israel scenarios for their use. Intervention 1967 is an expansion set, not a complete game. It's a download; you'll have to assemble the pieces yourself.
Note: This product is a digital download. Pieces require assembly.
See how to make those pieces right here.
Links:
• Soviet Intervention
• Soviet Paratroopers
Stock Code: APL1549
Price: $5.99 download; free to the Gold Club
Status: Now Downloading!
You can download Intervention 1967 right here.
It's $5.99, but if you're a Gold Club member, it's free to you as part of the Golden Library (there's no Gold Club discount or freeness through Wargame Vault).
Click here to join the Gold Club
See your Gold Club Insider newsletter for ordering information.