Revenge of the Red God
By Mike Bennighof, Ph.D.
March 2016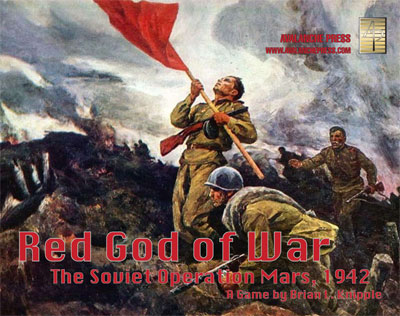 Sometimes, a game just has the perfect title. When Brian Knipple designed a game on the Soviet Operation Mars, a failed offensive that took place near Moscow just before the successful Stalingrad campaign, he also provided the best name in our lineup: Red God of War.
Red God of War is a "real wargame" — with hexes and counters and attack factors and defense factors and a combat results table. There's an old guard of wargamers who really like this type of game, but we took our focus off them many years ago. We're busily correcting that oversight, among many others, and that's why we brought Red God of War back into print.

Red God of War went out of print in the summer of 2010, when we sold off the last couple hundred copies. Or so I thought. It later turned out that many of the cartons in our warehouse labeled "Alsace 1945" actually contained complete copies of Red God of War, sans box or dice. Hundreds of them, maybe thousands of them, the busywork product of our near-fatal overstaffing in years past. Our recent warehouse winnowing as revealed that there are indeed thousands of them, so we're dropping the price to just $19.99.
Red God of War is a "real wargame," one with a hexagon-based map and a Combat Results Table. The situation is fairly unusual, with the Germans occupying the center of the map and the Soviets attacking them from three sides.
Red God of War uses the same game system as Bitter Victory, Alsace '45 and Gazala 1942. It has a traditional combat resolution system, with special considerations for supply, terrain, combined arms and so on. Units belong to formations (Soviet armies, German corps) which are activated by a random chit draw (how many get activated depends on supply and weather conditions). The result is a pretty good level of chaos without needless complexity.
It plays like the best sort of traditional wargame: Both sides have the opportunity to attack, there's a desperate struggle that may or may not be redeemed by the timely arrival of reinforcements. It's a very solid game design and a really good game.
The playing pieces are very nice, and I really like the deep burgundy red background of the Red Army. Unfortunately the artist we had on staff at the time failed to put the unit type symbols in gold when he was told to switch the text to a more readable color. We eventually issued a downloadable set of Soviet brigades for those who had a hard time picking out their little symbols, though it's actually pretty easy to tell the difference (brigades have low combat factors, corps/divisions have big ones).

I really like Susan Robinson's dramatic new box for the game; Terry Strickland's original one had its own charm with a heart-rending photo of a little boy taking his father to war and the Red Army's official notice of the same man having been killed in action. The files for that cover aren't easily usable any more, and the replacement is more than adequate.
Get your own copy of Red God of War!
Mike Bennighof is president of Avalanche Press and holds a doctorate in history from Emory University. A Fulbright Scholar and award-winning journalist, he has published over 100 books, games and articles on historical subjects. He lives in Birmingham, Alabama with his wife, three children and his dog, Leopold. There is only one copy of Leopold.