Second World War at Sea:
Gin Palace
This downloadable expansion set, exclusively for Gold Club members, puts its focus on just one single ship: the "Gin Palace," also known as the British battleship Agincourt, also known as the Brazilian battleship Rio de Janeiro, also known as the Turkish battleship Sultan Osman V.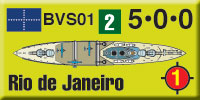 Brazil initially ordered the ship as Rio de Janeiro, but the Brazilians sold her to Turkey who renamed her Sultan Osman V. The British then seized the battleship and added her to their own fleet under the name Agincourt. She served in the Grand Fleet throughout the First World War, and then was laid up afterwards.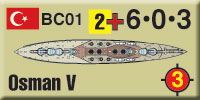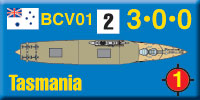 The British attempted to sell her back to the Brazilians, who refused, and sought out other buyers as well. Agincourt carried fourteen 12-inch guns in seven turrets (more guns and turrets than any other dreadnought) and her unusual design made her a decided "odd number" in any fleet.
Proposals to covert her into a "mobile base ship" fitted to repair other warships, or perhaps a fast armored oiler, went nowhere and she was deleted from Royal Navy in late 1922 and scrapped two years later.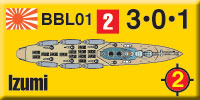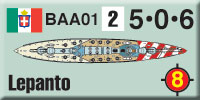 Our Gin Palace variant allows her to steam on into a new generation, in all of the proposed modified forms and a few others besides. This makes for one of the more unusual issues of the Gold Journal: there are fifteen versions of the same ship, in eight different forms under seven different flags. Plus ten aircraft pieces because you'll need those too.

All eight variants are for Second World War at Sea. They include: a base ship, an oiler, a hybrid aircraft carrier, a helicopter carrier, a battle cruiser, an anti-aircraft escort (two variations) a seaplane carrier and an amphibious assault ship.
How do you get it? Only by joining the Gold Club – join up and we'll tell you how to get it for FREE.
Note: This product is a digital download. Pieces require assembly.
Links:
• Ship Data Sheet
• Fancy Carrier Cards
• Gin Palace Variations
Stock Code: APL1561
Price: FREE (Gold Club members only)
Status: Downloading Now!
Click here to join the Gold Club
See your Gold Club Insider newsletter for ordering information.