Golden Edition:
Erik the Red's War
In June 1931, Norwegian trapper Hallvard Devold, his brother Finn and three companions raised the Norwegian banner over the meteorological and radio station at Myggbukta (Mosquito Bay) in north-eastern Greenland and claimed the region the called Erik the Red's Land for the Kingdom of Norway, sending a telegram to Oslo via the radio station. Devold ran the local trading company, doing business in fish and furs, and apparently hoped to avoid future taxes on his business. He almost got a war instead.
Norway had never recognized the loss of its overseas empire - Greenland, Iceland and the Faroe Islands - when the kingdom was transferred from Danish to Swedish control in 1814. Greenland had a shadowy legal status until 1921, when the Danish Parliament declared the island and integral part of the kingdom.
The Norwegian government initially backed the Devold brothers; the unilateral Danish claim still rankled and many believed that Norway deserved a share of Greenland's resources. The defense minister, Vidkun Quisling (yes, that Vidkun Quisling) prepared to defend the Norwegian claim by force. The Danes instead appealed to the International Court of Justice in The Hague, which ruled in their favor. Grudgingly, the Norwegians accepted, but both sides contemplated fleet expansion programs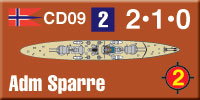 Erik the Red's War is an expansion set for our Second World War at Sea games Bismarck and Norway 1940, bringing this tiny naval war that almost happened to your game table. It has 25 new die-cut and silky-smooth playing pieces for Danish and Norwegian warships (those planned but not built, and those still in service in 1931 but not by 1940), and ten scenarios so you can play with them. It's the same format as our Golden Journal, a small magazine-like booklet.
It's not for sale - it's only available for free, for a very brief time, as a special incentive for our Gold Club.
Links:
•
•
Stock Code: APL6603
Price: FREE! (for a limited time, Gold Club members only)
Status: Coming Soon
Click here to join the Gold Club
See your Gold Club Insider newsletter for ordering information.