Jutland 1919:
German Battle Cruisers, Part Two

The Battle of Jutland, or Skaggerak, caused the German Admiralty to re-think its design principles for battle cruisers as well as the battleships discussed in an earlier installment. The battle's results – or at least the German understanding of the battle's results – seemed to re-open the Typenfrage, the question of whether the Navy should build both battleships and battle cruisers, or simply one class of fast battleship that could fill both roles.
Spurred by the staff of the High Seas Fleet, the Admiralty decided to continue building battle cruisers, "great cruisers" in German parlance, more for political than military reasons (under the German Naval Laws, battleships and cruisers came under separate funding lines). The new post-Jutland battle cruiser type would need to be at least as well-protected as those already under construction, and extraordinarily fast. The German great cruisers at Jutland had been at a seeming speed disadvantage compared to British fast battleships, let alone battle cruisers. The new ships needed to make at least 32 knots, and also had to carry the same 420mm (16.5-inch) main gun as the new post-Jutland battleships to assure superiority over British ships armed with 15-inch guns.
While the designers went with a larger proportion of oil-fired boilers than in any previous ships, they still relied on coal for the majority of the ship's power even though oil-fired boilers could provide more power. Their British had already built purely oil-fired battleships, but backed away with their Royal Sovereign class for strategic reasons, as high-grade coal could be mined in the British Isles but oil had not yet been discovered there. Germany faced a very similar situation, with even less access to petroleum, but her naval architects valued coal bunkers as an addition to a ship's protection scheme.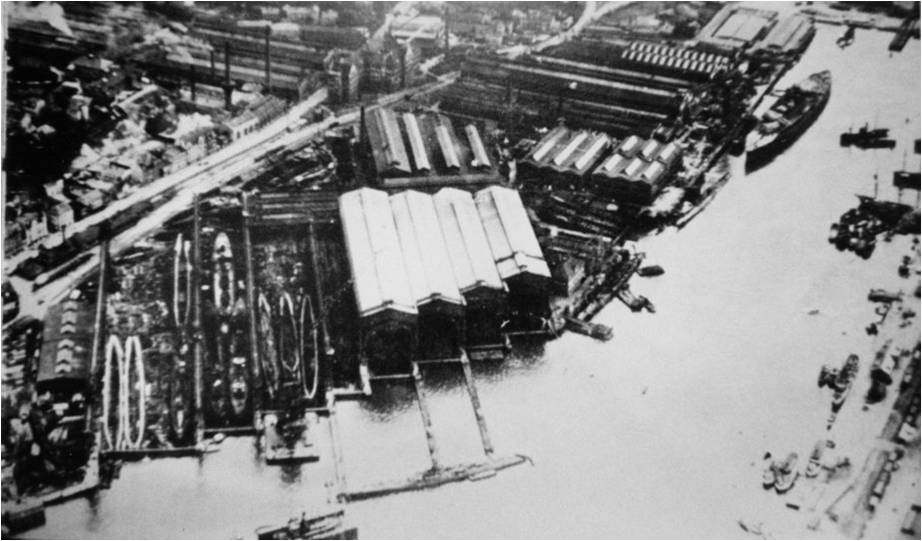 Germaniawerft shipyard in Kiel, seen in 1918, would have built one of the cruisers. Note incomplete battleship Sachsen in upper right.
Three new great cruisers had been authorized in the late summer of 1916 and contracts placed in three private shipyards. By January only one keel had been laid and a small amount of work done on the other two. Vice Admiral Georg Hebbinghaus suggested that these authorizations be used with a new design, likely hoping to build his proposed fast armored cruiser on those slipways. His superiors had a bigger goal in mind – a much larger great cruiser armed with 420mm guns. Through a naval aide, the Kaiser indicated that "this did not disturb him in any way."
With German shipyards overwhelmed by repair work on existing ships and orders for new submarines and torpedo boats (destroyers), the new ship had little chance of being built even using the contracts already placed. Design work proceeded slowly, classed as a paper study rather than an active project, with sketches delivered in late February and early March 1918.
The two alternative designs, designated GK4542 and GK4541 (GK for Grosskreuzer, or "great cruiser"), differed in their speed with GK4542 having 26 boilers (16 coal-fired and 10 oil-fired) and GK4541 boasting two more (both oil-fired). The two ships had the same hull form, but differed in turret layout, with GK4541 having a wide space between the two after turrets to accommodate a larger turbine room.
The ship would have been the largest warship built in Germany up to that time (though larger passenger liners had been launched). She would displace 45,000 tons on a length of 240 meters and bore a superficial resemblance to the L20 battleship design and its related variants. Like them, all of her boilers were trunked into a single gigantic funnel, though her internal arrangements differed thanks to her much larger engine spaces.
The sea officers had asked for thicker side armor, and the new designs provided it, with substantially more protection than the previous great cruiser designs or and only slightly less than the new battleships. Like the other new ships she would have a reasonably thick armored deck, and follow the "honeycomb" pattern of internal subdivision common to German large warships.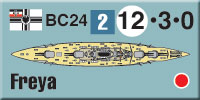 Main armament would be eight of the new 420mm SK L/45 naval rifle, a weapon then still in the early design stage and many months from even test firing. Like most late-war German designs, she carried them in what naval writer Siegfried Breyer later described as "the peak of perfection" – in four twin turrets, two forward and two aft. Eight 150mm (5.9-inch) guns would be mounted in an armored casemate battery, with four more in high-angle anti-aircraft mounts on the main deck, arrayed on either side of turret "C." She had a single, bow-mounted torpedo tube, avoiding the difficulties of launching a torpedo from a side mount while the ship made any sort of speed (the torpedo had a tendency to hang halfway out of the tube, creating a potential hazard).
The designers broke with earlier practice, replacing the tripod masts used on previous heavy warships with single thick, tubular masts – a feature carried over in a number of designs from the Weimar and Nazi eras.
For Jutland 1919, we've included four examples of design GK4541, since I liked its looks better than the slightly slower version (in game terms, there is no difference in their speed). She is a powerful ship, the equal of most of the late-generation battleships in terms of firepower and protection combined with a battle cruiser's speed.
By the time her design had been finished, Imperial Germany had little hope of building new capital ships. Even had the resources been available – steel and labor, for the most part – such a massive ship would have taken at least four years to build, and possibly longer. She would not have been available for action unless the Great War dragged on for a terrible length, in which case it's unlikely that Germany would have the capability to build such a ship, or in case of some sort of cease-fire or truce pausing the carnage. More likely, she would have been built after some sort of negotiated peace that left Imperial Germany intact and capable of joining the post-war naval arms race – this is the alternative history offered in our Second Great War setting, where this ship also appears (in modernized form) in our Cruel Sea expansion set.
You can order Jutland 1919 right here.
Sign up for our newsletter right here. Your info will never be sold or transferred; we'll just use it to update you on new games and new offers.
Mike Bennighof is president of Avalanche Press and holds a doctorate in history from Emory University. A Fulbright Scholar and NASA Journalist in Space finalist, he has published a whole bunch of books, games and articles on historical subjects. He lives in Birmingham, Alabama with his wife, three children and his Iron Dog, Leopold.