Golden Journal No. 31:
Publisher's Preview
by Mike Bennighof, Ph.D.
May 2023
Back in the mid-Zeroes, we released the first edition of Great War at Sea: Jutland. I had what I considered a brilliant idea: we'd put all of the capital ships (battleships, battle cruisers and maybe armored cruisers and coast-defense ships) on the huge double-sized pieces we use for Great War at Sea: Zeppelins and a few other games. Our marketing guru talked me down from that insane notion; as cool as it would have been, it would have added at least two more sheets of pieces to the game, maybe more than that. That change also would have made Jutland's pieces no longer compatible with other games in the series.
Despite the need for production sanity, I still love the oversized pieces for key ships. We've done a handful of them in games like Battles of 1866: Frontier Battles, where a leftover piece became the Austrian battleship Viribus Unitis from the old Great War at Sea: Mediterranean. When I worked on Bismarck's Second Edition, I wished we could update some of the artwork, and I very much wanted the giant pieces for the most important ships. And so we have Golden Journal No. 31: Deluxe Bismarck.
Deluxe Bismarck has a dozen of the huge pieces. Each of them has completely new artwork; the process we use now to produce the silky-smooth pieces we've had in games for the last few years offers much sharper reproduction. Small flaws that never showed up before are visible; stuff that you could see if you looked for it is now glaring. So we had to draw the ships all over again, with much finer detail to match the print quality. That combination produces some of the finest game pieces ever, and Deluxe Bismarck gives us a broad enough canvas to show off the ship artwork as we've never really been able to do before.
Here's what you get:
Germany
Bismarck

History's most infamous battleship weighed in at 41,000 tons and carried eight 15-inch guns, making her slightly smaller and considerably less heavily-armed than the latest Japanese or American battleships. Rhine Exercise, the operation during which she was sunk, was also her first mission.
Tirpitz
Bismarck's sister ship had been intended to accompany her on that fatal mission, but had not completed gunnery training when Bismarck set out without her. She did more damage than Bismarck simply by existing in Norway and threatening to attack Allied convoys heading to Murmansk. After many attempts, British bombers finally sank her in her secret anchorage.
Scharnhorst

Originally designed as an improved version of the armored cruiser Deutschland, she instead became a lightly-armed and undersized fast battleship, but sporting thick armor. She would need that, as she took a constant pounding by RAF aircraft when not at sea. She missed the Bismarck sortie due to boiler defects, and would be sunk by the British battleship Duke of York on the last day of 1943.
Gneisenau
Scharnhorst's harder-luck sister, Gneisenau was damaged by RAF attacks following her March 1941 arrival at Brest and never undertook another combat mission (she did dash up the Channel in 1942, suffering still more damage). After years of cycling through repairs and bomb damage, she was scuttled at war's end and eventually scrapped.
Britain
Rodney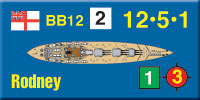 Britain's first post-Great-War battleships followed an unusual design, but carried the biggest guns in Royal Navy service in 1941. Rodney encountered Scharnhorst and Gneisenau in March 1941, but the Germans fled rather than engage her. She had suffered mechanical trouble since the war began and was headed to the United States for a thorough refit when Bismarck sortied. Rodney's 16-inch guns then helped finish off the German ship.
Ramillies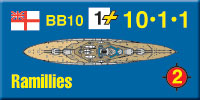 Like Rodney, Ramillies had contacted Scharnhorst and Gneisenau (in February 1941) but the Germans had run rather than fight. By 1941 Ramillies was an ancient tub, having joined the Grand Fleet in September 1917, and barely capable of 18 knots. She was detached from convoy escort to search for Bismarck, but did not find her, probably to the great relief of her crew.
King George V

Jack Tovey's flagship, King George V had only been commissioned seven months prior to the chase after Bismarck and still suffered from mechanical defects to her main armament's quadruple turrets. Even so she fired 339 14-inch rounds at the German ship during the final action. She saw continued action for the rest of the war, including in the Pacific, and after service as a post-war training ship she went to the breakers in 1958.
Prince of Wales
King George V's sister ship had just joined the Home Fleet, temporarily replacing Repulse in the Battle Cruiser Squadron. She was present at the Battle of the Denmark Strait where Hood was sunk, and inflicted the damage on Bismarck's fuel tanks that would ultimately lead to the German ship's destruction. Sent to the Pacific in late 1941, she was sunk off Malaya in a Japanese air attack.
Renown

Built during the Great War in First Sea Lord Jackie Fisher's end-run around the moratorium on new capital ship construction (under a contract let before the war for an R-class battleship), Renown was a lightly-armored and very fast battlecruiser. Thoroughly re-constructed in the 1930's, she was an efficient fast carrier escort but no match for a battleship. Nevertheless, Force H commander Sir James Somerville attempted to take on Bismarck with Renown in the last hours of the chase.
Repulse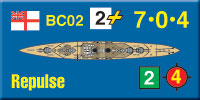 Renown's twin, ruefully nicknamed "HMS Repair," had not received the same rebuilding as her sister. When Bismarck broke out she had been detached to escort a troop convoy, and was recalled to join the Home Fleet. She ran short on fuel before Tovey brought Bismarck to bay and missed the final battle. She would be sent to the Far East with Prince of Wales in late 1941 and sunk there by the Japanese.
Hood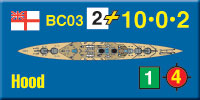 Britain's largest warship in 1941, Hood had commissioned in 1920 and also desperately needed reconstruction to serve as a first-line unit in this new war. She was of course sunk at the Battle of the Bismarck Strait when a shell from Bismarck's fifth salvo ignited a magazine. She took 1,418 men with her.
United States
Texas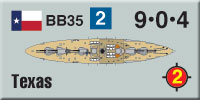 The oldest ship in this set, Texas is also the only ship shown here to still exist (though this may be a temporary condition, as she is currently awaiting extensive repairs). She did not fight Bismarck in 1941, but was in the area and easily could have done so. That would have sorely tested the then-27-year-old dreadnought's survivability.
Click here to order Journal No. 31: Deluxe Bismarck.
Click here to join the Gold Club.
Triple Bismarck
Bismarck (Playbook edition)
Bismarck: Force de Raid
Journal No. 31: Deluxe Bismarck
Retail Price: $112.97
Package Price: $90
Gold Club Price: $72
You can order Triple Bismarck right here.
Sign up for our newsletter right here. Your info will never be sold or transferred; we'll just use it to update you on new games and new offers.
Mike Bennighof is president of Avalanche Press and holds a doctorate in history from Emory University. A Fulbright Scholar and NASA Journalist in Space finalist, he has published a great many books, games and articles on historical subjects; people are saying that some of them are actually good. He lives in Birmingham, Alabama with his wife, three children, and his Iron Dog, Leopold.
Want to keep Daily Content free of third-party ads? You can send us some love (and cash) through this link right here.