South Flank Preview:
Part One
By Mike Bennighof, Ph.D.
May 2018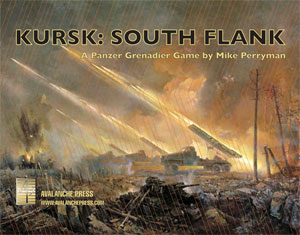 Panzer Grenadier: Kursk, South Flank is Mike Perryman's companion to Kursk: Burning Tigers, and has forty scenarios detailing the fighting during the 1943 Battle of Kursk along the south flank of the Soviet salient.
Here's a look at the first ten of them, you can read about the others here, here and here.
SCENARIO ONE
Berezov Bound
5 July 1943
The opening of Operation Citadel found SS Reich Division tasked with subduing the small village of Berezov, located just inside enemy lines. Picking their way carefully through the many enemy minefields and pakfronts to reach the village, the Germans encountered a battalion of guardsmen supported by the 3rd Battery of the 1008th Antitank Regiment.
Conclusion
The Soviets were swiftly driven from the village, allowing the SS Reich Division to keep pushing northward in their effort to keep SS Lifeguard Division's right flank secured. They managed to advance all the way to the Oboian-Belgord road before the expected spirited resistance was encountered.
Notes
South Flank starts off the way a Panzer Grenadier game should, with an introductory one-map scenario with just a few tanks on each side. Traditionally we've simply placed the scenarios in a Panzer Grenadier game in chronological order, but many players seem to feel they should play the scenarios in the order they're presented – even if the first one is gigantic and slathered with special rules and leaves them unhappy. This one's just right.
SCENARIO TWO
Gremuchii Town
5 July 1943
SS Death's Head Division had been ordered to secure the village of Gremuchii for their opening move in Operation Citadel. Defending the village was the veteran 52nd Guards Division, which could call on armor support if needed. The pace demanded by II SS Panzer Corps meant Death's Head had little time to waste with the village before pressing on.
Conclusion
Wasting no time, the Death's Head Division seized Gremuchii after a short sharp fight and continued onward. They caught the Soviets by surprise when they wheeled sharply to the right after leaving Gremuchii, forcing the remainder of 155th Guards Rifle Regiment into the right flank of the neighboring 375th Rifle Division and causing numerous command and control issues.
Notes
Another one-map scenario, this one puts a Tiger tank in the German player's hands, against some Lend-Lease armor on the Soviet side. As always the infantry is going to decide who wins and who loses, as control of the large town on the new Board 38 is the key to victory.
SCENARIO THREE
Attack of the Lifeguards
5 July 1943
Instead of launching the attack at Kursk immediately after the spring mud had dried, Adolf Hitler choose to wait. While the Germans waited, Stavka mobilized the local population to dig trenches at an unprecedented rate and utilized engineers to build bunkers and lay minefields by the thousands. Artillerymen sighted their guns on the most likely avenues of approach, while Kommisars kept the soldiers sharp. To further add to SS Lifeguard Division's woes, arrayed against them were not regular Red Army soldiers but the 52nd Guards Rifle Division (which had been replenished after being decimated at Stalingrad). Not quite disdainful of their opponent, Lifeguard Division still felt confident of quickly establishing a bridgehead over the Psel River as ordered. Early in the morning they deployed into a panzerkeil and launched themselves at the Soviet lines.
Conclusion
Inflicting massive causalities and overcoming a heroic stand by Lt. Col Kotenko's 1008th Antitank Artillery Regiment, the Germans forced their way into Bykovka around 16:00 hours. The 1008th Antitank Artillery Regiment was destroyed in the fighting but was reported to have taken 30 enemy tanks to the grave with them. The Lifeguard Division quickly secured Bykovka and pushed on to Iakovlevo, where they were stopped at 1800 hours. But the Lifeguard Division had penetrated the first defensive belt with surprising ease and had rumbled on for another 12 miles. II SS Panzer Corps admitted loses for the day at 35 tanks with almost 1,000 men wounded, dead or missing. The Lifeguards had by far suffered the worst, losing 30 tanks plus 97 dead and another 539 either wounded or missing.
Notes
You bought this game to play with giant tanks – and do we ever have giant tanks. Here a battalion of Tiger tanks spearheads the SS Lifeguard Division against a well-prepared position held by Soviet Guards. It's going to be a bloody fight – while casualties do matter for both initiative and victory purposes, the thresholds of pain are set very high for both sides.
SCENARIO FOUR
Striking Back
5 July 1943
After securing Berezov at midmorning, SS Reich Division continued advancing eastward against surprisingly weak resistance. Upon crossing the Oboian-Belgorod road, things changed when the Red Army's 96th Tank Brigade answered their challenge. Fierce fighting developed as SS Reich was determined to keep advancing to secure Lifeguard Division's flank.
Conclusion
The Soviet 96th Tank Brigade had been trained for close support work and was well equipped for the job. Unlike most other Soviet tank brigades, it included none of the almost useless light tanks but only the excellent T-34 medium tank. They pressed their attack home and it took quite a while for the Germans to gain the upper hand. While not quite able to claim a victory, the Soviets had slowed SS Reich Division's progress considerably.
Notes
The Guards are dug in and backed by a full brigade of SMG-carrying T-34 tanks. They're going to need all that firepower, facing a massive horde of SS men(most fo them on foot) trying to force their way past without taking too many losses. All this force is crammed into just two boards, making for a bloody slugfest. You know you'll love it.
SCENARIO FIVE
Manhandled
6 July 1943
The second day of Operation Citadel found Death's Head Division attacking eastwards towards the Lipouyi Donets River while Army Detachment Kempf was advancing northward to meet them. It was imperative that the two formations link up so that their armor could be free to spearhead the advance, rather than being stuck protecting the two formations' own flanks. Located between the Germans and their objectives was Colonel P.D. Govorunenko and his 375th Rifle Division.
Conclusion
Colonel Govorunenko and his men clung tenaciously to every meter of ground and refused to yield an inch. Even though Army Detachment Kempf managed to advance all the way to Iastrebovo, the hoped-for linkup was not accomplished. That forced II SS Panzer Corps to detach almost one third of its total strength to secure its flank, thus weakening the spearhead.
Notes
The Soviets are entrenched behind masses of mines, and backed by what's left of that tank brigade from the previous scenario. But this time the Germans have tanks – waves of tanks. Neither side cares much about casualties – it's all about driving through the defenses, or holding the line. You want real wargames? This is what real wargames are all about.
SCENARIO SIX
Swept Aside
6 July 1943
By noon of the first day of the German assault, 6th Guards Army was in desperate straits and armor was ordered forward to support them. One of the formations involved was 5th Guards Tank Corps, which deployed their 200 tanks directly in front of II SS Panzer Corps with the intention of attacking the next day. General Katukov wanted the armor dug in and had a heated debate with Comrade Stalin and Marshal Zhukov over the matter. Then Voronezh Front Kommissar N.S. Khrushchev weighed in, and Stavka deferred to the men on the spot. Then, inexplicably, 5th Guards Tank Corps was sent forward to prevent SS Reich Division from occupying Luchki.
Conclusion
SS Reich Division plowed through the best the Guards could throw at them, with little delay. By lunchtime Luckhi had fallen, but having no time for lunch the Germans wheeled to the right and advanced on Teterevino. II SS Panzer Corps' drive was beginning to gain momentum and the Soviet second line of defense appeared to be breached.
Notes
It's a furball: on a big map the Soviets bring in their tank corps while the Germans throw just as many tanks at them from the other side of the map. Panzer IIIJ's and T-34's shooting it out across the steppe as the Germans try to brush past the huge Soviet tank force.
SCENARIO SEVEN
Strongpoint Yakovlevo
6 July 1943
Late in the morning, the SS Lifeguard Division received orders to take Yakovlevo. In order to expedite this, the SS Reich Division was to apply pressure against the Soviets to (hopefully) tie down any reinforcements attempting to intervene. Despite this precaution, a Soviet tank brigade managed to work its way in front of the Lifeguards. The German response to this unexpected development was swift and brutal.
Conclusion
Stavka had hoped that sending in an armored brigade would stiffen the defenses enough to stop Hauser's rampaging panzers. It was not to be, as the panzers sliced through the defenses and Yakovlevo quickly fell. The Guardsmen fleeing from the battle into Bol'shoe Maiachki and Pokrovka were ignored, and the Lifeguard Division continued advancing along the road to their destiny at Prokhorovka.
Notes
It's another big tank battle, as the Germans try to force their way northward and the Soviets desperately try to stop them. The Germans bring heavier metal this time: that battalion of Tigers is back, and joined by a large force of long-barreled PzIV tanks.
SCENARIO EIGHT
Strongpoint Bol'shoe Maiachki
6 July 1943
After losing Yakovlevo, the majority of retreating Guardsmen sought shelter in the fortified village of Bol'shoe Maiachki. SS Lifeguard Division had to continue their advance at all costs, so only light elements were left behind to deal with them. Those units harried the Guardsmen all the way to their new sanctuary, allowing them precious little time to setup an adequate defense.
Conclusion
The SS Lifeguard Division pressed home its attack and managed to enter but not clear the village before a newly arriving enemy armored brigade forced them back out. Even so that night the scattered remnants of 52nd Guards Rifle Division had to be withdrawn for rest and refitting. Before that could be completed, they would be forced back into battle. Two days of brutal fighting had seen Lifeguard Division's Tiger company claiming to have destroyed 50 T-34's, a KV-1 and a KV-II along with 43 antitank guns. Total company strength that night was reported as 13 Tiger tanks.
Notes
This one's an urban fight, with a German infantry force trying to take a large town from a tank-heavy defender. The Soviets will try to keep the SS from getting into the town at all; if they can fight in the open with their armored reinforcements they'll have a uch better chance of victory.
SCENARIO NINE
A Close Call
6 July 1943
Second SS Panzer Corps' failure to link up with Army Detachment Kempf meant that the former's right flank was still hanging the air. So the Soviets began a series of coordinated attacks to exploit this advantage. Ninety-Sixth Tank Brigade struck the open Nazi flank to the south while farther to the north other Soviets were creating problems. Second SS Panzer Corps was forced to order Death's Head Division to detach a reinforced battalion and send it northward, even though the situation to the south was touch-and-go. This sort of mission would become standard fare for Death's Head in the days to come.
Conclusion
The Luftwaffe's 8th Staffel effectively blunted the attack of 2nd Guards Tank Corps, making Death's Head's job rather easy in the north. But in the south, 96th Tank Brigade managed to create enough havoc to disrupt the supplies reaching Death's Head. Here the enemy had to be dealt with in the old-fashioned way, and ground forces eventually drove them off before any significant harm was done. It had been a close call nonetheless. The majority of Death's Head Division would be tied down guarding the 2nd SS Panzer Corps' right flank for three more days.
Notes
Now the Soviets are on the attack, with a strong armored force trying to chew up a group of SS men with limited armor support of their own but some good anti-tank guns to help out. They Soviets have many objectives – take the town, shoot up the Germans, run off the west edge – so despite their firepower advantages they have no time to waste.
SCENARIO TEN
Recon on the Run
6 July 1943
Second SS Panzer Corps had penetrated seven miles into the Red Army's positions, and more importantly they had breached the second Soviet defensive belt. That was not enough for headquarters, so even with darkness fast approaching the village of Teterevino was ordered secured. The order was well-received as the village offered the safest place in miles for the warriors to rest while maintenance personnel attended to the vehicles.
Conclusion
Elements of the Lifeguard Division's reconnaissance battalion attempted to sweep into the village before nightfall, but the fighting was sharp and short with the Soviets prevailing. The Germans therefore performed their ritual nighttime hedgehog routine just outside the village. All night long Soviet armor harassed the Germans with feint attacks, making sleep difficult for the weary invaders.
Notes
This one's very different from those that came before, a very small scenario with fast forces on both sides and limited map area. There's a lot of opportunity for cat-and-mouse feints by both players, and it should resolve pretty fast, too. I like quirky scenarios like this one, and it should prove itself one of my favorites.
And that wraps up the first preview. You can see more here, here and here.
Play the game! Order South Flank right now!
Mike Bennighof is president of Avalanche Press and holds a doctorate in history from Emory University. A Fulbright Scholar and award-winning journalist, he has published over 100 books, games and articles on historical subjects. He lives in Birmingham, Alabama with his wife, three children and his dog, Leopold.